'Martin gave me the confidence to check my tax code – I got £11,500 in 10 days'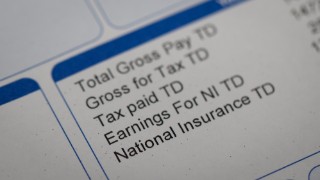 A mum who queried her tax code after being made redundant received a whopping £11,500 rebate – and has paid off her debts with the proceeds.
Tina, 49, from Buckinghamshire, lost her job in 2017, and was left wondering why a large chunk of her final payout had been taxed.
But the stepmother-of-two, who had been in full-time employment all her working life, only plucked up the courage to call HM Revenue & Customs (HMRC) earlier this year after seeing a number of warnings about incorrect tax codes from MoneySavingExpert.com founder Martin Lewis.
Following a 20-minute call with HMRC, Tina was told she was due a rebate of £11,485.63, and just 10 days later a cheque arrived through the post.
She and her husband were left speechless by the discovery, and have since used the money to pay off their debts and top up their pensions. Tina says she hopes her success story will now encourage others to check their tax codes.
Have you checked your tax code? Use our free Tax Code Calculator.
'Martin gave us the confidence to check – now we want others to do the same'
Tina described how she had always "simply trusted" calculations made by HMRC and her employer, but was inspired after seeing a number of warnings from Martin on TV.
She emailed to say: "I want to thank Martin from the bottom of my heart. He recently stressed the importance of checking your tax code. I had never done this before, but Martin gave me the confidence to do it.
"For me, it was the moment Martin said 'it's your responsibility to check your own tax code'", she added.
"I got my P45 and phoned the general tax number. I had a very nice gentleman at the end of the phone. He asked me to stay on the line while he checked some things, then came back and said 'we owe you more than £11,000, how would you like it paid?' I was left speechless.
"This rebate has made a real difference to our lives. I didn't have to go and get somebody else to help, MoneySavingExpert.com gave us the confidence to help ourselves.
"I am so grateful. I just want one person who reads this to pick up the phone to HMRC and have the belief to do this."
What is a tax code?
While a tax code may look like an innocuous set of digits, it has a critical impact on your finances. Not everybody has a tax code, but those who are employed (full or part-time) or who have a private pension will do.
The codes are used by your employer or pension provider to calculate the amount of tax that should be deducted from your pay or pension via the pay-as-you-earn system (PAYE), before it hits your bank account.
Errors are common, especially if you've changed job, retired, have two incomes, someone's keyed in wrong figures or HMRC isn't up to speed.
For many people this can mean they're owed £100s or even £1,000s in overpaid tax – while others may find they've underpaid and need to fork out even more to HMRC.
It's YOUR responsibility to check your tax code
Frustrating and complex as it is, it's your legal responsibility to check your own tax code, so if it's wrong, you'll have to pay. Then again, you may be due a rebate worth £1,000s. Tina's £11,000 win isn't the first time we've heard of rebates above £10,000.
Our handy Tax Code guide can take you through tax codes in more detail and how you can go about querying yours with HMRC. Our Tax Code Calculator will also check whether you're likely to be paying the right amount of tax for your earnings, age and situation.
For all the latest deals, guides and loopholes simply sign up today – it's spam-free!
Join the MSE Forum discussion