'I was hounded by bailiffs and turned down for a mortgage – because of my credit file doppelganger'
A man called Andy Smith who shares his name and date of birth with someone living in a completely different part of the country has told how his namesake's financial problems had a knock-on effect on his life for over a decade – causing him to be pursued by bailiffs, have his credit card limit reduced and be denied a mortgage.
Andrew Gwyn Smith – who works in financial PR and lives in Essex – told us he has never had any debt-related problems. But he has had an ongoing battle to keep his credit file clean since the mid-noughties, when he began getting letters from solicitors about money he apparently owed.
He was asked by a bailiff to prove he wasn't the 'Andy Smith' they were looking for, with the threat of them turning up at his doorstep if he couldn't. At one point he had more than 10 different black marks on his credit file.
After contacting the three major credit reference agencies to inform them of the problem, Andy seems to have resolved the issue with his credit doppelganger for now – but he says the ordeal has given him a harsh lesson in the importance of checking his credit files.
You can check your Experian credit file for free via MSE Credit Club – see our How to check your credit report guide for full help.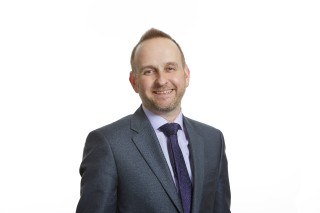 'This could even deny me a job'
Andy (pictured right), who used to be head of media relations at a major bank and now works at a communications firm, said the issue with his credit file affected him in some way for about 13 years.
He said: "I first noticed something was odd in 2006, when I got letters from a solicitor's about debt I had, but I was sure I didn't have any debt. I bought a house in 2007, and remortgaged twice no problems.
"The problem resurfaced in 2015 when I got a letter from my bank saying they would reduce the limit on my credit card, and I also started getting letters and calls from all sorts of loans and payday loans I hadn't taken out. Most tended to accept it wasn't me pretty quickly, but one set of bailiffs contacted me and threatened to come to my house if I couldn't prove I wasn't the right person.
"I got rejected for a mortgage that year [2015] and I checked my file and found 17 debts. [Then in 2018 I found] this other Andy Smith's partner was actually linked to me."
Andy says he first became aware that he was being mixed up with another Andy Smith when a bailiff pursued him for a council tax debt relating to someone living in the north west of England. When he raised the issue with the different credit reference agencies some time later, he was able to get his files corrected and the black marks removed. But he's continuing to be vigilant as he's concerned the problem could reappear.
"Now I have to go and check the three agencies every three months," he said. "It's a lot of admin but if not, it could deny me a mortgage. It could even deny me a job in financial services [financial firms are often required to complete extensive credit checks on their employees].

"It's a lesson that shows you always need to check your credit file and can't rely on it being correct."
What happened to Andy's credit file?
We contacted the three major credit reference agencies – Equifax, Experian and TransUnion – and asked them about Andy's situation.
Equifax gave us the most detailed information about what had gone wrong. It told us that a "data matching error" had occurred in relation to Andy's credit details, and that while this kind of problem is "rare", it does show the importance of checking your credit file info is correct.
A spokesperson said: "Mr Smith first contacted Equifax in May 2018 when he noticed that an incorrect linked address was added to his file in error. To investigate this information, Equifax used its notice of disputes process and the incorrect linked address was removed in July 2018.
"The company's matching systems are designed to ensure that information relating to an individual is provided in their own credit report and for when a search is conducted by a lender. In this instance, the incorrect linked address was added when a lender conducted a search for somebody with the same name and date of birth as Mr Smith. This caused the incorrect information to be loaded to the credit report."
Experian told us: "If one organisation wrongly links their customer to someone else with similar details, other lenders looking for the same customer could see this and may follow the same trail. Fortunately, this is an issue we can help rectify."
A TransUnion spokesperson said: "In the event of an error on their report due to someone else having the same name and date of birth, this can be rectified by contacting the relevant credit reference agency to ensure that the two identities are not confused."
What to do if there's an error on your credit file
If you're contacted by bailiffs about debts you don't owe, or notice anything else unusual relating to your credit score – for example, if you're unexpectedly turned down for a mortgage or credit card – it's important not just to ignore it, but to check your credit file and see if something's wrong.
For full info on how to check your file with each of the three agencies, see our How to check your credit report guide. You can use MSE's Credit Club to check your file with Experian for free.
Experian, Equifax and TransUnion told us if marks appear on your credit file wrongly you can get them removed by contacting the agency which has recorded the mistake. You can contact Equifax on 0845 603 3000, Experian on 0344 481 0800 and TransUnion on 0330 024 7574.
For all the latest deals, guides and loopholes simply sign up today – it's spam-free!
Join the MSE Forum discussion