Minister considering extending regulation to help mortgage prisoners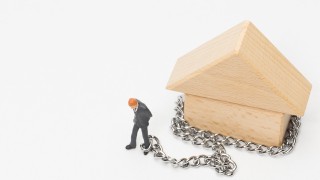 Treasury Minister John Glen has said that he is willing to consider extending the limits of the financial regulator's powers to help more 'mortgage prisoners' who are stuck on expensive deals with unregulated lenders and lenders that no longer offer new mortgages.
In a letter to UK Finance chief executive Stephen Jones, Glen said that he would be open to considering extending the "regulatory perimeter" (more on this below) if it was shown to benefit consumers – though he warned against giving "false hope" to those affected.
He also says that UK Finance – which is an industry body representing banks and financial services – has committed to working with its members to communicate with mortgage prisoners and let them know about cheaper mortgage deals which may be available to them.
What are mortgage prisoners?
'Mortgage prisoners' are homeowners who are trapped on an expensive mortgage and are unable to get a cheaper deal with other lenders because they don't meet strict borrowing criteria – even though they'd often be paying less if they switched.
MoneySavingExpert.com has been fighting their corner for years, but only recently has there been some action from regulators.
Last year, the Financial Conduct Authority (FCA) removed some barriers for mortgage prisoners. Yet many are still left trapped, with just 14,000 out of 170,000 mortgage prisoners helped by the new FCA rules. MoneySavingExpert has called for stronger Government intervention to help those who are currently beyond the reach of the regulator.
What is the 'regulatory perimeter'?
The 'regulatory perimeter' is the line between what the FCA can and can't regulate. At the moment, the FCA can't force the unregulated firms to tell it who mortgage prisoners are, or what characteristics they have.
As a result, it can't compel these firms like it can those within its remit. And that's just on the mortgage prisoners issue, let alone other areas.
And as MSE has blogged, the FCA has itself said that the gap between where consumers are and aren't protected "attracts bad people who wish to exploit those grey areas".
A Treasury Committee report last year recommended that the FCA should be able to ask for more powers when it needs them. It also said the regulator should able to find out more about what's going on outside its remit, and should be able to warn consumers about potential harm – even if it's technically outside of its authority.
What does John Glen's letter say?
In a letter published today, Treasury Minister John Glen wrote: "Given the complexity in resolving the issues around mortgage prisoners, it is important to closely monitor the impact of the recent rule changes, including the extent and pace of action by your members. I am open to considering an extension to the regulatory perimeter where the benefits to consumers and markets can be demonstrated, however, it is important that we do not raise false hopes for these customers by pursuing a change that does not end up helping them.
"I look forward to continuing to collaborate with industry to support borrowers whose mortgages are in closed mortgage books or owned by firms that are not regulated by the FCA. I am determined to enable remortgaging for those who are eligible under the FCA's rule change, meet the criteria for lending and would benefit from doing so. The FCA rule change lifted the regulatory barriers. I now expect lenders to take the lead in making a real difference to this group of borrowers."
'It's a stepping stone – but not a meaningful solution'
Kirsty Good, head of campaigns at MoneySavingExpert.com, said: "The financial regulator has done everything it can within its powers to help mortgage prisoners, but by its own admission less than 10% of these consumers will ultimately benefit. Our research proves that being a mortgage prisoner often has a devastating impact on financial and mental wellbeing, so quick, effective action from the Government is needed to help all mortgage prisoners.
"We've previously called on the Government to step in, and so tentatively welcome today's move. While we support any potential solution to help mortgage prisoners, we're not convinced this one is fast enough nor that it will in fact help the majority of them. It is merely a stepping stone, but in itself not a comprehensive and meaningful solution."
What is being done to help mortgage prisoners?
MoneySavingExpert.com has been fighting for justice for mortgage prisoners for several years now through the route of seeking reform of regulation and laws. Here's a quick recap:
In 2015, Martin met key figures in the EU, the Treasury and the FCA, which are the organisations responsible for UK mortgage regulations. He attempted to organise a summit between them, to collectively work out who was responsible for the situation and how it could be fixed. Unfortunately, the summit didn't take place.


In 2016, then-Chancellor George Osborne wrote to mortgage lenders following a meeting with Martin about the plight of mortgage prisoners. However, Martin said the Chancellor's letter only addressed "a fraction of the problem".


In May 2018, the FCA found 150,000 consumers in the UK were mortgage prisoners. MSE contributed to the regulator's discovery by suggesting and helping facilitate a survey of mortgage brokers. The survey backed up the regulator's findings from analysing mortgage data, and the FCA thanked MSE for its contribution.

The regulator said it was able to help 30,000 of the mortgage prisoners it identified, whose lenders the FCA could force to help their 'imprisoned' consumers if needed. But the other 120,000 'prisoners' have had their mortgages bought by firms who aren't authorised to lend, and so the FCA has no power to make them do anything.


In October 2018, Treasury Minister John Glen admitted that mortgages prisoners "need to be dealt with", at an event ran by MoneySavingExpert at the Conservative Party Conference.

The minister also expressed agreement with Martin's call that an affordability check for someone with an existing mortgage – if it's at a cheaper rate and they're not borrowing more – should be: 'Have you repaid and not defaulted?'


In March 2019, the FCA launched a consultation detailing its solution to free mortgage prisoners. It proposed that lenders could choose to carry out a more "proportionate" affordability assessment for those who are up to date with their payments, aren't looking to borrow more and are looking for a better mortgage for their current home.


In July 2019, MSE submitted its response to the FCA consultation, welcoming it, but calling for improvements. Crucially, MSE called on the Government to step in and help those mortgage prisoners beyond the reach of the regulator.


In October 2019, the FCA removed some barriers that stop mortgage prisoners from finding a cheaper deal – though many will still be left trapped.
For all the latest deals, guides and loopholes simply sign up today – it's spam-free!
Join the MSE Forum discussion