Homeowners could switch to a cheaper mortgage more easily as lending rules are set to be relaxed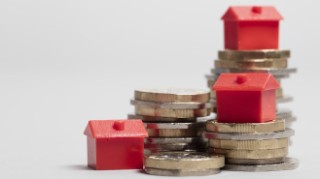 Mortgage affordability rules are set to be relaxed to allow homeowners to switch to a cheaper deal more easily, the financial regulator has announced. The move would also help free tens of thousands of mortgage prisoners, in an important victory for MoneySavingExpert.com's long-running campaign.
The Financial Conduct Authority (FCA) has today proposed that lenders could choose to carry out a more "proportionate" affordability assessment for those who are up to date with their payments, aren't looking to borrow more and are looking for a better mortgage for their current home.
These new rules would mean the lender would check that those looking to remortgage have kept up to date with their payments for the past year, and that the new deal has lower interest rates and monthly repayments.
The FCA hopes the changes will help remove the barriers which stop homeowners, in particular mortgage prisoners who are trapped on expensive rates, being offered a more affordable mortgage, and also make the process quicker and cheaper.

Martin: 'I'm delighted finally there's to be some concrete change'
Martin Lewis, founder of MoneySavingExpert.com, said: "This major change is exactly what we have been calling for, for over four years. The absurd current rules have meant existing mortgage customers who are just trying to switch to a new deal have been flabbergasted to be told 'you can't afford a cheaper mortgage.' That risks people defaulting and ultimately being repossessed, and for many, effectively means the remortgage market is broken.
"I strongly support affordability tests for first-time buyers – we don't want people getting into debt that they can't afford to repay. This involves stress tests to see not only if they can afford the mortgage, but if they could do so if interest rates rose to 6% or 7%. Yet to use that same test for those that are remortgaging without moving house, without borrowing more and without change of circumstance, is nonsensical.
"And after years of the regulator, politicians, the Treasury and indeed the EU (as part of this is due to the Mortgage Credit Directive) telling me they agree with me, but there's nothing that they can do – I'm delighted finally there's to be some concrete change.
"In a nutshell, the FCA is supporting our proposals. It is suggesting that the affordability test be changed so that as long as you've been meeting your mortgage repayments for a year, then provided the new deal you're applying for is cheaper – in other words, it has lower interest, and the repayments are lower – then you will be deemed to have passed the affordability test.
"We hope this proposal is enacted. It will still need lenders to play ball, but I'm hopeful that will happen, because they've often told us they find the current rules frustrating too. We need to make sure those with existing debts can engage with a competitive market, releasing the pressure valve on their finances. If we get this right it's a triple win: it's better for the individual, the economy and lenders."
What are the proposed rules?
The FCA has made a series of proposals for the mortgage market, which it will consult on over the coming months. It says:
Affordability assessment rules should be relaxed. At the moment, mortgage customers are assessed based on whether they meet a strict affordability criteria. Under the new rules, those looking to remortgage would be able to switch to a new deal if it was more affordable than their current one, so cheaper each month (or cheaper over the whole introductory period if a customer is paying mortgage fees upfront), and with a lower interest rate.

Lenders also wouldn't have to use the "stress test", which checks if homeowners could cope if interest rates rose by 1% over the next five years.

They would also be able to apply the relaxed rules to interest-only mortgage holders.


It should be easier for homeowners to choose the right mortgage. The FCA found that it's difficult for homeowners to find the best value mortgages, and a lack of information means around 30% miss out on suitable cheaper mortgages.

It wants innovative new tools to be developed to give mortgage customers better feedback and advice on eligibility and affordability.


Customers should have more help when choosing their mortgage broker. The FCA found that the mortgage broker has a big impact on how much homeowners end up paying for their mortgage, but it's difficult to compare brokers.

It wants it to be easier for consumers to find impartial information about the strengths of different mortgage brokers.


Lenders should make it easy for consumers to switch deals. The FCA says that around 800,000 homeowners don't switch to cheaper mortgage deals after their introductory rate is over, leaving them paying a 'loyalty penalty'.

The FCA says it will work with lenders to make it easier for homeowners to switch.
The FCA will consult on relaxing affordability assessment rules until 26 June, and will consult on the changes around mortgage advice and guidance at some point between April and June.
Who won't be helped by the new rules?
The FCA says some will not be able to switch as their circumstances make them too high risk for lenders. This could include those who:

Are in arrears
Have very high loan-to-value mortgages
Have considerable debts
Have mortgages in negative equity – a situation when the value of your home is less than the amount you have outstanding on your mortgage
It has, however, said it is interested to know whether respondents to its consultation think the relaxed lending rules should also apply to those moving home.
How will the changes help mortgage prisoners?
Mortgage prisoners are those who've been told they 'can't afford' to remortgage, even though they are keeping up with their payments and want to switch to a CHEAPER rate.
The FCA estimates there are 150,000 mortgage prisoners (excluding those in arrears), who fall into three categories:
120,000 with unregulated/unauthorised lenders. These are firms that are not regulated by the FCA, so it's harder for the regulator to help people who have mortgages with them.


20,000 with inactive lenders. These are firms that are able to offer mortgages, but no longer do – so customers who have mortgages with them and can't pass an affordability check with another lender, so can't move to a better deal.


10,000 whose lenders have already pledged to help. In July 2018, 59 lenders which are authorised by the financial regulator to offer mortgages agreed to help existing borrowers on reversion rates – the rate your mortgage goes back to at the end of any incentive or fixed-rate period – who are up-to-date with repayments but are unable to move to a cheaper deal provided by their lender.

The lenders pledged to write to some people in this situation by the end of last year, to let them know that they can switch to one of their better deals.
In addition to relaxing the affordability rules, which would make it easier for mortgage prisoners to switch to a cheaper deal, the FCA is proposing that inactive and unregulated lenders contact mortgage prisoners to let them know they can switch. These lenders would be required to contact customers who have been up-to-date with payments for 12 months and are on a reversion rate.
The new lender would also have to tell mortgage prisoners about the risks when they switch, and how their mortgage has been judged to be affordable.
MSE's mortgage prisoner campaign timeline
In 2015, Martin met key figures in the EU, the Treasury and the FCA, which are the organisations responsible for UK mortgage regulation.


In 2016, then Chancellor George Osborne wrote to mortgage lenders following a meeting with Martin about the plight of mortgage prisoners. He confirmed that lenders don't have to carry out affordability assessments for their existing customers seeking a product transfer.

However, Martin said the Chancellor's letter only addressed "a fraction of the problem".


In May 2018, the FCA found 150,000 consumers in the UK were mortgage prisoners. MSE contributed to the regulator's discovery by suggesting and helping facilitate a survey of mortgage brokers. The survey backed up the regulator's findings from analysing mortgage data, and the FCA thanked MSE for its contribution.

The regulator said it was able to help 30,000 of the mortgage prisoners it identified – whose lenders the FCA could force to help their 'imprisoned' consumers if needed. But the other 120,000 'prisoners' have had their mortgages bought by firms that aren't authorised to lend, and so the FCA has no power to make them do anything.


In October 2018, Treasury Minister John Glen admitted that mortgage prisoners "need to be dealt with" at an event run by MSE at the Conservative Party Conference.

The minister also expressed agreement with Martin's call that an affordability check for someone with an existing mortgage – if it's at a cheaper rate and they're not borrowing more – should be: "Have you repaid and not defaulted?"


In January 2019, in a huge step forward for MSE's campaign, the FCA said it will consult on introducing new rules to free 140,000 mortgage prisoners.
What does the FCA say?
Christopher Woolard, executive director of strategy and competition at the FCA, said: "MoneySavingExpert has campaigned on the issue of mortgage prisoners (those stuck with a more expensive mortgage) for some time.
"We know this is an issue that causes real frustration for those mortgage borrowers who can see cheaper deals out there, but can't get to them. That is why we're acting today."
For all the latest deals, guides and loopholes simply sign up today – it's spam-free!
Join the MSE Forum discussion