Sainsbury's stops weekly Nectar bonus points offers for some shoppers in mystery loyalty scheme shake-up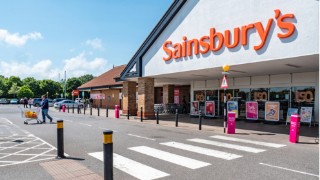 Sainsbury's has stopped offering some Nectar cardholders weekly points bonuses, as part of an under-the-radar shake-up to the loyalty scheme which has left some shoppers confused and frustrated. It has only given us scant details so we've pieced together that info with MoneySavers' reports to get to the bottom of it.
Update: Tuesday 4 May 2021: Since we first published this story we've received hundreds more complaints emails about Sainsbury's from MoneySavers. We asked Sainsbury's on 21 April what's happened, and pressed it again today, but it's yet to confirm full details of the Nectar shake-up or exactly when those who are missing offers will see them return.

The supermarket hasn't formally announced a change to its Nectar scheme – which has 18 million members – and its Twitter team initially implied the missing offers were due to a technical issue. But its press office has since told us that it's linked to a deliberate review of its promotions. And while Sainsbury's insists affected shoppers will see offers return "very soon", some MoneySavers report not getting them for several weeks.

Sainsbury's launched a major revamp of Nectar in 2019 and began offering weekly personalised bonus point offers via the Nectar website and app. It sent customers a range of deals to choose from each week based on their shopping habits (eg, 20 bonus points for buying Sainsbury's bunched beetroot).
The latest shake-up also follows Nectar's popular 'Juicy Points Boost' promotion earlier this year, which saw it hand out up to 2,000 points per cardholder. It said at the time this was a way to show members how many points they may have missed out on by not using the personalised bonus offers in the app. See our Loyalty Points Boosting guide for help on making the most of loyalty schemes, including Nectar.
'Four weeks with no bonus points offers'
MoneySavingExpert.com began investigating this issue on Friday (16 April) after a MoneySaver reported it on social media, and we contacted Sainsbury's the same day. When we first published we'd seen dozens of queries and complaints on social media but this quickly rose to hundreds after publication. Readers of blogger Andy Webb's Be Clever With Your Cash site have also reported similar problems. Here are just a few of the complaints we've had from MoneySavers by email and on Twitter:
This is now my fourth week of no bonus points showing on my app – ridiculous that I can't find out any information.
I've had my offers stopped for the past two weeks – I have responded by shopping elsewhere even though I work at Sainsbury's. I think it's bad decision not to inform customers about why the offers have stopped.
I've not received any weekly offers for three weeks now. I've been a regular Sainsbury's shopper for years and only shopped with Sainsbury's all the way through the pandemic. But it needs to get this sorted or I'm going elsewhere!
Are your Nectar offers missing or different? Let us know. If you've noticed a change with your Sainsbury's offers, you can let us know at news@moneysavingexpert.com (though unfortunately we can't respond to every email).

Sainsbury's has removed 'weekly offer' mentions from its website and app

What's interesting is that Sainsbury's has changed the wording on its website to remove a reference to offers being sent "every week", as shown below: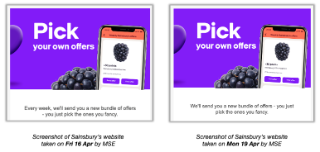 In addition, Sainsbury's has updated the Nectar app listing on the iOS App Store in a similar way to remove the mention of "new offers every week":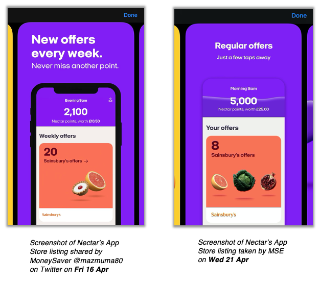 Sainsbury's won't say exactly who's affected – so to check, you'll need to log in
Sainsbury's has released little detail about the Nectar shake-up, but here's what we've been able to piece together.
Some Nectar users have seen their weekly bonus points disappear, while for others they're still available as normal. Sainsbury's hasn't been specific about who's affected, so the way to check is to log in to the website or app to see if your weekly offers appear there as usual. Even if your offers are there for now, there's no guarantee that will remain the case in future, so keep checking until we know more.
If your offers have disappeared, Sainsbury's says this is temporary, and they should return soon. However, it's not clear when this will happen – some users report not having seen offers for three to four weeks – and it's not clear if they will return in the same form. When asked, all Sainsbury's would tell us is that its systems are adapting to customer shopping habits to deliver more 'personalised' offers in future.
Some MoneySavers have reported that instead of weekly offers they've now been getting a single offer for extra points when spending over a certain amount in a single transaction, eg, triple points if you spend £50. Others have also reported offers becoming less generous – eg, being offered 10 or 20 extra points on an item where they previously got 50 points or more. It's not clear whether these reports reflect the overall changes however – and unfortunately Sainsbury's won't tell us.
If you don't start getting offers soon, contact Nectar
Even if you're one of the shoppers who's no longer getting weekly offers, you should still be sent deals – though as above it's not clear how often they'll be sent or if offers will return in the same format as customers have been used to.
If you don't shortly get any offers, you can contact Nectar directly through the live chat on its website, by phone on 0344 811 0811 or via Twitter, to check if there's a problem with your account.
If you're unhappy with the changes, you can also give feedback directly through the 'Your account' section of the Nectar app or via its website. While there's no guarantee this will lead to your weekly offers being reinstated if cancelled, Nectar has told some customers on social media that it "constantly reviews" all of the changes it makes to offers and "values" feedback.
What does Sainsbury's say?
A Sainsbury's spokesperson said: "We regularly review the promotions available through our Nectar app to ensure customers are always receiving personalised, valuable offers. As part of this process, some offers may be currently unavailable for a small number of customers and we apologise for any inconvenience."
For all the latest deals, guides and loopholes simply sign up today – it's spam-free!
Join the MSE Forum discussion