Energy bills set to rocket for millions later this year as experts predict £100+/yr price cap rise – check if you can beat hikes by switching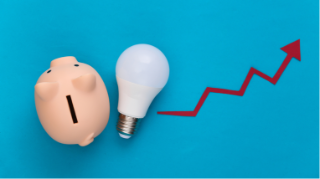 Around 11 million households on standard energy tariffs are likely to see huge price rises this winter, with industry experts Cornwall Insight predicting an increase of more than £100/yr to regulator Ofgem's price cap. But many can beat the hikes and save £100s by switching now.
The energy analysts are forecasting that the price cap on standard and default tariffs will rise in October to around £1,250/yr for a typical dual-fuel household paying by direct debit, up from the current price of £1,138/yr. These tariffs are typically the most expensive ones – and if you've not switched in the last year, it's likely you're on one (do a Cheap Energy Club comparison to see how much you could save by switching).
For the average household, the hike means bills would rise by £112/yr, as many suppliers price their standard tariffs within just a few pounds of the price cap.
According to Cornwall Insight, the expected rise is down to rising wholesale energy costs (what providers pay for gas and elec). Prices have risen rapidly in recent months, hitting their highest levels since 2018, when the extreme weather conditions caused by the 'Beast from the East' caused prices to sky rocket.
Ofgem has yet to officially announce how the price cap will change when it next reviews the cap. This is expected to happen in August, with changes taking effect from 1 October – just as we head into the high-use winter period.
Savings results will be underestimated when you do a comparison – but don't let that put you off switching to beat the hikes
Based on Cornwall Insight's prediction, the next price cap level could be more than £400/yr more than the cheapest tariff on the market right now – so check now how much you could save by switching.
Importantly, as we don't yet know exactly how prices will change in October, the savings you see when you compare will likely be massively underestimated as they are worked out against today's prices, which are based on the current cap. So they won't include the likely £100+/yr you'll save from avoiding the price cap hike.
If you're on one of these capped tariffs, you can't be charged exit fees, so you're free to switch away at any time, so don't wait.
If you find choosing a new energy tariff confusing, try our free Pick Me A Tariff tools to find the cheapest deal based on your preferences. Or you can do your own full-market comparison via our Cheap Energy Club.

Why are prices predicted to rise?

Cornwall Insight has predicted a sharp hike to the cap due to massive increases in wholesale prices this year.
It says this has been driven by a large rise in costs related to a European-wide carbon emissions reduction scheme, alongside higher gas prices due to a very cold winter across Europe.
Electricity prices have also increased due to unforeseen and prolonged outages of many fossil and nuclear power plants.
How does the price cap work?

The price cap sets a limit on the maximum amount suppliers can charge for each unit of gas and electricity you use, and sets a maximum daily standing charge (what you pay to have your home connected to the grid).
Currently, someone who uses a typical amount of energy on a standard or default tariff pays a maximum of £1,138/yr on average, but Cornwall Insight predicts this will rise to around £1,250/yr from 1 October.
The price cap is reviewed twice a year, with changes coming into effect in April and October. It's set to remain in place at least until the end of this year, with Ofgem to recommend later this year it should continue into 2023.
What does Cornwall Insight say?
Dr Craig Lowrey, senior consultant at Cornwall Insight, said: "The latest forecasts from Cornwall Insight indicates that the default tariff price cap will increase by more than £100 for the winter 2021-22 cap to around £1,250/year for a typical dual-fuel direct-debit customer – from its current level of £1,138/year.
"Cornwall Insight modelling suggests it now looks likely that we will see a substantial rise in the winter price cap period. The UK has experienced a considerable rise in wholesale energy costs, rising to some of the highest seen since the Beast from the East in 2018.
"Although there are still a number of uncertainties in terms of potential legislative changes and the continued impact of coronavirus that will impact our forecast – and which will be resolved in the coming weeks and months – the sharp rise in the wholesale market looks set to be the primary driver behind the anticipated increase in the price cap."
For all the latest deals, guides and loopholes simply sign up today – it's spam-free!