Give all primary school children a financial education, MPs urge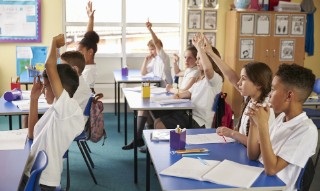 All children across the UK should be taught basic money skills in primary school by 2030, a cross-party group of MPs have said in a new report published today. This would include adding financial education to the primary national curriculum, as is already the case for secondary schools.
The report by the All Party Parliamentary Group (APPG) on Financial Education for Young People – which was contributed to by MoneySavingExpert.com founder Martin Lewis – calls on the Government to set a target to ensure every primary school-aged child gets a "high-quality, effective and sustainable" financial education by the end of the decade, and to provide the investment and prioritisation needed to make this happen.
The APPG, which is a group of 150 MPs and peers from different parties, published the report after its inquiry found just one in three children currently receive financial education at primary school. The report warns this puts young people at risk of financial abuse, fraud and debt from an early age. Yet while APPGs can raise awareness of issues and influence policy debates, they don't have any direct power to make laws themselves – so ultimately it'll be up to the Government to decide whether to act on the report's recommendations.
Martin and MSE have long campaigned for better financial education

In making their recommendations, the MPs considered a range of evidence, including from MSE founder Martin Lewis. The report quotes Martin's appearance earlier this year before the House of Lords Liaison Committee, where he argued for financial education and inclusion to be made a priority and said: "We need far more senior, powerful and invested government in financial inclusion. Because it is the bedrock of employment. It is the bedrock of being a consumer and, frankly, it is the bedrock of being a citizen."
Both Martin and MSE have fought for years for improved financial education for people of all ages. You can download a free copy of the first-ever financial education textbook to land in schools, which was funded by Martin, while MSE has also launched the 'Academoney' financial education course with the Open University.
As it happens, Martin was in a school today to talk (and film) about financial education:
MPs' other ideas include funding financial education via unclaimed savings
As well as calling for all primary school children to be given a financial education by 2030, the APPG made a series of other recommendations (you can read its full report here). These include:
Long-term funding should be provided for financial education – possibly using unclaimed savings. The report says the lack of ongoing funding is a "significant barrier" to improving financial education in primary schools. It argues that funds unlocked by the upcoming expansion of the Dormant Assets Scheme (which deals with lost cash) should be used to ensure children get a good financial education.


England, Scotland, Wales and Northern Ireland should each devise their own national strategies for financial education. Each UK nation should build and implement their own stand-alone strategy in order to meet the goal of every child getting a good financial education by 2030, the report says. As part of this, the report also calls for England to make financial education a compulsory part of the national curriculum for primary schools, in order to bring it in line with the approach in Northern Ireland, Scotland and Wales.


More should be done to raise the profile and priority of financial education. This could be done by ensuring teachers are given the appropriate guidance, support and training in delivering financial education, the report says. On this point, the report again cites Martin, who said: "We need much more oomph to try to put money in schools, to put in proper resources and to help teachers teach it, and to help head teachers want to make sure that it is taught."
Financial education is already part of the national curriculum for older children
Here's what the national curriculums throughout the UK currently cover:
In England, financial education wasn't on the national curriculum at all until 2014, when it was added following a successful, years-long campaign spearheaded by Martin and MSE. It's now included as part of citizenship and maths for students aged 11 and over.

Pupils should learn about the functions and uses of money, budgeting, managing risk, credit and debt, insurance, savings and pensions, financial services and applying maths to financial contexts (such as calculating interest).

In primary schools, the maths curriculum does include some learning about money (such as understanding £ and p, using coins and calculating change) – but there's no requirement for specific financial education; something the APPG's report has called on the Government to change.


In Northern Ireland, Scotland and Wales, some financial education for students under the age of 11 is already included in the national curriculums, in addition to provision for older children. This is mainly delivered through maths and numeracy lessons (though some is covered in social studies and health and wellbeing classes).

By age 11 (the end of primary school), pupils are generally expected to have some basic money skills including calculating change, budgeting and planning ahead and making spending choices.

Older students are expected to learn about personal finance including more advanced budgeting skills and how to compare and choose financial products.
'There is an urgent need for effective financial education'
Julian Knight MP, chair of the APPG, said: "The evidence submitted to this inquiry from experts across the sector makes it clear that there is an urgent need for widespread and effective primary financial education to combat the challenges the younger generation are facing.
"The UK Government must take urgent action to protect our children from future economic shocks, financial abuse, fraud, debt and poverty in later life. Current targets set by the Money and Pensions Service are insufficient. We need the Government to prioritise financial education and put the necessary funding and prioritisation behind this. This must begin with setting an ambitious new target to provide financial education to every primary child by 2030."
What does the Government say?
A Department for Education spokesperson said: "The primary mathematics curriculum includes specific content on calculations with money to develop young children's financial literacy.
"At secondary level, the citizenship curriculum for 11-16 year olds includes financial education to make sure young people are prepared to manage their money well and make sound financial decisions."

For all the latest deals, guides and loopholes simply sign up today – it's spam-free!
Join the MSE Forum discussion