Action needed to protect access to cash and ensure vulnerable people can access financial services, says House of Lords committee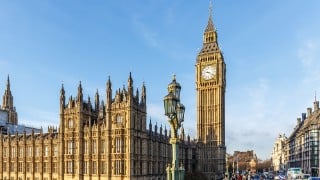 Members of the House of Lords have called on the Government to protect access to cash and to do more to prevent the poorest from being excluded from access to financial services. The call for action comes as part of a report published today by the cross-party House of Lords Liaison Committee.
In particular, the report calls for the following changes:
The Government should impose a legal duty of care on banks and other financial services providers. This should replace the current requirement to treat customers 'fairly', which the Committee found to be 'insufficient'.

Financial institutions should be prevented from profiting from the vulnerability of their customers.
Financial inclusion should be made a key priority for financial watchdog the Financial Conduct Authority (FCA), with a new Government strategy and increased FCA powers needed to urgently to stop people being excluded from financial services.
MoneySavingExpert.com founder Martin Lewis gave evidence to the Committee, which the report cited, arguing for financial inclusion to be made a priority. Martin said: "We need far more senior, powerful and invested government in financial inclusion. Because it is the bedrock of employment. It is the bedrock of being a consumer and, frankly, it is the bedrock of being a citizen."
The report added that changes to the Government's approach were vital in order to protect the 14.2 million people in the UK estimated to be struggling with debt, lacking savings or who are on a low or unsteady income – a figure found to have risen by a third since the start of 2020. The FCA told the Committee that 27.7 million adults in the UK (more than half of the population) are financially vulnerable. See our Debt Help guide for info on free, impartial advice if you're struggling.
Other proposed measures include legally protecting access to cash
After considering a range of evidence, including that given by MoneySavingExpert.com founder Martin Lewis, the Committee also made a series of other recommendations to the Government to improve financial inclusion in the UK:

Legally protect access to cash as soon as possible. In last year's Budget, the Government announced it would bring forward laws to protect access to cash and ensure that the UK's cash infrastructure is sustainable. The Committee has urged the Government to bring these laws forward without further delay, and give the responsibility for this area to the FCA as part of its new duty of care. It comes as the Committee found that over 5 million adults still rely on cash to a great extent in their everyday lives.

The Committee was particularly concerned about the decline in free to use cash machines and said that the powers of the FCA to mitigate this trend should be reviewed and enhanced.

The report also suggested that the Government should make it compulsory for banks to allow customers to access their accounts via Post Office branches and that it should roll out an advertising campaign to inform people of the service.


Make financial education a core part of the school curriculum. The Committee said this should have a practical application and focus on budgeting, saving, credit and its associated risks and digital banking.

Martin and MSE have long campaigned for improved financial education for people of all ages. See our First-ever financial education textbook funded by Martin to hit schools around the UK and MSE launches 'Academoney' financial education course with the Open University.

In addition, the Committee said that long-term funding should be set aside and made available to support financial education and recommended that this should come primarily through the Department for Education – a suggestion Martin had made explicitly when giving evidence, and which the Committee cited in making its recommendation.


Ensure non-digital access to financial services remains possible. Access via free telephone lines, and through face-to-face meetings where appropriate should remain available indefinitely, the Committee said. It added that this was especially important for customers with accessibility needs and older customers who "may struggle to adapt" to online banking.


Regulate buy now, pay later (BNPL) sector as soon as possible. The Committee said it welcomed the news that BNPL providers such as Klarna and Clearpay will be regulated. It called on the Government to ensure that the legislation be brought forward "without delay", and to keep the situation under review.
The Committee also suggested that the Government should investigate banks' provision of so-called basic bank accounts, ensure all banks let their customers block gambling and certain other types of transactions on their cards and consider extending the four-year time limit on the Help to Save scheme.
What does the House of Lords say?
Baroness Tyler of Enfield, who chaired the House of Lords Financial Exclusion Committee, said: "It is now more important than ever that Government come forward with a comprehensive financial inclusion strategy that will ensure access to cash, protect the public and end the scandal of the poorest being overcharged for financial and other services.
"The Government should publish that strategy within 12 months and allow Parliament to assess it and hold them to account for its delivery."
MoneySavingExpert.com has contacted the Government for a response and we'll update this story if we hear back.
What does the Government say?
A spokesperson for the Treasury said: "We are committed to promoting financial inclusion and want everyone, regardless of their background or income, to have access the financial products and services they need. That's why we set up the Financial Inclusion Policy Forum, and put in place policies such as Basic Bank Accounts and Help to Save.
"We also know cash is vital for millions of people – that's why we are taking action to ensure people across the UK can continue to access it. We're currently considering the responses to our call for evidence, and we're legislating to make it easier for businesses of all sizes to offer cashback without a purchase."
For all the latest deals, guides and loopholes simply sign up today – it's spam-free!