EDF Energy to hike bills by an average £139/yr after energy price cap rise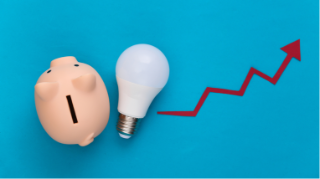 Around 1.7 million EDF Energy customers on standard tariffs will see gas and electricity bills jump by a typical £139/yr from October, after it announced it's raising prices by the maximum allowed under the new price cap. But most can beat the hikes and save £200+/yr by switching to a cheaper deal.
EDF will hike its standard variable tariff (SVT) prices to an average £1,277/yr based on typical use from 1 October. It's the first of the big energy firms to confirm it's raising prices after Ofgem announced it would increase the level of the price cap on standard and default tariffs from October – with more expected to follow as the biggest suppliers typically price their standard tariffs on or within a pound of the cap.
To beat the hike, check if you can save with a full market comparison via our free Cheap Energy Club.
EDF is raising prices to the maximum allowed
Under the price cap, suppliers are limited in what they can charge for their standard variable tariff. However, regulator Ofgem announced on Friday 6 August it would increase the price cap to its highest level, following rocketing wholesale prices this year. On typical use, the energy price cap is set to rise from £1,138/yr to £1,277/yr for a typical dual-fuel household paying by direct debit.
Remember though, this ISN'T the maximum everyone will pay. The cap sets a maximum charge on the rate you pay for gas and electricity – use more and you'll pay more, use less and your costs will be lower.
If you're with EDF, here's how your bills will change:
If you have a credit meter and are on its standard variable tariff, the price will rise on 1 October. EDF's SVT prices are currently at the maximum allowed under the cap, at £1,138/yr on typical use, and it will increase it to the max allowed under the new cap – £1,277/yr.


If you're a prepay customer, the price will also rise on 1 October. Similarly, EDF's standard prepay tariff will rise from the current maximum allowed under the price cap to the new limit, from £1,256/yr now to £1,309/yr from October.


If on a fixed deal, the price WON'T change until your fix is up. However if your fix ends after 1 October and you don't switch, you'll be moved onto EDF's standard variable tariff, which will have become even more expensive as a result of the price rise.
You could save a massive £200+/yr by switching
Compared to EDF's new SVT price, switching to the cheapest on the market right now would save on average £215/yr, based on typical use. And if you're on one of these capped tariffs, you can't be charged exit fees, so you're free to switch away at any time.
You can use our Cheap Energy Club to compare the whole of the market or use our popular Pick Me A Tariff tools, where you tell us your preferences and we find your top pick tariff.

How does the price cap work?
The price cap sets a limit on the maximum amount suppliers can charge for each unit of gas and electricity you use, and sets a maximum daily standing charge (what you pay to have your home connected to the grid).
Currently, someone who uses a typical amount of energy on a standard or default tariff pays a maximum of £1,138/yr on average, but that is set to rise to £1,277/yr from Friday 1 October.
As the cap limits the price providers can charge for each unit of gas and electricity, if you use more energy, you'll pay more; use less and you'll pay less.
The price cap is reviewed twice a year, with changes coming into effect in April and October. It's set to remain in place until at least the end of this year, with Ofgem to recommend on an annual basis if it should continue, up to 2023.
Struggling to pay your bill? There's lots of additional help available

Between the impact of the pandemic on people's finances, the upcoming end of the furlough scheme and changes to universal credit, another price cap rise is more bad news for household finances, particularly as it'll hit just as the weather gets colder and people are starting to use a lot more energy.
Fortunately, there is help available if you're struggling. Emergency measures put in place to help people struggling with bills due to coronavirus are still ongoing. Most importantly, your supply won't be cut off – disconnections of standard credit meters have been suspended, while prepayment customers can get emergency or additional credit to ensure the lights stay on.
There are also a range of options suppliers can offer if you are struggling, including full payment plan reviews, affordable debt repayment plans, payment breaks or reductions, allowing you more time to pay and access to hardship funds. This is all done on a case-by-case basis, so contact your supplier as soon as you can if you do start to struggle.
And last month, 26 suppliers, covering over 90% of households, also signed up to an industry commitment to reach out to those who most need help this winter. The commitments include a drive to increase awareness of the help available, to make it easier for customers in financial difficulties to get in touch, to improve bill accuracy and step up smart meter installations for prepayment customers.
There are also a range of energy grants to help those on certain benefits with winter bills. For full info, see our Housing & Energy Grants guide, or check Ofgem's website for a full rundown of what's available and what to do if you're having difficulty paying.
Why are prices rising?
According to Ofgem, the price rise is down to wholesale gas prices, which have surged by over 50% since the regulator last updated the price cap six months ago – hitting record highs due to increased demand for energy as lockdown measures have eased across the world.
What does EDF say?
Philippe Commaret, managing director of customers at EDF, said: "We know a price rise is never welcome, especially in tough times. In 2020, prices for our standard variable customers fell by an average of £100 a year, and we'll cut prices again as soon as we're able.

"As Ofgem has explained, it is global gas prices that have caused the unprecedented increase in wholesale energy costs and as a sustainable, long-term business we must reflect the costs we face.
"We will be directing financial assistance to those most in need through our £1.9m support fund, helping customers reduce their bills, manage their debt and even helping with costs for things like more energy efficient white goods.
"Customers on tariffs that are due to change in October will be written to, reminding them to check that they are on the best tariff for them."
For all the latest deals, guides and loopholes simply sign up today – it's spam-free!
Join the MSE Forum discussion