Easyjet to increase hand luggage costs for most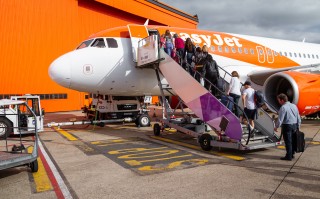 Most Easyjet passengers will have to pay more to take larger hand luggage on to a flight under a shake-up of the budget airline's bag policy.

The change affects those on a standard ticket who made a booking on or after 3 November 2021, though the flip side is they can at least take larger pieces – such as wheelie cases – on board with them, when they were previously forced to check them into the hold. Here's what you need to know, and as you'll see, the new convenience comes with a doubling of costs for many:
The new cost to take larger bags into the cabin on a standard ticket is between £5.99 and £32.99, but Easyjet says the average is £15. The price depends on demand and when you book. This also gets you 'speedy boarding', so you'll be among the first to board, though it's only possible to pay the charge via Easyjet's app for now, with website payments to be opened "in the coming weeks".


This replaces the previous policy where larger cabin bags had to be placed in the hold for £7 on a standard ticket. This option has been axed for bookings from 3 November 2021, so if you want to put it in the hold you need to pay the higher hold fees (see second table, below). If you've already paid for this service, Easyjet will honour it regardless of the flight date. If you've not paid for this service but booked flights prior to 3 November 2021, you will no longer be able to add it on.


Premium fare passengers can continue to take a large bag into the cabin at no extra cost. This includes those who've paid for an 'Up Front' or 'Extra Legroom' seat, or if they're on a 'Flexi Fare' or if they're an Easyjet Plus cardholder. Passengers who've paid for these premium fares also get speedy boarding included in the price.


All passengers can still take a smaller bag at no extra cost, regardless of their ticket. These include handbags, laptop bags or rucksacks.
Given the added expense for many, check out our 16 Easyjet tricks for ways to cut costs. Also see our 20 Ryanair tips and Cheap flights guide.
Luggage

Charge if booked online pre-3 Nov

Charge if booked online on or after 3 Nov

Small bag in cabin, for example, handbag (1)

No extra charge

No extra charge

Large bag in cabin, for example, wheelie suitcase (2)

- Standard fare: Banned
- Premium fare: No extra charge
- Standard fare: £5.99-£32.99 (average £15)
- Premium fare: No extra charge

Large cabin bag in hold, for example, wheelie suitcase (2)


£7 (3)

Standard hold luggage fees (see below)
Fees to put luggage into the hold remain the same
Prices are based on the weight of the luggage, the route and time of booking:
Weight

Charge if booked online (1)

Up to 15kg

£6.99-£35.49

Up to 23kg

£9.49-£42.49

Additional weight for pre-booked hold

luggage (up to 32kg max)

£12 per 3kg
What does Easyjet say?
The low-cost carrier told us that placing hand luggage into the hold under it's so-called 'hands-free' policy has been dropped to help "simplify" its luggage policy, particularly as only a "very small proportion" of customers used it.
In response to people paying more now, an Easyjet spokesperson said its large cabin bag policies aren't comparable given passengers couldn't take this luggage into the cabin previously. It adds that the new standard fare hand luggage changes have been implemented to help improve customer satisfaction and punctuality.
For all the latest deals, guides and loopholes simply sign up today – it's spam-free!
Join the MSE Forum discussion