Teletext Holidays and Alpharooms on the brink of collapse - here's all you need to know and how it affects you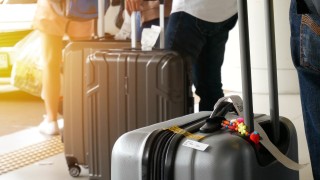 Teletext Holidays and sister-company Alpharooms are on the brink of collapse, MoneySavingExpert can reveal. Here is all you need to know if you have made a booking with the travel companies.
Update: Tuesday 19 April 2022: Trade body, the Travel Trust Association (TTA), has said affected Teletext and Alpharooms customers with either a flight-only or an accommodation-only booking should submit a so-called 'chargeback' claim if they paid by debit card and have yet to receive a refund on their booking.
A chargeback is where you can ask your bank to reverse a transaction in order to get your money back. You normally have 120 days to submit a Chargeback claim but the TTA said the banks have agreed to process claims in this instance. HOWEVER, we have received feedback from some customers who say they have tried this route but still haven't been able to get their money back. This is something we're looking into and will update the story when we know more.
We've asked the TTA exactly how many customers this impacts, and whether it's only Alpharooms customers who need to submit a chargeback given Teletext sold package trips, and we will update this story when we know.
If you paid by credit card and the amount you paid is over £100, the TTA said you can also submit a Section 75 claim to get your money back. To use either chargeback or section 75 you'll need to use the card you paid with. You'll need to provide evidence of your booking, including proof of purchase and the date the money was taken from your account.
If you've previously submitted a chargeback or section 75 for the same booking that was previously rejected, you'll need to submit it again for it to be reconsidered. See our Section 75 guide and our Chargeback guide for full details on how to submit either type of claim.
The Travel Trust Association (TTA), a trade body, has confirmed to MSE that directors at Truly Holdings, which owns both firms, have "sought the appointment of liquidators" after a bruising 18 months that have seen the parent company reprimanded by the UK competitions watchdog.
News of an imminent collapse, which affects more than 4,000 customers, comes after the TTA unexpectedly revoked the memberships of Teletext and Alpharooms on Friday on the back of financial concerns. Truly Holdings declined to comment.

According to statements issued by the two firms, Teletext Holidays is no longer taking new bookings, although it will honour existing holidays. Any future bookings made via Alpharooms will not be fulfilled.
The move to appoint liquidators comes after the competition watchdog, the Competition and Markets Authority (CMA), said last month that it would take Truly Holdings to court over its failure to fully refund customers for holidays cancelled due to Covid-19.
The below images show screenshots from both the Teletext Holidays and Alpharooms websites:


If you're currently on a Teletext holiday, the TTA says you can carry on as normal
If you're away now on a Teletext holiday we've been told by the TTA that you should not be impacted. The TTA said it has contacted all suppliers and requested that all bookings remain in place. Teletext package holidays have been re-contracted to TTA Travel, a fulfilment travel company operated by the TTA.
All of the Teletext package holidays taken on by the TTA include flights and as such are ATOL protected. This means that even if Teletext goes bust, your return flight home will still be valid and the TTA told MSE you should check-in as normal.
If you've booked a Teletext holiday, it should go ahead as planned

The TTA has confirmed that it has taken on ALL Teletext package holidays and that these trips will still go ahead.
All of the Teletext package holidays taken on by the TTA include flights and as such are ATOL protected. Reservations will continue to be protected by the ATOL scheme. Even if the firm goes bust, the TTA says you will still be able to go on your holiday as normal, or receive a full refund, which will be covered by the organisation.
The bookings will now also be subject to the TTA's terms and conditions, which can be found in full online. You can contact the TTA directly with any questions about your booking via trulytravelbookings@tta.co.uk. The TTA told us that it has contacted all Teletext Holidays customers and so they do not need to do anything. Any outstanding payments will be collected by the TTA.
If you booked accommodation with Alpharooms, you'll be due a refund
If you have booked accommodation with Alpharooms, this will no longer be valid. However, you can claim for a refund. The TTA said all customers with an Alpharooms accommodation-booking have been contacted and offered a refund. All Alpharooms bookings were for accommodation-only.
To claim your refund for your Alpharooms booking you will need to fill out the refund form and provide a number of details, including proof of payment for both the deposit and the balance. The operations team at the TTA will then review all submitted claims within seven working days and advise on the next steps. The TTA said it anticipates that once the claims are confirmed, refunds will take up to 12 weeks to be processed.
As both Teletext Holidays and Alpharooms were members of the TTA, your booking will be protected by its default process, meaning you will receive your money back.
What if I'm still owed a refund for a holiday cancelled due to Covid?
As previously stated, the CMA is in the process of taking Truly Holdings to court over a failure by the company to fully refund those who had holidays cancelled due to the pandemic. In light of the latest developments, the CMA told us that it will be monitoring the situation and will continue to take action to claw back the money owed by Truly Holdings.
The watchdog said: "We are monitoring the situation and are seeking further clarification. While these reports will concern people awaiting refunds, we will continue to take all possible action to get people the money they are owed."
The TTA has confirmed to us that it WILL be starting a claims process for all customers awaiting refunds, including those who have had their bookings cancelled due to Covid-19. This includes refunds for both Teletext and Alpharooms customers. The TTA said it will ask customers to submit details of their bookings and the relevant proof of payments in order to process their refunds.
However, if for any reason you don't get your money back, there are other ways to claim back your money:
Paid on a credit card and your holiday cost more than £100? Try Section 75. Under Section 75 of the Consumer Credit Act, if you pay on your credit card for an item costing more than £100, the card company is equally liable and you may be able to claim from it.

Bear in mind though that individual items have to cost at least £100 for you to be able to use Section 75 – if they only reach £100 collectively, this doesn't count. See our Section 75 guide for more info and how to file a claim. If your credit provider won't help, contact the Financial Ombudsman to make a complaint.


Order cost less than £100 or paid on a debit card? Try chargeback. Unlike Section 75, chargeback isn't a legal requirement, but we have seen successes when customers have claimed using this in the past.

You'll need to claim via your bank. See our Chargeback guide for help.
For all the latest deals, guides and loopholes simply sign up today – it's spam-free!
Join the MSE Forum discussion