Martin Lewis awarded CBE in New Year Honours – congratulations from the MSE team
Today, campaigning journalist Martin Lewis – founder of MoneySavingExpert.com and the Money & Mental Health Policy Institute charity, and the presenter of The Martin Lewis Money Show on ITV – has been awarded a CBE for services to broadcasting and consumer rights in the Queen's New Year Honours.
A normal news story would now go on to detail Martin's many and varied achievements. But this isn't why we've written this. Instead, this is a personal message from me and the 80 or so members of the MSE team to offer Martin our heartfelt congratulations (and no, he doesn't know we're writing it).
So... well done, Martin, from all of us – this is so, so thoroughly deserved.
And for those who don't work with you, I am going to try to put into words a little of the hard graft and dedication that you give to your work, which resulted in today's richly-deserved CBE award.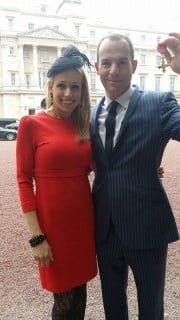 Many users of the site will know that Martin was previously appointed OBE in June 2014, following over a decade of tireless work developing MoneySavingExpert.com from a website built for £80 to one of the most-trusted brands in the UK. He's helped millions of people save or reclaim billions of pounds. To list everything he's done to help people get financial justice would make this a very long article (though you can read Martin's bio for more).

Yet today I want to tell you a little more about what he's done over the last couple of years to help people understand and access the help available to them during the pandemic – as this really does go to the heart of what we see from Martin every day.
It's been amazing to work alongside him during the last couple of years. He was right there with the rest of us in the early months of the pandemic, bothering regulators, advisers, press officers and civil servants at all hours to get a heads up on seismic Government support announcements, and then to clarify very minute, but very important, details in them.
Then, every week, he'd explain in plain English how these new regulations or support schemes could help people, both in MSE's weekly email, guides and blogs, and also on his TV show – no mean feat given their complexity.
So many relied on MSE for help during that period, and as the public face of the site and with a personal finance TV show, Martin must have felt that pressure weighing infinitely more heavily than we did.
Yet I know he – like the rest of us – was always heartened when MoneySavers would get in touch to say thank you. We heard from thousands of people who'd used our information to get vitally-needed support, and it was hearing how much we were making a difference in people's hour of need that really drove us all on.

I could go on enumerating Martin's many achievements. Yet I'll leave it there as, in fact, no one can say what being appointed a CBE means to Martin better than the man himself...

'A great surprise and thrill to get this upgrade!'
"I've often explained to people how to get an upgrade on all types of things, but it was a great surprise and thrill for me to get this one!
"During the pandemic, I found myself desperately trying to explain the state financial support packages available to the public; and in turn, where those financial support packages were lacking, to the Government.
"It was overwhelming to hear repeatedly from many people, how much that, or my other work, helped them – that's the real driver for me. On the back of that though, some kindly told me they wanted to nominate me for an honour. That wasn't necessary, but was lovely.
"Now my hope is all our lives soon return to normal, and my little girl, who was just a baby when I got presented the OBE, can this time join my wife and I when I get to receive this priceless honour."
For all the latest deals, guides and loopholes simply sign up today – it's spam-free!
Join the MSE Forum discussion