Martin's car and home insurance warning: Get quotes NOW as rule change may see prices spike
Even if your car and home insurance is not up for renewal, everyone should get quotes now as in just a couple of days new rules may mean costs will spike.

This article was first written by MoneySavingExpert.com (MSE) founder Martin Lewis for our weekly email on 1 December 2021. It was updated by the MSE Team on 30 December 2021.
On 1 January, as Big Ben strikes midnight and 2022 is birthed, and while the champagne corks and party poppers pop, we will enter a brave new insurance world.
This is the day the regulator, the Financial Conduct Authority, brings in new, hopefully better, rules to turn the mainstream insurance market on its head. However, in the short run this change could result in a spike in prices for switchers, so this is my last chance clarion call to get quotes now, just in case.
We have full info in the Cheap Car Insurance and Cheap Home Insurance guides. Here are the need-to-knows...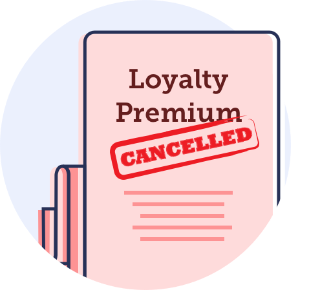 From 1 Jan:

New & existing customers will pay the SAME

I can hear the cheers. The rules aim to end the loyalty premium, where those who renew each year pay more than new customers who switch as they're offered cheap prices to do so.

From 2022, insurers must prove, on aggregate, they charge new and existing customers getting insurance via the same 'channel' the same price, including vouchers or cashback. All good for those who don't switch, or do, but don't want the hassle.

PS: The 'channel' bit means, for example, it can still charge different prices on different comparison sites, provided existing customers who originally came via that site are charged the same.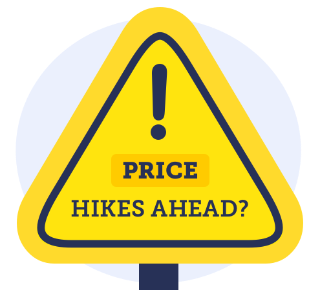 The problem...
prices likely to jump for switchers
My best guess is firms won't just cut renewal prices to match those for newbies - rates will meet nearer the middle (as happened in 2012, when insurers were barred from gender price discrimination). This will mean savings from switching will likely relatively reduce.
It was possible insurers would have already made price changes knowing this was coming. Yet I've heard many waited until December to see what their competitors do - a 'who jumps first' strategy - especially as we're near the year end, a time they really want to acquire new customers (prices already dipped in November).
So we're still unsure of how this will work exactly, but prices for switchers are very likely to be relatively higher for January. So...
Everyone check now: can you
LOCK IN

a cheaper deal?

Unless you've done all the checks in recent months, TRY NOW to see if a cheaper switchers' deal is available before the new rules hit, in case prices rise after (you can jump to the 8 steps to find cheaper insurance), as then if you get the policy you'll have locked in the price before the new rules hit. Timing matters though...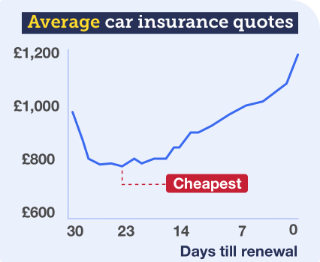 23 days before is the sweet spot for car insurance (21 for home). If you are close to renewal time, our analysis of over 70m quotes shows the optimum time to get quotes and to sign up to a new policy is 23 days before renewal on car cover. Delay and prices can almost double, as insurers' algorithms show later quote-getters are a higher risk. Many have tried this and are gobsmacked at the result, such as Rob, who emailed: "Put a date just over three weeks ahead of my car insurance renewal in the diary - saved £180 on my quote, so I added a few bits I didn't have and still came in £150 less for the year. Thank you."
Not near renewal? Still check, as if it's a lot cheaper, you can usually switch & save. Find a cheaper policy and you can usually cancel your existing one, and as long as you've not claimed / reported an incident this insurance year, you should get a pro-rata refund for the remaining time minus a £50ish one-off admin fee (do double-check).
Even factoring that in to any savings, and that you may not earn this year's no-claims bonus, it can still be worth it. As Steve emailed: "Been a Direct Line customer over 30yrs, but after your advice I have now switched and saved myself over £400 on home and car insurance. The car insurance was mid- term, but was worth changing even with 'Admin' charges." See help saving if not at renewal.
Eight steps

to speedily find your cheapest insurance

I'll run through it for car insurance, though it's pretty similar for buildings and contents too, but full info on that in Home Insurance Cost-Cutting.

And while few can save this large, to prove the power of the system, a few weeks ago Mitchell tweeted me: "@MartinSLewis Followed your tips by checking 23 days before. You won't believe it, I saved over £2,000 with Direct Line versus my renewal price and comparison site quotes. Thank you."

1. Check at least two comparison sites. That's because they don't all include the same insurers, and even when they do, they can have different prices (as long as it's not more than their direct price). So check as many as possible. You can pick via their perks, or our current assessed order below - either is fine - the real key is trying more than one.

- Compare The Market* (2for1 cinema & meals)

- Confused.com* (£20 Halfords/Lidl voucher)

- MoneySupermarket* (up to £150 off car repair/MOTs/servicing)

- Gocompare* ('free' £250 excess).

More info and how we order it in Comparing Comparison Sites.

2. Compare that to Direct Line, as comparison sites miss it. Biggie Direct Line* isn't on comparison sites, but is often worth checking.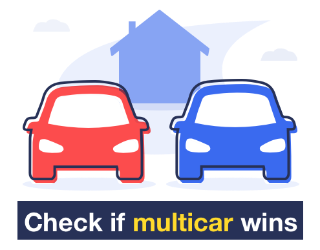 3. More than one car in the household? See if a Multicar Policy is cheaper (you can't do this via comparison sites). Whether it wins 'depends' - click the link for more on when it can win (and win large) and the best buy insurers.
4. Three counter-intuitive checks to make. It's all about trial and error.
- If price is key, check if comprehensive is cheaper than third party.

- See if adding a responsible extra driver cuts costs.
- Use the Job Picker to see if tweaking job description cuts costs.
5. Check if you can get cachback. Cashback Sites can give up to £50 after you've found your winning policy (always do it that way round).

6. Want to stay where you are? Haggle. Take the best price you've got to your existing insurer and see if it'll match it. See Insurance Haggling tips.
7. Struggling to find affordable cover? Try a broker. If a string of claims, a medical condition, or points on your licence are stopping you finding cover, comparison sites are unlikely to be great. So try to enlist a broker who may be able to get you more personalised cover. Search the BIBA website to find one.
8. Always check the policy is right for you (and complain if a claim's unfairly rejected). Try to read at least the policy summary before signing up, and ensure insurers are regulated by the Financial Conduct Authority (that shouldn't usually be a problem via the methods above).
And always remember if a claim is unfairly rejected, formally complain, then if still unhappy after, go to the free Financial Ombudsman.
For all the latest deals, guides and loopholes simply sign up today – it's spam-free!
Join the MSE Forum discussion