Martin Lewis: Postpone the planned cuts to Government energy support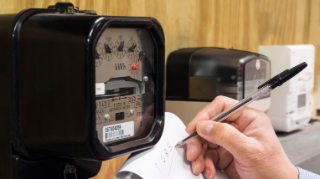 More than 110 organisations have so far joined Martin Lewis and MoneySavingExpert.com (MSE) in calling on the Chancellor to keep The Energy Price Guarantee (EPG) at a typical £2,500 a year, rather than hiking it to £3,000 a year from 1 April 2023 as planned. MSE founder Martin Lewis set out the campaign call in a letter to Jeremy Hunt earlier this month.
Update: 15 March 2023: In a campaign win for Martin Lewis and MoneySavingExpert.com, the Government has today confirmed that it will keep the Energy Price Guarantee at £2,500 a year for three months from 1 April. This, in effect, cancels the planned 20% hike, which would have seen typical bills rise to £3,000 a year - though prices will still rise from April as the £66/£67 a month Energy Bill Support Scheme ends. See Energy Price Guarantee update for the latest.
110+ organisations are supporting this call so far
Since the letter was sent on Thursday 9 February, more organisations have come out in support of Martin's call to postpone the hike: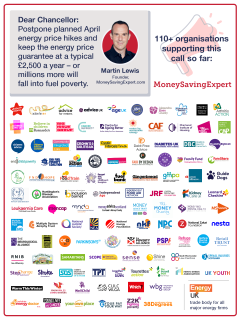 The full list is as follows:
1. MoneySavingExpert 2. Action for Children 3. Action for M.E. 4. Advice for Renters 5. Advice UK 6. Age UK 7. Alex The Leukodystrophy Charity 8. Alexandra Rose Charity 9. Alzheimer's Society 10. Anthony Nolan 11. Arthritis Action 12. Asthma + Lung UK 13. Barnardo's 14. Big Issue Foundation 15. Cancer Support UK 16. Centre For Ageing Better 17. Centre for Sustainable Energy 18. Charities Aid Foundation 19. Chartered Institute of Housing 20. Child Poverty Action Group 21. Christians Against Poverty 22. Citizens Advice 23. Citizens Advice Scotland 24. Community Integrated Care 25. Crohn's & Colitis UK 26. Cystic Fibrosis Trust 27. Debt Free Advice 28. Diabetes UK 29. Disability Benefits Consortium 30. Disability Rights UK 31. End Child Poverty 32. End Fuel Poverty Coalition 33. Energy Action Scotland 34. Environment Centre Swansea 35. Epilepsy Action 36. Fair By Design 37. Fairer Housing 38. Family Fund 39. FareShare 40. Feeding Britain 41. FND Hope UK 42. Food Train Scotland 43. Forget Me Not Children's Hospice 44. Fuel Bank Foundation 45. Gingerbread 46. Greater Manchester Poverty Action 47. Green Alliance 48. Guide Dogs for the Blind Association 49. Headway 50. Huntington's Disease Association 51. Inclusion Barnet 52. Independent Age 53. Independent Food Aid Network 54. Joseph Rowntree Foundation 55. Kidney Care UK 56. Leonard Cheshire 57. Leukaemia Care 58. Mencap 59. MND Association 60. Money Advice Scotland 61. Money Advice Trust 62. The Money Charity 63. Money and Mental Health Policy Institute 64. MS Society 65. MS Trust 66. Multiple System Atrophy Trust 67. National Autistic Society 68. National Energy Action 69. National Energy Foundation 70. The National Kidney Federation 71. National Pensioners Convention 72. National Zakat Foundation 73. Nesta 74. The Neurological Alliance 75. North East Child Poverty Commission 76. OCD UK 77. Parkinson's UK 78. Polio Survivor's Network 79. The Poverty Alliance 80. PSP Association 81. Refuge 82. Retail Trust 83. Rethink Mental Illness 84. RNIB 85. Rural Coffee Caravan 86. Samaritans 87. Scope 88. Sense 89. Shine Charity 90. South West London Law Centres 91. Spinal Injuries Scotland 92. StepChange 93. Stroke Association 94. Students Organising for Sustainability 95. Thomas Pocklington Trust 96. Together for Short Lives 97. Tourettes Action 98. Trussell Trust 99. UK Men's Sheds Association 100. UK Youth 101. Warm This Winter 102. Warm Wales 103. WellChild 104. Welsh Local Government Association 105. Which? 106. Women's Budget Group 107. Yorkshire Energy Doctor CIC 108. Young Lives vs Cancer 109. Your Own Place 110. Your Pay Your Way 111. Z2K (Zacchaeus 2000 Trust) 112. 38 Degrees
Energy UK, the trade association for the energy industry, has also come out in support of the call.

See the full letter below
Below is a copy of the original letter sent on 9 February:
The Rt Hon Jeremy Hunt MP
Chancellor of the Exchequer
HM Treasury
1 Horse Guards Road
London SW1A 2HQ
CC: The Rt Hon Grant Shapps MP
Dear Chancellor,
In your November Autumn Statement you announced a 20% increase of the energy price guarantee (EPG) – the state-subsidised energy rate – from April. This will increase energy bills yet again for almost every home across England, Scotland and Wales. This comes at the same time that the £400 energy bills support scheme comes to an end.
Yet things have changed since then, and I would ask you to urgently consider postponing that increase. This cannot wait until the Budget – in practice, energy firms will need to know much sooner if the planned rise isn't happening on 1 April, or they are bound to have to communicate to customers that it is coming.
This decision to increase prices was made at a time when wholesale rates were looking to be far higher than they are now. In fact, on current predictions the EPG subsidy may well only be needed from April to July. After that, the underlying price cap currently looks like it may be cheaper than even the current EPG rate of £2,500 a year for a typical household.
This means the provisioned Government expenditure on the energy subsidy will be billions less than expected when the plans were made, giving significant headroom to enable a postponement. Plus, maintaining a lower EPG will also help reduce inflation.
While the EPG isn't perfect, as it's not targeted, it is the method the Government currently uses to support people. Postponing the increase is a practical and fair decision, with household energy bills already double what they were the prior winter. Crucially, the damage to people's pockets and mental health of another round of energy price rise letters is disproportionate.
Without intervention, and soon, the charity National Energy Action predicts that the number of fuel poor households will rise drastically from an already shocking 6.7 million to 8.4 million from April – approaching double the 4.5 million households in this position in October 2021. [i] That is a frightening statistic.
There is widespread support for this move, which the likes of Citizens Advice, Fair By Design, National Energy Action, and StepChange agree with. I trust you'll consider this change and I look forward to receiving your response.
Yours faithfully,
Martin Lewis
Founder and Chair, MoneySavingExpert.com

[i] National Energy Action, UK Fuel Poverty Monitor 2021-2022, 17 January 2023. https://www.nea.org.uk/publications/uk-fuel-poverty-monitor-2021-22/
How the Price Cap and EPG is expected to change

Importantly, if Ofgem's regulated Energy Price Cap falls below The Energy Price Guarantee (EPG), consumers will pay the lower of the two. If this is the Energy Price Cap, then the Government support will no longer be needed on top. With current forecasts (see below), the EPG should likely be replaced by the Price Cap by July.
The Government's EPG is effectively a subsidy, and it currently brings a typical household's combined gas and electricity bill down to £2,500 a year.


The EPG was introduced from 1 October 2022 at a typical £2,500 a year, and was due to run for two years.


In the Chancellor's Autumn Statement (published on 17 November 2022), it was announced that from 1 April 2023, the EPG would rise to a typical £3,000 a year until 31 March 2024.


This increase in the EPG coincides with the end of the Energy Bills Support Scheme (EBSS), which saw millions of households receive £400 in energy credit over six months in winter. The two changes combined will see many facing an effective annual price hike of 40%.
Energy Price Cap predictions (credited to Cornwall Insight)
These are the latest predictions [i] for Ofgem's energy price cap from Cornwall Insight (CI).
QUARTERLY
Q2 2023 (Apr to Jun)
CI forecast
Q3 2023 (Jul to Sept)
CI forecast
Q4 2023 (Oct to Dec)
CI forecast
Electricity
£1,708.44
£1,088.81
£1,096.68
Gas
£1,586.48
£1,064.53
£1,064.37
TOTAL
£3,294.92
£2,153.34
£2,161.05
Under these current predictions, the Government would only be providing the EPG until July, when this would be superseded by the lower Energy Price Cap.
For reference, at the time of Autumn Statement, the predictions [ii] for Q3 and Q4 2023 were around £1,000 higher than they are now.
QUARTERLY
Q1 2023 (Jan to Mar)
CI forecast
Q2 2023 (Apr to Jun)
CI forecast
Q3 2023 (Jul to Sept)
CI forecast
Q4 2023 (Oct to Dec)
CI forecast
Electricity
£2,093.71
£1,826.56
£1,432.72
£1,477.11
Gas
£2,151.38
£1,912.54
£1,762.57
£1,736.35
TOTAL
£4,245.09
£3,739.10
£3,195.29
£3,213.46
For all the latest deals, guides and loopholes simply sign up today – it's spam-free!