Morrisons Fivers are back as supermarket relaunches 'More' loyalty scheme – here's what you need to know
Morrisons has brought back a revamped version of its 'More' loyalty scheme, including its popular 'Morrisons Fivers' perk, which lets you redeem points for £5 vouchers to spend in store or online. However, you'll now only be able to earn points on fuel and other "selected products". Here's what you need to know.
The supermarket had previously scrapped its points-based More scheme in 2021 in favour of personalised money-off vouchers under a scheme called 'My Morrisons'. But following feedback from shoppers, the points – and £5 vouchers – are now back, as is the 'Morrisons More' name.
If you're planning your next grocery shop, whether at Morrisons or elsewhere, read our Supermarket shopping tips guide beforehand for tools and tricks to cut food bills.
You can start earning points again right away
If you're an existing member of My Morrisons and/or Morrisons More, you can now earn points again under the relaunched More scheme. Here's how: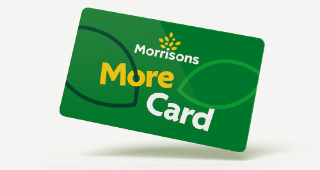 In store, just scan your existing physical or digital membership card – this should work the same as before.


If shopping online, you don't need to do anything extra – your details should already have been transferred to your new More card which is linked to your account. You can double-check this by logging in to the Morrisons More website.
Use the Morrisons loyalty scheme app? It's worth updating it to the latest version so you can keep track of your points and any offers. The update may have happened automatically, or you can update the app manually using the links below.

If you haven't already signed up to Morrisons More, you can do so for free online or via the app, which you can download from the Apple App Store or Google Play Store.
You WON'T earn points on everything in your basket
Previously, you could earn More points on almost everything at Morrisons – you got five points for every £1 spent, and 5,000 points were worth £5 in Morrisons vouchers, also known as 'Morrisons Fivers'.
Under the new scheme, 5,000 will still be worth £5 to spend at Morrisons, but you'll now only be able to earn points on:
Fuel. This will be at a rate of five points for every litre of fuel.


"Selected products". Here, the number of points offered will vary. When we checked on Tuesday 30 May, we only saw offers for Morrisons' own-brand products. These included:

- 1,000 points for every £10 spent on flowers and indoor plants
- 600 points for every £6 spent at a Morrisons Café in store
- 500 points for every £5 spent on BBQ meat
- 500 points for every £5 spent at a Morrisons pizza counter
- 400 points for every £4 spent at a Morrisons Deli counter and Deli Express
- 100 points for every pack of Jersey Royals bought
- 100 points for every pack of rhubarb bought
You can use these offers more than once, but they will change regularly – so you'll need to keep an eye on the Morrisons More website or app.
How to redeem your Morrisons Fiver
Once you've collected 5,000 More points, you'll get a £5 voucher to spend at Morrisons.
If you have a physical More card, you'll get the voucher at the till automatically when you reach 5,000 points. You can then use this on your next shop within 12 months of the date it was printed – just hand it to the cashier at checkout.


If you use a digital More card, you can request to load your £5 voucher on to your card via the app. Then, swipe your card at the checkout and the voucher will be deducted from your total. Alternatively, you can choose to convert your points into a code to use when shopping online. Your voucher or code will last for 12 months after it was generated.
There's no minimum spend required to redeem the voucher – but if your purchase is for less than £5, you won't get any change (so it's best to use it when spending £5 or more).
You'll still get personalised offers, money-off coupons and 'More Card Exclusives'
Morrisons says the newly relaunched More scheme "combines the best of My Morrisons (exclusives and personalised offers) with the old More card (points on shopping and fuel, and Fivers)".
This means you'll still get bonus offers and coupons tailored to your shopping habits, as well as access to lower prices through 'More Card Exclusives' – these launched towards the end of last year and are the Morrisons equivalent of Tesco's Clubcard Prices and Sainsbury's Nectar Prices.
When we checked on Tuesday 30 May, the selection of 'More Card Exclusives' was very limited with only 20 offers in total – here's how they compared with other shops' prices:
Item
Regular Morrisons price
Morrisons More price and discount off regular price
Cheapest we found elsewhere

✅ Where Morrisons More was cheapest

Cathedral City cheddar cheese, 350g

£3.99

£3 (25% off)

£3.15 at Asda

Diet Coke/Coca-Cola Zero Sugar, pack of four cans

£2.50

£1.99 (20% off)

£3 at Sainsbury's

Hula Hoops variety crisps, pack of 18

£5.25

£4 (24% off)

£5 at Ocado

Inch's Apple Cider, pack of 10 cans

£9.50

£7 (26% off)

£9 at Asda

Nescafé Original instant coffee, 300g

£6

£4.99 (17% off)

£6 at Amazon, B&M and Poundland

Nescafé Gold instant coffee, 200g

£6

£4.99 (17% off)

£5.50 at Poundland

Old El Paso fajita kit, 500g

£2.50

£1.99 (20% off)

£2.49 at Bother

Pepsi Max, pack of 24 cans

£8

£4.99 (38% off)

£7.99 at Bother

Pringles crisps, 185g
£2.25
£1.85 (18% off)
£2.25 at Asda, Ocado and Tesco

Yorkshire Tea, pack of 240 bags

£5.49

£4.49 (18% off)

£5 at Asda

🧐 Where Morrisons More could be price-matched elsewhere

Anchor Spreadable, 500g

£3.75

£3.50 (7% off)
£3.50 at Asda and Ocado

Baylis & Harding Fuzzy Duck men's shower kit

£18

£9 (50% off)
£9 at Tesco

Flora Buttery spread, 450g

£2.25

£1.75 (22% off)
£1.75 at Asda and Ocado

Walkers classic variety crisps, pack of 20

£4.89

£4 (18% off)
£4 at Asda and Tesco

❌ Where Morrisons More was more expensive

Itsu hoisin duck bao buns, pack of six

£4.25

£3.50 (18% off)

£3.18 at Ocado

Offers on Morrisons own-brand items

£2.50 off takeaway ready meal bags (£6 with More card; £8.50 without)

£2 off pizza meal deals (£6 with More card; £8 without)

50p off sandwich meal deals (£3.50 with More card; £4 without)

20% off fish from the fish counters on Fridays

20% off steaks from the butchers counters on Saturdays
For all the latest deals, guides and loopholes simply sign up today – it's spam-free!
Join the MSE Forum discussion