Morrisons to scrap 'More' loyalty points in favour of personalised money-off discounts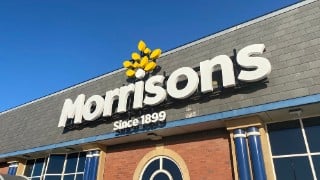 Morrisons is to axe its 'More' loyalty points scheme and replace it with new personalised money-off vouchers. It means you'll no longer be able to collect points on your shopping from early May, and you'll have to swap existing points for vouchers by August at the latest.
Currently, Morrisons shoppers can use a loyalty card or an app to collect More points when buying from Morrisons, in-store and online. These points are then turned into vouchers that can be spent at the supermarket in-store or online – you get five points for every £1 spent, and 5,000 points are worth £5 in Morrisons vouchers.
But from May, you'll no longer be able to collect points when you shop and will get personalised money-off discounts instead (shoppers already receive some personalised offers but can't always use these instantly, which they will be able to do under the new system). The scheme's name is also under review, so the 'Morrisons More' brand may be scrapped in future.
See our Supermarket Shopping Tips guide for 30 tools and tricks to slash food bills and read our Loyalty Points Boosting guide for tips on making loyalty points go further.
The new loyalty scheme will give digital money-off coupons from May
Here's how the new-look Morrisons loyalty scheme will work from 10 May 2021:
You'll be shown a selection of personalised offers via the app or online. These will give you money off specific products and will be tailored towards the things you usually buy.


You'll need to activate the offers first, then swipe your app or card when you pay to use them. You can activate offers via the app or the website. We've asked Morrisons if there are any limits on the number of offers you can activate and the number you can use per shop, and will update this story when we hear back.

Once you've done that, just swipe your app or card at the till to apply the discounts and your savings will be automatically deducted from the bill. You can also get the discounts online, though it's not clear if this will happen automatically once you've logged into your account or if you need to do something more – we're checking and will update this story when we hear back.
If you haven't already signed up to Morrisons More, you can do so for free online or via the app. The app is free to download on Android and iOS. Morrisons says it will also keep members informed about upcoming store events and offers via the app.
If you want to be sent a physical loyalty card, you'll need to sign up by 10 May
If you sign up to Morrisons More from 10 May 2021 you'll no longer be sent a physical loyalty card to use in-store, and replacements for lost cards will also stop being sent.
That means if you don't use a smartphone, or simply don't want to use the app, you'll need to sign up to Morrisons More by 10 May 2021 to get a physical card to swipe for in-store discounts.
Got points saved? Make sure you turn them into vouchers by August
If you're an existing Morrisons More customer, here's a quick rundown of what's changing when:
Until and including 9 May 2021, nothing changes. Everything remains the same and you will continue to be able to earn and spend More points.


From 10 May 2021, you'll no longer earn More points and will start getting discounts via the new scheme. It'll work as outlined above.


You won't be able to claim points from old receipts after 8 June 2021. Under the current scheme, if you forget your Morrisons More card you can have points added to your receipt instead. You can then transfer these from your receipt to your loyalty card at the in-store customer services desk. You have 30 days from the transaction to add points, which means the last day is 8 June 2021 if you shopped on 9 May 2021. You cannot add points from more than two receipts in any 14-day period.


The deadline to turn More points into vouchers is 9 August 2021. Some customers choose to have £5 vouchers automatically printed in store once they reach 5,000 points, in which case you don't need to do anything. However, others have to request vouchers manually – if so, then make sure you do this by 9 August 2021, as after that date any points on your More account will be lost. Read more about these options on the Morrisons website.

It's important to note that you can only get a voucher once you have 5,000 points stored up – so if you have less than this left over, you'll lose them.


Once you've got a voucher, you have just over a year to use it. Vouchers to spend in-store and online are valid for 56 weeks from the requested or printed date.
How good is the new Morrisons loyalty scheme?
We don't yet have full details of how many personalised discounts will be offered under the new scheme or exactly what they'll be, so it's difficult at this stage to evaluate how good it is. But when we've seen similar changes to loyalty schemes in the past, they've sometimes been disappointing for customers.
Under the new system, you'll need to remember to regularly log in to the app or website and activate deals before you shop, and will only get money off certain items. While that may work out well if you were planning to buy one of the discounted items anyway, many will miss the flexibility of getting money-off vouchers to spend on anything at Morrisons.
We'll continue to monitor the changes to Morrisions' loyalty scheme when they come in during May. For the latest info, including further analysis when we're able to do it, see our Loyalty Points Boosting guide.
For all the latest deals, guides and loopholes simply sign up today - it's spam free!
Have your say
This is an open discussion and the comments do not represent the views of MSE. We want everyone to enjoy using our site but spam, bullying and offensive comments will not be tolerated. Posts may be deleted and repeat offenders blocked at our discretion. Please contact fbteam@moneysavingexpert.com if you wish to report any comments.