10 USA Roaming Tips
Pay UK rates with a special Sim
Get Our Free Money Tips Email!
For all the latest deals, guides and loopholes - join the 12m who get it. Don't miss out

Updated June 2018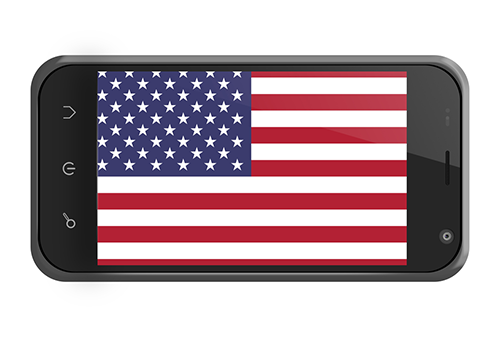 While roaming in Europe is relatively cheap, take a trip to the USA and it's easy to rack up bills of £100s. Yet there are simple ways to slash the cost including a special way to use your UK tariff in America at no extra cost.
Here are 10 top tips from MoneySavingExpert founder Martin Lewis based on a trip he made to the States…
10 US roaming tips...
Let us know what you think. Please give us feedback, suggest improvements and share your tips in the US Roaming Tips forum thread.
Do you really need a phone for anything other than emergencies?
If it's a holiday you may enjoy it more if you go offline, and it's likely to save on the pocket while ensuring you have a hassle-free break from daily life. To show quite how extreme things can be, here are the standard costs from three UK mobile networks. (I'll discuss Three shortly.)
Vodafone pay-monthly customers are now charged a flat rate of £6 a day to use minutes, texts and data from their UK allowances while in the USA. This can be good value for heavy users, but be careful - outrageously, you'll automatically be charged the full £6 just for sending a single 'I've landed' text. See the
Vodafone roaming warning
MSE news story for full info (NB: Story refers to a £5 charge, but this went up to £6 in December 2017).
Standard costs on pay monthly
| Network | Call the UK | Make a local US call | Receive a call | Send a text | 100MB data |
| --- | --- | --- | --- | --- | --- |
| EE | £1.20/min | £1.20/min | £1/min | 60p/text | N/A (1) |
| O2 | £2/min | £2/min | £2/min | 50p/text | £720 (2) |
| Vodafone (3) | £6/day | £6/day | Free | £6/day | £6/day |
Standard costs on pay-as-you-go
| Network | Call the UK | Make a local US call | Receive a call | Send a text | 100MB Data |
| --- | --- | --- | --- | --- | --- |
| EE | £1.20/min | £1.20/min | £1.20/min | 60p/text | N/A (1) |
| O2 | £2/min | £2/min | £2/min | 50p/text | £720 |
| Vodafone | 60p/min | 60p/min | 36p/min | 8p/text | £12 |
Most networks do offer add-on packages, but these too can be astronomical.
They'll often include a daily allowance, and charge you for every day you use any data. Here's how much it could cost for someone on pay monthly, using data every day of a week-long holiday:
Cost of data bundles over 7 days
| Network | Bundle | MB | Cost per day | Cost over 7 days | Rolling add-on | Other bundles |
| --- | --- | --- | --- | --- | --- | --- |
| EE | Zone A data add-on* | 40MB/day | £4 | £28 | No | Go Further* (1) |
| O2 | O2 Travel* (2) | Unlimited | £4.99 | £34.93 | No | Data Abroad Bolt On* |
| Vodafone | Vodafone Global Roaming* | UK data allowance (3) | £6 (4) | £42 | No | N/A |
If you're not already on Three get one of its cheap pay-as-you-go Sim cards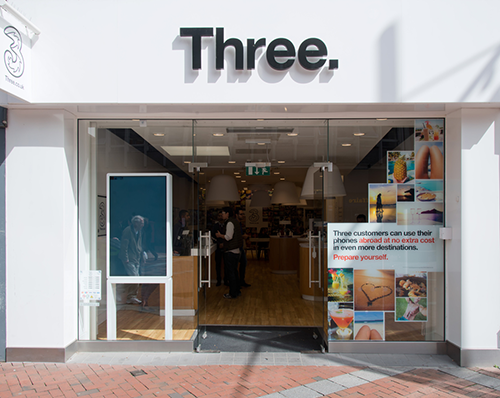 Three uniquely allows those on its Advanced (but NOT Essential) plans to roam in the USA (and many other countries, see the full 'Feel at Home' list), at no extra charge – a stunning offer for the States considering how expensive it is with others (You can only roam on 3G, not 'superfast' 4G).
Here's how Feel At Home works for the US.
Any calls or texts to UK numbers and any data used comes from your allowance (though you're charged international rates for dialling non-UK numbers, eg, if you call the restaurant down the street from your hotel). Receiving calls and texts is also free.
If you have international roaming activated on your account, Feel At Home should work automatically when you arrive in one of the countries covered. You'll get a text confirming there's no extra cost for calls and texts to the UK, and another with international rates.
You can only use 3G data abroad, even if you get 'superfast' 4G in the UK. Three says there's no need to turn 4G off to get online in a Feel At Home country though, your handset will just connect to 3G only.
There's a 'fair usage' cap of 12GB data, 3,000 mins and 5,000 texts abroad. That's how much of your monthly UK allowance you can use abroad with no roaming charges - so it's not technically unlimited 'free roaming', though for many it will be plenty.
Three's terms and conditions say you can't use your phone for tethering (sharing your data connection with other devices).
Three also says it reserves the right to cut off the service if you use your allowance abroad for more than two months continuously.
However, I'm not advocating permanently switching to Three just for this, as you can simply just bag one of its pay-as-you-go Sims to use on your travels (the Sim is the little gold chip that goes in the back of a handset, that gives a phone its number, its identity and dictates what you pay).
Here's three steps to do this.
Order a free Three PAYG Sim* – it's free online (or free in store provided you do a £10 credit top up which is also needed to get the add on package).


To get the 'pay the same in the US as you do in the UK' deal you need one of its add-on packages* which cost between £5 and £35. It's likely the most suitable is its All-in-One 20 package, which for £20 gives 300 mins and 3,000 texts to the UK and 12GB of 3G data, to use over 30 days, and it's free to receive calls. Astoundingly cheap compared to the deals above, especially for longer trips.


Make sure you have international roaming activated on your account – you can do this online or by calling customer services - see Three's website for more details. Once you arrive in the US or any of the other Feel at Home countries it works automatically.
If you choose not to buy an add on and rely on Three's Feel At Home PAYG rates while in the USA, it's 3p per min to call the UK, 2p per text and 1p per MB – still much cheaper than other networks.
NB: You have to make a call, send a text or go online in the UK from your Three PAYG Sim first to be able to take advantage of the Feel At Home rates.
Vodafone has a similar system for its contract users called Vodafone Global Roaming* where you can use your UK contract minutes abroad in 104 countries, including the US, but you pay £6 per day you use it (if you go over your normal allowance you're charged at standard UK rates*).
Get Our Free Money Tips Email!
For all the latest deals, guides and loopholes – join the 10m who get it. Don't miss out
Ensure your phone is unlocked at least 10 days in advance
Some modern handsets are locked so they can only be used on one network. If you're going for the Three Sim route and are not a Three customer, you may need to unlock yours to allow it to use the Sim card. This can take a few days – up to 10 on some networks – so don't leave it too late.
You may be able to unlock your phone for free, depending on your network and the type of handset you have. If you can't then your network may charge you to do it – prices vary but it typically costs between £9 and £15 (see the networks' unlocking policies). If that's the case, head to the high street and check out prices from businesses which offer unlocking.
A few older handsets, eg some Nokias and LGs, can be unlocked for free by finding a code online. Giffgaff's Unlockapedia* is a good place to start – you'll need to know your brand, model number, network and IMEI number (type *#06# into your handset to find it).
If you're feeling brave and particularly confident in your technical abilities you may be able to do it yourself if you've an older handset. See our Mobile Unlocking guide for more information.
The Three Sim will have a different phone number – putting your normal Sim into a spare handset should help
If you're going for a Three Sim route, remember it will have a different phone number, so it's worth letting friends, family and colleagues who may call and text know your temporary number while away.
However this still leaves the unexpected calls and texts to your normal number that you may miss. (Unless you just tell them to stick to WhatsApp, which works off data and can stay tied to your normal number if you choose.)
If you are worried about those leave your normal Sim in a spare handset. You can then either take this with you to receive messages only, replying back on your Three phone, or leave the spare handset at home and use autoforwarding of calls (or download an Android or iPhone app that does it for you).
If you don't have a spare handset you can just take your normal Sim with you and put it in your phone once a day to check for messages.
Use free Wi-Fi for internet and calls
Free Wi-Fi is commonplace in the USA. So whether you're using Three or not, when you want to make contact pop into a McDonalds, Starbucks, or countless other restaurants and stores and use their free Wi-Fi. See the Free Wi-Fi guide for more details.

You can also download apps ahead of time to make the most of free Wi-Fi when you're Stateside.
Free web calls. If you've a smartphone, download the Skype or Viber (iPhone) or Viber (Android) apps on your phone and you can then use it to speak to people back home who are also using the same service for free – or use Facetime if you're an Apple user and the person you're contacting is too.

Messenger services like WhatsApp and Messenger also let you make calls using Wi-Fi, as long as you and the person you're calling both have the app.

Or you can make calls to the UK for 0.4p/min to a landline on using Wi-Fi or data via a calling app like Localphone or about 2.1p/min on Skype (plus a 4.5p connection fee). See our Free Web Calls guide for more info.
Text is cheap-ish, talk isn't
If you're not using the Three Sim it's worth noting that while calls have an open-ended cost, the cost of texting is fixed at roughly 40p a go depending on the network.
Therefore if you need to contact people back home, send them a text. Even if you ask them to call you back it is pretty much the same cost to receive a call as make one, so our advice is to keep schtum if you can,
And to help keep texts short so they hopefully fit into just one message – esy 2do, if u lrn b4 u go.
Get Our Free Money Tips Email!
For all the latest deals, guides and loopholes – join the 10m who get it. Don't miss out
Switch data roaming off
Again if you're not on the Three Sim, ensure you switch data roaming off. If not your phone can be using data while you're unaware – many apps are constantly updating. This can easily hoover up all your data or cost you a fortune.
How to switch off data roaming
Here's how to turn off data roaming on some of the most common phones:
iPhone. Go into Settings > Cellular, then tap the data roaming slider to off.
Samsung. Go into Settings > More Networks > Mobile Networks, then untick the data roaming button.
Blackberry. Go into Manage Connections > Mobile Network Options, then change Data Services While Roaming to off.
Windows phone. Go into Settings > Mobile Network > Data Roaming Options, then select "do not roam".
Many apps and programs, as well as the operating systems themselves, routinely check for available updates and download them automatically. So be sure to turn these off too. Here's how for iPhones and Android handsets:
iPhone. Go to Settings > iTunes & App Store > and slide Updates to off. This will stop your handset from scanning for emails and app updates every few minutes. More info on How-To Geek.

Android. Go to Settings > Data usage and click the icon on the top right or bottom left of the screen, then tick 'Restrict Background Data' in the dropdown. This will prevent your phone from syncing and updating. You should also check the settings for each app, as there's usually the option to turn off auto updates.
Beware – some networks charge £1.20/min just to RECEIVE a voicemail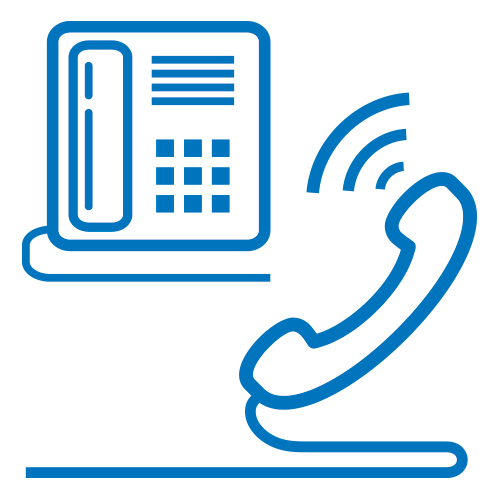 On some networks you pay per minute of voicemail others leave while you're in the States, and then pay to listen too. So you may want to switch it off before you go.
EE charges you to receive and pick up voicemail. Outside Europe, you'll pay £1.20 per minute of voicemail you're left, and a further £1.20/min to pick it up. To stop any shock bills turn voicemail off*.

Virgin Mobile only charges to pick up voicemail. You'll pay £1.80/min to listen to voicemail, but you can turn it off by dialling '#002#'.

Three is free (for most). If you're on an Advanced plan and have minutes left in your monthly allowance or add-on it will be free to call voicemail, but set up a pin before you go. If you don't have any allowance left it's 3p/min to call voicemail, or £1.40/min if you're on an Essential plan.

Vodafone only charges to pick up voicemail. If you're a pay monthly customer, calls to voicemail will be included in the £6/day 'Roam-further' plan. If you're on pay-as-you-go, you'll pay 60p/min to call voicemail, but you can turn it off* before you go.

O2 only charges to pick up voicemail. It costs £2/min to call voicemail, but you can turn it off by dialling 1760 from your mobile while in the UK. If you do want to use voicemail abroad you need to set up a pin* before you go.

For more info on voicemail charges and how to dodge them see the Beat the Voicemail Roaming Trap guide.
While it may work, you are breaching Three's terms if you use your phone as a portable hotspot
If you're using the Three Sim technique, it's worth being aware its Feel at Home terms and conditions don't allow tethering – in other words using your phone as a 'portable hotspot' to then connect your (or others') laptop or tablet to.
However we have had people say it does work – we asked Three about this but it refused to be drawn on the consequences, only referring us to the out of allowance call charges if tethering takes you over the 12GB allowed if you have all-you-can-eat data.
But if there's a group of you, why not consider using the one phone with a Three Feel at Home Sim between you? Normally this wouldn't be ideal but if you're just checking in, using maps and looking up restaurants and places to visit it will be much cheaper than you all forking out for your own data.
Accept the signal won't be great
I've used the Three Sim in the centre of Manhattan. The signal was patchy and the data was slow, yet for the price it is still a good deal. Don't go with the expectation you will get the type of service and speed you're used to on your home network – you may be lucky, and it could be great, as one MSE team member who travelled to California told me, but don't expect it.

Three will automatically connect you to a network, so you can't try a different one to see if you get better signal.

I was able to make a raft of calls, receive them, text and get data good enough for basic web surfing and Google Maps – though not streaming. For anything more, it's worth finding free Wi-Fi.

It's also worth noting that the US is a very large country. If service was patchy in the centre of New York City, it's likely to be much more intermittent if you're visiting, say, the Grand Canyon.

If you're willing to pay more there are global roaming Sims and 4G Sims that will be faster, but are far costlier (though still cheaper than network add-ons for trips longer thana few days), or find a local Sim when you arrive. For more info see the Cheap Mobile and Data Roaming guide.