Autosaving Apps
What they are, how they work & our top picks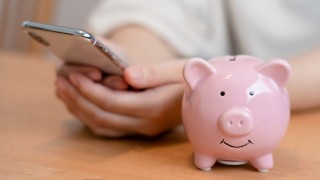 Autosaving apps use clever tech to work out what you can afford to save and then do it for you automatically, moving money from your bank account to a virtual savings account. Some even let you invest. The idea is that you start building up savings without really noticing the cash is going. We've everything you need to know and all the top picks below.
Get Our Free Money Tips Email!
For all the latest deals, guides and loopholes - join the 12m who get it. Don't miss out
What are autosaving apps?
These 'autosaving' apps try to squirrel away some of your cash without you noticing – useful if you find it difficult to put money aside or don't know how to start saving.
Some calculate how much you can afford to save each week and automatically move money into a separate savings (or investment) account, while others 'round up' your purchases to the nearest pound and save the change for you. In theory, these features should help you save without having to think about it, leading to higher savings building up.
If you're feeling the pinch, you can always tell the app to save less, or withdraw the money back into your current account if you need it.
Yet while these apps can help you save more, they generally don't pay much (or any) interest – to max returns on existing savings, see our Top Savings Accounts guide.
Quick question
The apps in this guide all work with Android and iOS phones, so you should be able to download them if you've one of those, provided it's relatively up to date. Alternatively, several of the apps let you download them to an iPad or other tablet if it runs on Android or iOS (see Cheap Mobile Tips if you want a new phone).
The five autosaving app need-to-knows
To help you decide if an autosaving app is right for you, it's worth getting your head around the following need-to-knows...
If you want to try an app to help you get saving (or investing), our top picks are below. Remember: if you choose to invest, you could lose money as well as make money. So make sure you fully understand the risks before diving in – if you're not sure where to start, take a look at our top 10 investment tips for beginners.
With Tandem (download on your device through the App Store* or Google Play*) you can save in a few different ways. Once you've connected your main bank account, you can set up one or more of its three saving rules:

- Round-ups, where you save up to the next whole pound (eg, if you buy a 30p banana, it'll save 70p for you)
- Regular deposit, where you choose how much you want to save each week
- Safe to save, where its algorithm works out how much you can afford to save each week from the account(s) that you have linked

Or, for occasional deposits, you can also manually pay up to £500 a week into your Tandem savings from a linked current account.
Tandem pays interest of 0.5% on whatever you save. This is easily beaten by normal easy access accounts, but with those, you need to actively save in to them. With Tandem, it's done for you, so it'd suit those who find it hard to save on their own.

Important: Tandem has its own banking licence, so up to £85,000 of savings is protected under the FSCS.
Tandem has two ways you can save through it where you're not in direct control of the total:

Round-ups. Here, it just rounds up any debit card purchases you make to the nearest £1. You can link a credit card for the round-ups feature, but it will only ever take your round-up savings amount from your debit card, not your credit card.


'Safe to save'. When you turn this on, you're asked what level you'd like to set it at. Tandem has five levels from 'minimum', where it looks to save around 5% of your regular income, to 'maximum', which is 15%.

To turn either of these ways on, you will need to give Tandem read-only access to your current account so it can see the transactions going out and work out how much is 'safe to save' for you.

Your savings from this will be set aside once a week (you'll get an app notification telling you how much), and you'll have two days to adjust the amount – for example, if you have an upcoming big expense and you need to keep more cash in your current account. The amounts are taken by Tandem as a charge on your main linked debit card.

The app works with most of the big banks, including Bank of Scotland, Barclays, Danske Bank, First Direct, Halifax, HSBC, Lloyds, M&S Bank, Monzo, Nationwide, NatWest, Revolut, RBS, Santander, Starling, TSB and Ulster Bank.

Tandem is a bank in its own right, which means that your cash is protected up to £85,000 under the Financial Services Compensation Scheme. If you have other savings accounts with Tandem, then the protection is shared across all of them.

For more information on how your savings are protected, read the Safe Savings guide.
Get Our Free Money Tips Email!
For all the latest deals, guides and loopholes - join the 12m who get it. Don't miss out
Join the MSE Forum Discussion