How to BEAT school holiday travel price hikes
There's a collective 'GRRRRR' from parents about holiday price hikes when term ends – the cost of flights, hotels and package holidays always seems to rocket. Yet the law's plain. You can't take kids out of school for unauthorised vacations without being fined (see our Term-time holidays 60-second guide for the full lowdown).
Fortunately, some simple tricks can help you fight back and turn the tables on sky-high prices for family trips abroad. Here are 11 to get you started (including a couple of new ones we've just added for 2020):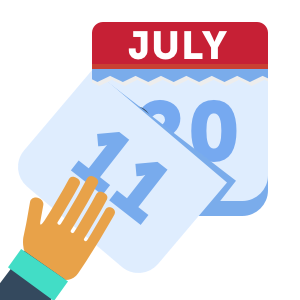 Find hidden cheap booking dates. Every so often, your school's term dates may differ from everyone else's. This could be due to inset days or just because your council's chosen different dates. These hidden dates can mean huge savings.

For example, in 2020 most Leicestershire schools break up on 10 July, while most others do so in the week starting 20 July. When we checked, we found a week's holiday in a three-star hotel in Corfu, including flights from Birmingham, for £408 per person leaving on 11 July. On 20 July, the same holiday jumped to £519 per person.

Most schools in Scotland break up earlier (this year it's around 29 June), so if that's you, consider going away sooner rather than later.

Also watch out for inset days – those one-off mid-term holiday days which vary by school and are usually for teacher training. These can be a boon for long weekends away. For example, some MoneySavers report nabbing cheap stays at Center Parcs through careful forward planning.

To spot hidden cheap booking dates:
Use the Gov.uk school holiday dates tool to find out when schools in your area are off, and check directly with your school too, as inset days and term dates can vary.


Then search Google for other schools' dates. The School Holidays Europe site has a summary of the different 2019/20 dates in England, Scotland, Wales and Northern Ireland.


Work out where your school differs from the norm. It might start a week early, finish a week late or have a tempting Friday or Monday inset day, which means you can make a long weekend of it. If your school's off and others aren't, chances are you'll find a bargain.
Booking a package holiday? The last two weeks of summer are usually cheaper. If you're looking for a sunny getaway in a traditional holiday resort, a good old-fashioned package may still smash DIY holidays – see our Cheap Package Holidays guide for tips on how to find 'em.

And if you're travelling with school-age kids and booking in advance, it's usually worth jetting off in the last two weeks of summer if you can. Travel body ABTA says prices drop rapidly at the end of August/early September – likely because most people want to go as soon as they can. For example, when we checked in January, we saw a week in Cyprus for a family of four that was £604 per person leaving 28 July from London Gatwick, but just £425 per person from 21 August.

Being flexible is key though. Late deals can be cheaper, so if you're booking in, say, late June, July may be cheaper than the last two weeks of August. There's more on this in the Package Holidays guide.
The 'book the wrong date' trick. Easyjet's 'Flexifares' let you switch dates by a few weeks without paying anything extra. So you can bag cheap term-time flights, then swap for your chosen school holiday dates.

Unfortunately, since we first told you about this loophole in 2014, Easyjet seems to have made it harder to exploit, but it's still worth trying – see our Easyjet Flexifare trick for step-by-step help. Plus, see more tips on locating the cheapest flights in Cheap Flights.

MSE Steve N saved a cool £431 on flights to Sardinia (read his blog here):
We had to go away in the last week of May – prices were through the roof because it was half-term. Flights for the family, travelling at the weekend with luggage, cost £836 all-in. But booking flexi-flights two weeks earlier cost just £405. After a nervous 24-hour wait, we switched them to the weekend we wanted.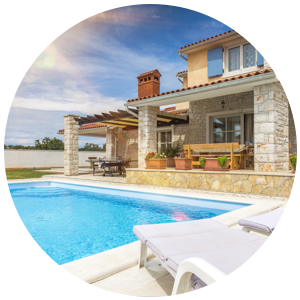 Cheap villas can undercut hotels – price hikes are smaller and owners are more willing to haggle. Big family groups may need multiple hotel rooms. Instead, look at villas and apartments. For example, over October half-term I stayed for a week with my husband and two kids in this lovely two-bed apartment in Sicily for £335 – that's £84pp.

While villa prices rise in the summer, they don't always climb by quite as much as a package holiday and negotiation is often possible.

Direct booking sites let you quickly search for holiday rentals – see full help in our Cheap Holiday Rentals guide. Be careful though: if you book directly with an owner, there's less protection.

Here's how it worked for me (on another half-term trip to another Italian island):
We found a three-bedroom villa in Sardinia over one May half-term advertised for £880. I sent one message politely asking if there was any flexibility in the price and she immediately cut it to £570. This wasn't even last-minute.
BA Avios points can offer fab value over the school holidays. BA Avios points can be your golden ticket to cheap school holiday flights. Yes, the number of points you have to spend increases at peak times. But while you need slightly more Avios points (10-30%), it may be nothing compared to how normal flight prices can spiral.

As an example, a London to Athens return in the first week of August – peak time – costs 27,000 points (plus taxes). In off-peak periods, it's 24,000 points (plus taxes). That's an 13% increase in the number of points you need.

Yet when we searched in January, the same BA flight was £128 in the first week of June (off-peak), and the cheapest BA flight in the first week of August £193. That's a mega 51% increase.

Avios flights are limited and seats at peak times vanish quickly, so plan ahead. The ideal time to start checking is around a year before, when seats start to be released. See our full Avios Tricks guide for more.
It pays to check other countries' holiday dates – especially for Disney World. Resorts popular with locals can empty out once their kids head back to school, meaning falling prices. Term dates vary from country to country, so it's worth a quick check before picking which week to go.

US term dates vary by region and state, but many go back in early or mid-August – a boon for Florida-bound UK families. Similarly, German schools go back in the first week of August this year. We found a two-bedroom cottage at a German Center Parcs (Park Hochsauerland) for £1,112 for seven nights in the last week of July. In mid-August, the same break costs just £621.

To check where other countries' term dates differ, visit the PublicHolidays website or just Google it.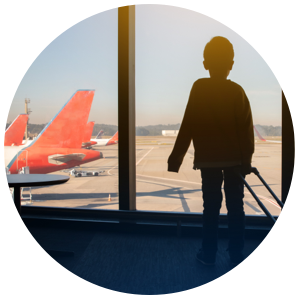 Fly from Scotland in the last two weeks of August – even if you don't live there. Going away in the last two weeks of August? You may be able to save by flying your family out from Scotland – even if you live elsewhere in the UK.

Scottish children generally have an earlier summer break than the rest of the UK, with most returning on 13 August this year. Thus exactly the same package holiday flying from, say, Edinburgh can sometimes work out cheaper than one from, say, Manchester.

To prove this, when we searched, we found a week's three-star half-board holiday in Lake Garda for a family of four, leaving on 22 August. Flying from Newcastle, the holiday cost £2,932. Flying from Glasgow, the trip was £2,365. That's the same hotel, same date and same room type – £567 less.

One MoneySaver, Wendy, who commented below on the first version of this blog, told us she had great success with this trick:
On 16 August our family went to Crete, staying half-board in a lovely hotel. Although we live within spitting distance of Heathrow, we saved thousands by flying out of Glasgow.

The same hotel, board and dates flying from Gatwick was over £2,000 more. Definitely worth the drive up the M6!
New.

Use free child place finders to track down bargains. With the package holiday January sales in full swing, travel agents are offering free kids' places galore right now. It's usually one free child place with two full paying adults on selected getaways. But these freebies disappear quickly for school holiday dates.

To help track these gems down, First Choice, Jet2 and Tui have handy 'free child place finder' tools. Simply enter a few details, such as kids' ages, departure airport and destination, then pick a month to see a list of trips with free child spots.

For example, a quick search on Jet2 turned up a free child's place on a week's three-star self-catering holiday to the Algarve in mid-August. The total cost with the free place was £1,341 for a family of four. Leaving two days later without a free spot, the total cost without the free child's place was £1,544.

Do note though, it's the total holiday cost that counts. When kids go free, tour operators often try to recoup the cost somewhere else, and that somewhere's often in the adult price. While we found holidays with free child places were usually competitive, don't assume they're automatically cheapest. Always compare against nearby dates without free child places. More help in Cheap Package Holidays.

What counts as a child? How old kids need to be to bag a free place varies by operator and hotel. The easiest way to check is just to enter your child's age on the free child place finder tools – then they should only show holidays with free spots for that age.

Under-twos don't qualify with any of the three operators above (though they usually go free or for a small admin fee anyway). With Jet2, free places are available to kids aged up to 17 in some cases, though it depends on the hotel and we found more availability for kids aged 2-12. With Tui and First Choice, free places are available to kids aged up to 16 in some cases, though again we found more choice for those aged 2-12.

Across all three operators, we found free spaces for kids over 12 were more likely to be on self-catering holidays.

Ditch posh resorts for camping parks. Fancy a cheap holiday outdoors, but not ready to embrace pegs and canvas? Check out mobile home breaks in European parks.

You've probably heard of Eurocamp, but Canvas Holidays, Al Fresco and others do a similar thing.

Expect entertainment, water slides and playgrounds full of potential pals. While most are still more expensive in school holiday periods, they generally work out cheaper than hotels, as the price was less in the first place.

For example, when we searched a two-bedroom Eurocamp mobile home in a site at the Italian Lakes was £683/week for a family of four in late August. Two rooms in a similar quality, three-star hotel with a pool nearby cost £1,547. See our full 13 Eurocamp and Other Holiday Park Tricks for more pointers.
Have your 'summer' holiday at half-term. Another quick way to shave £100s off your holiday is to jet away over May or October half-term to grab shoulder-season prices.

When we searched, we found a week's three-star holiday in Majorca that was £437 per person in May half-term, compared with £712 per person in the last week of July.

Some spots, such as Sicily or the south of Spain, may be more pleasant for little ones to visit in May before the summer heat kicks in anyway.
New.

Book with a school trip firm – and book late – for family adventure bargains. You may have heard of PGL from your kids' school trips – that's what the firm's best known for. But we've also seen a lot of buzz in family travel Facebook groups around the company's keenly-priced family adventure holidays at eight venues across the UK (plus two in France) – often in the school holidays. You can choose from over 40 activities, such as quad bikes, zip wires and abseiling (may vary depending on location).

The real trick though is to wait to book until six weeks in advance when prices plummet (though of course availability may be more limited). For example, last summer it offered two adult places free with every child place on selected August holidays, one week beforehand. It also dropped August two-night break prices to £79 per person a week before.

It's currently offering up to 60% off child places for February half-term holidays. For example, a two-night break at its Wiltshire centre for £67.50 per child (normally £135) and £74.50 per adult (normally £149). Follow its Facebook page for updates.

Prices include food and accommodation, mostly en-suite family rooms in country houses. While TripAdvisor reviews say rooms are basic, feedback is still that that it's a great way to bond as a family. If you've tried one of these trips, please let us know how it went in the comments below.
That's a few tips to get you started – but we want to hear from you. Please let us know how you save on school hols prices in the comments below.
And remember, DON'T feel under pressure to spend on an all-out foreign holiday if you can't afford it. There's plenty of free (or very cheap) fun to be had in the UK, and what your kids really value is time with you...
Join the MSE Forum Discussion
Have your say
This is an open discussion and the comments do not represent the views of MSE. We want everyone to enjoy using our site but spam, bullying and offensive comments will not be tolerated. Posts may be deleted and repeat offenders blocked at our discretion. Please contact fbteam@moneysavingexpert.com if you wish to report any comments.
Update: We are aware that some users may currently be having issues seeing the comments and we're working on it.