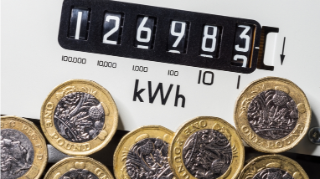 Martin Lewis: On a FIXED energy deal? Will you pay less under the new 1 Oct price guarantee?
There are currently no fixed tariffs that will save you money compared with the Government's new price cap guarantee. But what if you're already on a fix? Under the guarantee, it's now confirmed that prices will drop for most, but only at most to the level of the new price cap that's on variable tariffs. Here's how it works if you're on a fix.
Update Monday 17 October: The Government has now announced that the universal energy price guarantee will only last until April 2023, rather than for two years as planned. It said it would launch a "Treasury-led review" to look at how it will help households and businesses with energy from next April.
If you're on a fix, Martin gave his best guess as to what it means, based on what we know so far. He said:
"If you're on a fix below the guarantee. Nowt has changed. Your fix will remain for the full term.


"If your fix was higher than the guarantee rate, but was reduced by up to 4p per kilowatt hour (kWh) for gas, 17p per kWh for electricity, which drops you to the price guarantee rate. It's likely this reduction ends in April.

"Some firms moved people in this position to standard tariffs, no idea on the legal position of that yet.


"Your fix was reduced by 4p/kWh for gas, 17p/kWh for electricity, yet that still left you higher than the guarantee rate. You can switch penalty-free until November to your provider's price guarantee tariff. It's likely still worth doing as your energy prices will drop to the guarantee rate, but I need to do more analysis."
We'll update this guide with full info when more details are confirmed. For more info on the announcement, see our Chancellor's emergency fiscal budget MSE News story.
Martin reveals whether what you pay on a fixed-rate tariff will drop due to the new energy price guarantee
Embedded YouTube Video
What you pay on a fixed tariff MAY be reduced, but definitely not increased
Technically the new price guarantee for standard tariffs is done as a reduction to the planned October unit rates. The Government has said from 1 October the same 4p per kilowatt hour gas, and 17p per kilowatt hour electricity reduction will apply to many (not all) fixed rates too. That's very roughly in the ballpark of a 30% decrease.
The reduction will only apply to fixes that will be more expensive than the price guarantee. Higher fixed rates will at most only reduce to the level of the new guarantee. The impact of that means different things depending on how expensive your current deal is...
Very cheap fix: (for example, two-year fix from before crisis started). If you'll pay less than the new price guarantee, there's no reduction.


Mid-level fix: (for example, fixed three months ago at a premium). If your fix is higher than the new price guarantee, it will reduce to the same level as the new price guarantee.


High-rate fix: (for example, fixed very recently at high rate to forestall huge predicted future hikes). Your fixed rate will reduce substantially but a few of these may still be costlier than the price guarantee.
And a final note, as normal, when a fix ends, you should be automatically moved to the price guarantee rate, unless you choose something different.
If you're on a fix, it's safest to do nothing till you hear from your energy firm
The enormous majority of those on fixes will either be automatically paying less than the new price guarantee, or will see their fixed costs reduced to be the same level as it (so effectively are moved to a price guarantee tariff).

As explain above, a very few who fixed very recently may see a big reduction in cost, but still pay slightly more than the price guarantee. Yet a few have asked me questions...
How do I find out how my fix compares with the guarantee rate?
How much your fix will be reduced by depends on what you're currently paying. There's no easy way to check yourself, but suppliers are in the process of contacting people with their new costs right now.

If you don't hear anything in the coming weeks, you can contact your supplier for full info.
If my fix is more expensive than the price guarantee, can I leave exit penalty-free?
The Government said "this is up to firms" BUT I've good news...

In the energy summit at MSE Towers on Tuesday 13 September with the big firms' CEOs, all firms there – British Gas, Ovo (SSE), Octopus, EDF, E.on, Shell – agreed to my request that customers who end up on fixes at a higher rate than the price guarantee WILL be allowed to move on to that firm's price guarantee tariff, with no early exit penalties, until at least 15 November (some beyond that).

While Scottish Power was not at the summit, it has also now confirmed to us it will allow customers to move with no early exit penalty.
Yet remember most fixes will likely be the same or cheaper than the price guarantee, in which case you won't need to do anything. And of course we'll compile firm-by-firm info when we get it in this guide.

This guide used to help you make the decision about whether you should switch to a fix for certainty of price, or stay on the price cap.

The Government's energy price guarantee has currently made this question irrelevant. We've left the old guide below for reference in case you used it and need to refer back to it. However, there are currently no fixed-rate energy deals worth considering.

The gas and electricity market is in crisis. Many are paying double what they were a year ago, and another huge hike is coming in October. So understandably the big question I'm being asked is: "Should I stick on the price cap, or lock into a fixed energy tariff?" So let me try to answer, including a list of the top fixes to consider…


The UK energy market is broken. The theory is we're meant to gain from competition, but there hasn't been any – instead we have effectively regulatory-enforced high prices.

Yet there are opportunities to take action to help, not because there are great deals out there, but because the latest analysis is the future looks even WORSE. The predictions for future price caps continue to rise, so they're now far higher than even a couple of months ago. This means some sickeningly costly fixes look like they may now be winners. Let me talk you through it.


Important: The info below doesn't really apply to those on prepay meters or in Northern Ireland, I'm afraid.


1. The energy price cap will rise by 80% in October (to £3,549/year on typical use)

The energy price cap limits what firms can charge in England, Scotland and Wales for their default standard variable tariffs. It currently changes every six months, though that'll soon be every three. The vast majority of homes, about 85%, are now on it – pretty much everyone who isn't on a fix.

You're on it if you've never switched tariff, if your cheap fix ended and you did nothing, or if your firm went bust last year and you were moved elsewhere (and haven't switched again).

The price cap is misnamed though. There's no maximum amount you'll pay. What's actually capped are electricity and gas standing charges and unit rates (the link shows the new and current ones). But it is mostly predictable as it is dictated by regulator Ofgem's published algorithm, based mainly on year-ahead wholesale prices.

Here's the latest intelligence on how it'll move. I warn you – it's grim reading.

Price cap dates
Change in dual-fuel direct-debit cap (1)
1 October 2021 to 31 March 2022
UP 12%. Meaning someone on typical use paid £1,277/year.

THE CURRENT RATE

1 April 2022 to 30 September 2022


UP 54%. £1,971/year on typical use.
CONFIRMED
1 October 2022 to 31 December 2022


UP 80%. It'll rise to £3,549/year on typical use.

This is up massively from Ofgem's prediction in May of a 42% rise to £2,800/year on typical use – which is what the Government based its cost of living support package on.

1 January 2023 to 31 March 2023
Prediction
UP 52%, according to the latest prediction (Friday 26 August) from analysts at Cornwall Insight. £5,387/year on typical use.
1 April 2023 to 30 June 2023
Weak prediction
UP 23% based on Cornwall Insight predictions. £6,616/year on typical use.
1 July 2023 to 30 September 2023
Weak prediction
DOWN 11% based on Cornwall Insight predictions. £5,897/year on typical use.
(1) The prepay price cap is about 2% higher, and for those who pay each month after getting a bill, 7% higher. That differential will likely continue.


I'm basing my workings below on Cornwall Insight's predictions – it has a strong track record and its latest forecasts are bang up to date, after the recent spike in the year-ahead wholesale rates. Though these are only predictions; nothing is guaranteed.

2. There are NO tariffs meaningfully cheaper than the current cap

Before the energy world changed last October, I always said the price cap rate was pants, so switch to something cheaper. Today, there are no tariffs meaningfully cheaper than the current price cap. So none of this is about switching somewhere cheaper than now...

3. Yet there are fixes cheaper than the predicted upcoming caps

So let's get to the nub of this. This is about whether there's a deal likely to be cheaper than the price cap if we look over the next year. For that, clearly there need to be fixes you can lock into that are cheaper than the expected upcoming price caps. And there are.

First, we have to factor in one month on the current rate, three at October's, three at January's, three at April's and two months at July's (trickier to do as the 2023 rates are a very weak prediction). Then, we need to adjust for higher use in the winter. And after this, if the predictions are right, on average you'll pay 151% more over the next year than you do now. Of course, some of this is crystal-ball gazing and averaging, but overall my best guess as a rule of thumb is...

If you're offered a year's fix at no more than 150% above your current price-capped tariff, or 155% more if you strongly value budgeting certainty, it's worth considering.

This isn't an exact science – do watch my video explainer from earlier this year if you want to understand more. Fixing below this point is still not a slam dunk, I can't promise I've got this right, there are too many unknowns – this is just my best guess with the information I have at the moment.

Recorded in April 2022 – rates have changed, but the principle is the same

Martin Lewis analyses whether you should fix your energy tariff or stick on the price cap

Embedded YouTube Video

4. Often the fixes worth considering are 'existing customer only'

Open-market fixes (ones anyone can switch to) that are worth considering are few and far between. Usually the top deals are for existing customers only. Before we show the list, we've five quick notes:

Firms needn't publish details of these tariffs. As they're existing customer-only deals, they aren't forced to publish the tariff rates or offer them to all customers, which makes life difficult both to get them and for us to assess them. We rely on you to let us know by email, in the MSE Forum or on Twitter what you're being offered.


We use an average of the cost – you need an accurate quote. Prices depend on where you live and how much energy you use. So always ask how much more it'll cost you before signing up – and use the percentages above to see if it works out.


These tariffs can be pulled at any time. Though it is worth calling up to check if your firm offers one and that the tariff appeals.


Firms sometimes replace tariffs with others with similar names. So do check the tariff we're talking about is the one you're being offered.


We're starting to see a trend of high early-exit penalties. Gone are the days of £30 per fuel with every firm – exit fees are up to TEN TIMES higher than last year. This means if things change you can't escape easily, so be very careful before you sign up.

Now over to the MSE team, who update the following status report daily…


Due to the Government's announcement on capping bills at £2,500/year for a typical household (not the planned £3,549/year from October), there are no fixed deals worth considering. Switching to a fixed deal won't save you money.

5. I can't decide if fixing is right – help!


See this as a way you may be able to squeeze a little bit off your bills over the next year, and get some price certainty. But unless you're with one of the firms that'll give you one of the cheapest existing-customer fixes, it's certainly not a slam dunk – you will pay a lot more in the next few months to fix now, but the hope is you'll gain later.

And remember, there are a lot of 'ifs' and 'buts' here. So...

If you want price certainty, the cheapest fixes now give you that, but you'll pay more in the short term. If in doubt though, there's nowt wrong with playing safe and sticking on the price cap.

And it should be noted if wholesale rates drop, cheaper fixes could be available in future, so by locking in now you miss out, especially if your fix has higher exit penalties.

Though Ofgem has put a 'market stabilisation' charge' in place, which means if that does happen, outrageously the new firm must pay the old firm, which I think will mean fewer vastly cheaper deals will be offered.

Then to a couple more risks.

First, the political risk. There will be a new administration in place with a new PM on Monday 5 September. The energy situation is so catastrophic you'd hope, or frankly pray, they'd put something more in place to help. It had looked unlikely to skew the market (for example, reduce the price cap, but that would be of no help to those on fixes). Though there's growing talk that this may be possible.


Plus if you do fix, and take the choice to pay more now to hopefully save later, there is a risk the provider goes bust, and you lose the fix and end up being back on the price cap anyway. With the bigger firms, one hopes that is very unlikely to happen, but it would be remiss of me not to mention it.

6. I'm a Bulb customer – can I fix?

I've had many questions on this, so wanted to note a special answer. Bulb is, uniquely, in 'special administration', as when it went bust it was too big to be moved to another firm.

'Special administration' is like a normal administration in that the administrator's job is to protect those people Bulb owed cash to, but crucially the 'special' bit means they must also focus on consumer interests.

So Bulb runs like an ongoing concern even though it isn't one. But it is very unlikely it will offer any existing-customer tariffs – it'll just stick on the price cap, so you have fewer options.

However, Bulb customers are free to leave and switch elsewhere.

So the prime choice for you is whether to go for the 'cheapest open-market fix' which we list in the status alert above, as that takes customers from any firm.

These tariffs are not usually as cheap as the existing-customer fixes. Though some days they are within our 'Is it worth fixing?' percentage, while other days they aren't, as they change constantly.

7. 'I'm on a fix now, and it's ending soon, what do I do?'

The likelihood is your current fix is far cheaper than anything else available, so stay on it as long as you can. When it does end, by default you'll be moved to a price-capped tariff, so the logic of whether to fix or not then is the same as above.

The only difference is timing. The further away your fix is from ending, the less time you'd have on the current cheaper price cap rate. So that means it would be worth fixing at a slightly higher percentage than the one above.

8. Energy price hikes will be hell for many. If you're already struggling to pay, some help may be available...

The Government has announced a new energy bill support package worth at least £400 to almost all households and over £1,000 to some. This will apply regardless of whether you are on a price-capped tariff or if you fix. See my Q&A with then Chancellor Rishi Sunak on the key measures.

Yet there are still many who are finding, and will find, paying energy bills desperately difficult. Our What to do if you're struggling to pay your energy bills guide covers everything you can do and where to get help, and has info on all the new cost of living support schemes.

Now back to the MSE team, with a new tool to help you work out if a fixed deal is worth considering…

We've been hard at work building a tool to help you work out if a fix you've been offered by your supplier is worth it. Simply plug in your current rates (or find your region and we'll add in the price cap rates for that area), plus the rates you've been offered, and we'll let you know the percentage difference, and whether it's worth considering based on our rule of thumb. So grab a recent bill and the info of the deal you've been offered and give it a go.

Currently it only compares dual-fuel (gas and electricity) tariffs. We're still crunching the numbers for electricity-only, and hope to add that soon. As it's a new tool, please do give us your feedback.

For all the latest deals, guides and loopholes simply sign up today – it's spam-free!
Have your say in our forum!