0% Balance Transfer & Spending
Get up to 27 months 0% on both with one card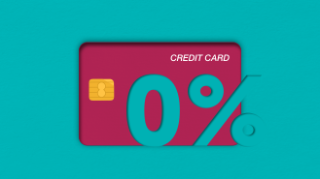 Most credit cards are good for new spending OR cutting the cost of existing debt. But some offer cheap intro rates on both.
Right now, the top double-use 0% cards give the specialist 0% balance transfer and 0% spending cards a run for their money – offering up to 27 months 0% on both.

Best-buy double-use 0% cards
Get Our Free Money Tips Email!
For all the latest deals, guides and loopholes - join the 12m who get it. Don't miss out
The seven golden rules
Before applying for a double-use 0% card, ensure you read the seven golden rules.
If you're mainly looking to shift existing debt, or only want a card for new spending, it's worth looking at pure balance transfer cards or 0% spending cards as they may offer a greater range of options. But if you need both, double-use 0% cards can be a handy way to minimise the impact on your credit score – as you only need to make one application to get both functions.

Quick question

In previous years, no. Yet the tide is turning and you can now get almost as many months at 0% on balance transfers as you can with specialist balance transfer credit cards – though, in general, double-use 0% cards have higher transfer fees.

For interest-free spending, the best double-use 0% cards match the longest 0% spending period on the market. See 0% spending cards to compare.

Sometimes a 0% spending period is different from the 0% balance transfer period – so do watch out for this. For example, a card could offer 20 months 0% on balance transfers and only 15 months 0% on purchases. In this example, after 16 months of holding the card you'd still be within the 0% interest-free period on existing debt but any further spending will immediately incur interest.

Even if this is the case, it's not as bad as it used to be, as your credit card provider now has to put repayments towards the most expensive debt first. So even if your purchase deal does run out before your balance transfer deal, any repayments you make will go towards paying off your remaining, interest-attracting purchases balance first – helping to clear that.

These cards are designed to make lenders money when you fail to pay them off within the 0% period. At that point, the interest rate jumps massively, to a standard 15-20% APR.

Your aim should always be to clear the amount you transferred during the 0% period, minimising interest. If that's not possible, your next best bet is to shift again before the intro deal ends – or even back to the original card you shifted the debt from, if that's cheaper than the go-to rate on the double-use 0% card.

Set up a direct debit for at least the minimum repayment as soon as you're accepted. Even though it's at 0%, or a low rate, you still need to make repayments. If you miss one, you'll lose your cheap deal – the rate will jump to the APR and you'll get a £12 charge.

Quick question

Your aim should be to pay more than the minimum – unless you've pricey debts elsewhere, in which case focus max repayments on them. Minimum payments are designed to make debts last as long as possible, which you should try to avoid – see tips to beat this in Danger: Minimum Repayments.

Usually, the only way to know if you'll be accepted is to apply, but each application marks your credit file. But our Double-Use 0% Cards Eligibility Calculator quickly shows your odds of getting almost every top double-use 0% card so you can find the ones most likely to accept you, thus minimising applications.

Quick questions

It uses a 'soft search', which is one you will see on your credit file but lenders usually don't (and where they do they can't use the info), to give us an indication of your credit score. We then match this against lenders' criteria for acceptance so we can show you the odds of getting each card.

Once you have this knowledge, it will allow you to make a smarter application. Say you have a much better chance of getting a card that's just one month shorter at 0%, you may want to go for that. Therefore, you're less likely to be rejected and less likely to need to apply elsewhere, which would add another mark on your credit file.

When you apply for any credit card, the lender checks you to match you up against its wish list for what a profitable customer is (for full info on this and how to boost your chances, see our Credit Scoring guide). Yet this doesn't just dictate what products you'll be accepted for, but also how good the ones you actually get are. With balance transfer and spending cards, it has three main impacts:

Some cards vary the 0% length according to credit score. With some, but not all cards, while you might be accepted you may not get the 0% length advertised, eg, you might get 20 months instead of 26. We note in our need-to-knows for each card which cards this may happen with.

They always give a variable APR depending on credit score. Every credit card APR (the annual interest rate your card jumps to after the promotional period) is a 'representative' rate. The term 'representative' is defined in the rules as meaning they only need to give the advertised rate to 51% of accepted applicants – the rest can be, and sometimes are, charged more.

Having said that, the aim is to clear the card or shift the debt before the 0% deal ends, so if you clear it in time, this is less of an issue as you'll never be charged the APR.

Lower credit scores tend to mean you get a smaller credit limit. If this happens, don't automatically jump to get another card instead – at least use what they've given you. See our Credit Limit Too Low? guide.

Unfortunately there's no system that can predict card firms' attitudes to you for these variables. But as a rule of thumb, the higher the chance the eligibility calculator gives you, the closer to the rep APR and higher credit limit you should get.

The MSE Credit Club is a game-changer. For years the credit market has been shrouded in mystery but our revolutionary tool brings together the key components to give you the full picture, and crucially, what it means for your acceptance chances and how to boost your creditworthiness.

A credit score alone isn't enough to borrow, as there are other factors at play (it's why many with perfect scores still get rejected). Credit Club shows you...

1. Free Experian Credit Report – your credit accounts and how you've managed them.
2. Free Experian Credit Score – how lenders rate your past credit behaviour.
3. MSE Affordability Score – how lenders assess if you can afford a product.
4. Your Credit Hit Rate – how likely you actually are to be accepted when you apply.
5. Credit Card & Loan Eligibility Calcs – what your odds are of getting specific top deals.
6. How to improve your credit profile – we show where your profile's strong and weak, and how to improve it.

There's a catch to watch out for. Some card firms give those with lesser credit histories fewer months at 0% than they advertise. You could, for example, apply for a 20-month 0% card, be accepted, but be given 16 months at 0% – sometimes with a higher fee too.

We highlight cards that do this by putting 'up to' before their headline offer, and tell you the other 0% lengths they may offer in the write-ups of the products below.

Quick questions

Sadly, the only way to know what 0% deal you'll get is to apply for it (unless you're using our eligibility calculator and it shows you're pre-approved, in which case you'll get the 0% deal advertised).

For other cards, it seems anecdotally that the higher you score in our eligibility calculator (which doesn't affect your credit score), the more chance you have of getting the headline 0% – though this isn't a hard and fast rule.

Lenders tell us they do this based on risk. So if you've a credit score that only just meets a card provider's minimum criteria, it's likely you'll be accepted for the card, but given a lower number of months at 0%, or a higher APR.
Get Our Free Money Tips Email!
For all the latest deals, guides and loopholes - join the 12m who get it. Don't miss out
Best Buys: Longest 0% cards
With double-use 0% cards it's important to understand that purchases don't have a fee, but balance transfers do – a one-off charge based on the amount transferred. When deciding which card to choose, a good rule of thumb is...
Be sure you can pay off the debt within the 0% period or shift the remaining balance before it ends – as a lower fee can be trivial compared with interest once it starts building up. If unsure, go long.
CARD

0% LENGTH –PURCHASES

0% LENGTH – BALANCE TRANSFER

BT FEE

APR†

ELIGIBILITY CALCULATOR

Tesco Bank
15 months
15 months
0.85%
19.9%
-
MBNA*
Up to 27 months BUT only on purchases in the first 60 days (1)
Up to 27 months (1)

2.69%
20.9%
You can use our eligibility calculator for this card
Virgin Money*
20 months
23 months
2.9%
21.9%
You can use our eligibility calculator for this card
Halifax
Up to 24 months
Up to 24 months
3%
19.9%
-
† Representative variable APR; your balance transfer interest may be different. See all Official APR Examples. (1) You could be accepted and offered fewer 0% months.
Cashback sites may pay you for signing up
As an extra boon, members of specialist cashback websites can be paid when they sign up to some financial products. Do check it's exactly the same deal though, as terms can be different. And remember that cashback is never 100% guaranteed until it's in your account.
There's full help to take advantage of this and pros and cons in our Top Cashback Sites guide.
Double-use 0% cards Q&A
Lenders have a wish list and want profitable customers – it's not all about your credit score. If they determine you can't afford the card or you're simply not profitable to them, they may reject you.

Of course, you should check for errors on your credit file, but hard and fast reasons for rejection are difficult to come by. It may be as bizarre as a lender choosing to give credit cards to customers it's more likely to be able to flog a mortgage to. For a better understanding, visit our Credit Club to see your unique MSE Affordability Score and Experian Credit Score for free.

No. These are totally separate things. Unlike loans, with credit cards you choose how much you repay each month, though every card has a set minimum monthly repayment. The interest rate is the cost of the debt. For example, a rate of 20% on £1,000 means it costs you £200 a year assuming a constant balance (see our Interest Rates guide for more).

Always check a card's minimum repayment before switching – as you could end up paying more each month than you do now.

Also bear in mind that the more you repay, the faster the debt disappears. Especially important is that you try to pay more than the set minimum. For more on that and tips on how to do it, read our Minimum Repayments: Danger! guide.

If it's not high enough to buy what you want, or transfer other debts to the card, just use as much of the limit of the card you've just got as you can. You could always try to get another purchases or balance transfer card, or look for another way to get the cash.

It could, but you'll need to be disciplined. Double-use 0% cards can be used to balance-transfer existing card debts, giving you time to pay off the debt more slowly, and at 0%. But as there's a 0% purchases period too, it could actually tempt you in to further debt – so it might be better not to take the risk.

It may be better to look at more serious ways to cut costs and sort out your debts. See our Money Makeover guide for how to cut costs on everyday expenses, or Debt Help for where to find help and advice.
Get Our Free Money Tips Email!
For all the latest deals, guides and loopholes - join the 12m who get it. Don't miss out
Join the MSE Forum Discussion