29 Vinted buying and selling tips
With over eight million users in the UK, Vinted is a huge source of preloved bargains from just £1. It's also a great way to make extra cash by flogging your own wardrobe – especially as there are NO fees for sellers. What's more, shopping second-hand is good for the planet.
This is a crash course on how to earn £100s and scoop bargains, including how to get free postage, stay safe, and sell even if you've no printer for postage labels. I've split this blog in two: the first section is how to sell on Vinted; the second, how to buy. But first, here are my quick need-to-knows about how Vinted works...
What is Vinted? How it works and what you need to know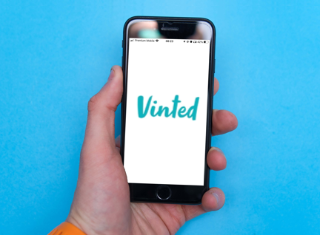 This is mainly for clothes. Vinted told us the most popular categories are women's and kids' clothing, though you can also sell other small, post-able items, including toys, toiletries and homeware. See a full list.


Selling is FREE, buying isn't. Vinted makes money by charging buyers (fees vary from 30p to 80p, plus 3% to 8% of the purchase price).


Buyers pay for postage and pick the service. Vinted has deals with parcel firms such as Evri, Yodel and InPost, meaning cheap delivery from £2. Usually all sellers need to do is to drop it off at a parcel shop.


It's all about haggling. There's no waiting for auctions to end, as with eBay. The seller sets the price and buyers can make offers. Though if an offer's accepted, unlike on eBay, the item stays up for sale until the buyer actually pays.


Think carefully before buying or selling anything of high value. While it has a huge fanbase of MoneySavers for its dirt-cheap second-hand stuff, some haven't received the level of assistance they'd expected when they had issues, according to a BBC Watchdog report. Also see its customer service feedback on reviews website Trustpilot.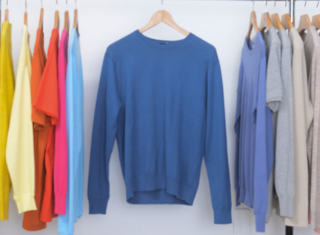 Vinted's boon is it's fee-free for sellers, letting you declutter at speed. This is great for flogging cheaper items, especially clothes, that are worth only a few quid, where the fees on eBay would dwarf the gain.

It's hard to beat this for scoring bargain second-hand clothes for £1 or £2 with uber-cheap postage. Yet think carefully before buying and selling expensive designer items or games consoles on here – you might be better off on eBay.

Plus, there are many categories that Vinted doesn't sell, such as furniture. For collection-only goods, such as sofas and wardrobes, Facebook selling is a good bet.

Many MoneySavers rave about Vinted...
I'm addicted to Vinted. I'd say 90% of my clothes come from there, and 85% were new. Even got a brand-new wedding dress with tags still on for £23. I've also sold a few things too.
- Claire, via Facebook
I made over £400 in my first year. I've found it far easier than Facebook or eBay for selling.
- Jo, via Facebook
I sell a lot on Vinted. It's a phone app but easy to list and you pay no fees once you sell. I have sold well over 100 items. I list quite cheap but find people will often buy a few items to make a bundle.
- MSE Forumite xEmLouisex
I love a Vinted treasure hunt. I've scored tons of great quality kids' clothes, including a £2 Stella McCartney toucan swimsuit (was £60 in Selfridges!), M&S rainbow jacket £2, Boden bikini £2 and colourful Nike Air Force 1s £6. Even better, I bought most of those with Vinted credit from reselling the kids' outgrown clothes.
- MSE Jenny (yes, the author of this blog)
You could be sitting on a goldmine, so get in the attic and get listing – here are my top tips for selling on Vinted:
1. How to list – quick step-by-step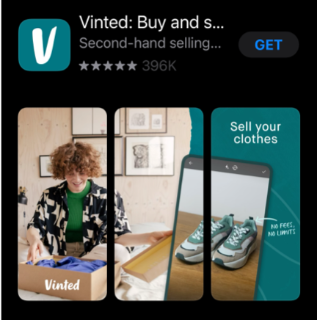 Listing on Vinted is super quick. In a nutshell...
List the item. Download the Vinted app (for Android or iOS), hit 'sell', take some snaps and add a few details.


Print the label and post. Once someone buys, use the link on the order page to print a label (unless it's Royal Mail). Buyers pay for postage – you usually just need to post it at a relevant parcel shop within five days or the buyer will be refunded.


You get paid. Once tracking shows it's delivered and the buyer clicks 'everything's okay', you get Vinted credit, which you can withdraw to your bank account or spend on Vinted. If the buyer does nothing, you automatically get the cash two days after delivery. Don't expect fast payouts, as tracking can take an age to update.
2. Don't just bung crumpled clothes on the floor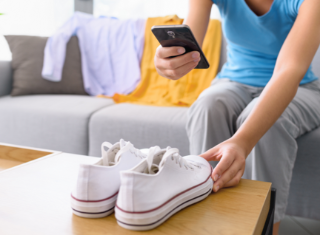 Take clear, appealing photos in daylight to give people confidence. Include close-ups of marks, brand/size labels and soles of shoes.

In the description, own up to imperfections and include info on fabrics, sizing, fit and measurements. It's also worth sneaking in as many search terms as possible, for example not just 'fleece' but 'Patagonia vintage cream white fleece jacket with snap front and hood. Size M'.
3. Research your item's value
Be wary of pricing your cast-offs too low, as on Vinted there's no auction to drive up the amount. To benchmark prices, visit eBay, search for your item, then tick to show only 'sold items'. It'll come up with a list of prices goods have fetched. That said, I find things sell for slightly less on Vinted, so price items low enough to generate interest (you could also try selling on eBay too if keen to get the max possible).
4. Sell similar stuff at the same time – then turn on bundle discounts
A key feature of Vinted is it encourages people to make their own bundles, saving on postage. This means it pays to list all, say, sportswear at the same time, so someone comes along and grabs it all.
You can also offer bundle discounts to tempt people to buy more than one item. Just go to your profile, 'Settings' and 'Bundle Discounts'.
5. Buyers pick the postal service – so check you have parcel shops nearby

Buyers pay for shipping on Vinted – sellers usually just print a label. Buyers can select Evri, Yodel, InPost or Royal Mail, so check you have drop-off points nearby. If you don't, you can edit which options are available to your buyers (go to 'Profile', 'Settings' and 'Postage').

Royal Mail works a bit differently. Sellers pay for postage upfront, then Vinted pays it back. If you post by Royal Mail, don't forget to upload proof of postage on Vinted.

Finally, do check out Vinted's size and weight limits for different categories, so you don't get caught out.
6. No printer? No problem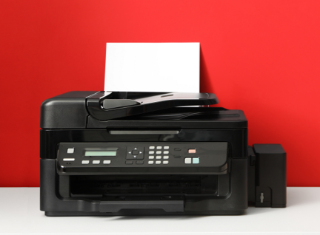 One question that often crops up is, "Can I use Vinted without a printer?" The answer's yes.
Some parcel shops will print labels free for you, including Evri, Yodel and InPost lockers. Royal Mail currently collects for free and can bring labels. Alternatively, most local libraries will let you print for 10pish a page.
7. Message buyers who 'favourite' your items with an offer
Vinted alerts you when someone 'likes' your item – you can then reply with a discount. Though avoid repeatedly messaging that "you're just off to the post office", as this tends to annoy. Alternatively, reduce the item's price a fraction, and all watchers will get an alert.

8. Leave room for haggling
The 'make an offer' button appears on every Vinted listing, allowing buyers to offer up to 40% less – and haggle they do. Some people price items slightly higher than they actually want, allowing buyers to feel like they've blagged a deal.
To build your following, regularly list new items and answer questions quickly. When people click an item, they often scroll down to see what else you've got up for grabs.
10. Keep postage receipts
Sadly, as with other marketplaces, unscrupulous buyers sometimes claim they haven't received items when they have. To help, always take a quick snap of the postage receipt (I find messaging a copy to buyer cuts down on chancers).
11. Make a rule that you can only buy new clothes if you've sold old togs
Some MoneySavers have a rule that they can only buy new clothes with Vinted credit from selling old clobber. This helps enforce self-discipline and also stops your wardrobe from breeding out of control. That said, don't leave a pile of cash building up in Vinted. If the company goes bust, your money could be lost.
I keep my Vinted account neutral – I never add or withdraw money but reinvest in my wardrobe.
12. Save all those boxes and postage bags to reuse
When you're selling items for £1, fancy Jiffy bags can easily eat into your profits. Open parcels carefully and stash the packets. On bin day I've even been known to take a little stroll and collect some of the nicer boxes people leave out. It's eco-friendly too.

13. Sell at the right time
Now's the time to flog those winter coats, Halloween costumes and Christmas jumpers. Prioritise these over bikinis and sandals.
14. Spotlighting your wardrobe – is it worth it?

Vinted's Wardrobe Spotlight feature lets you pay £6.95 to boost your items' visibility for a week. This isn't cheap, but could be worth it if you're having a big clear-out. If you've tried this, I'd love to hear if you thought it made a difference. Please let us know via Twitter.
There are bargains galore on Vinted – think eBay 15 years ago before it was flooded with professional sellers. Here are a few tips to help you sniff out gems:
1. Buyers pay fees and postage – so factor that in
When you're rooting through Vinted, remember buyers cover fees, rather than sellers. It's 3% to 8%, plus 30p to 80p per transaction (Vinted wouldn't tell us exactly how this is calculated). Click 'Buy' to see the total amount.
2. Tricks to get FREE postage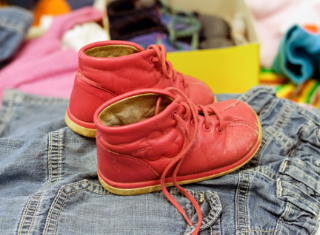 Postage is usually free on your first purchase (Vinted wouldn't confirm if this is always the case, but there has been a free postage option when we looked).

Handily, delivery's often free on first-time sellers' items too, so quickly scroll to check if it says postage is £0.00. I've grabbed so many £2 all-in kids' clothes this way, where postage would have dwarfed the item's cost. That said, think twice about buying pricey goods from someone with no feedback.
3. Tailor your searches – and check as often as possible
Vinted lets you save searches, so you can easily scan for new treasure. Use filters smartly, being as specific as possible on condition, brand and size. Then press the 'save search' flag at the top. Now when you go to the search bar, you'll see searches with new items highlighted. If you're after something, check throughout the day, as the best goodies are taken at breakneck speed.
4. You can only make five offers a day – but there's a trick to get more
Haggling is all part of the fun on Vinted – every item features the 'make an offer' button. Unlike eBay, it's not unlimited. Vinted only lets you send five offers a day via this route, and the biggest discount you can ask for is 40%. However, after you've used up your five offers, there's nothing to stop you politely message sellers asking for reductions.
5. Always report issues within TWO DAYS of delivery
If an item's damaged or not as described, you can return it for a refund. But you have just two days after delivery to complain – much fewer than eBay's 30 days. So don't order while you're on hols. See Vinted's full buyer protection policy.

6. Don't assume a Vinted deal's always a bargain
Buying bundles on Vinted is an amazing way to pick up cheap clobber, especially kids' wear. Just scroll down an item's page, click on 'shop bundles', and hit 'add' on items you wish to add. The seller comes back to you with a final price – you should only pay one lot of postage and some give discounts when you buy more than one item.
8. Get tapping that 'like' button
When you favourite an item (tap the heart button), the seller gets an alert. This often prompts them to send you a discount.
9. Vinted's sizing is a bit weird – check labels to avoid miniscule jeans
Vinted's women's sizing can be confusing. It pays to check what's actually shown on the labels or you might be a bit miffed when a miniscule pair of jeans turns up. As an example, Vinted equates a size 12 with an L, when at most other retailers it's an M. On Vinted, a size eight is an S; a 10 is an M; and a 14 is an XL.
10. The buyer pays return costs – so read descriptions thoroughly
Always check sellers' reviews, as a downside of Vinted is the buyer pays return costs – even if the item's faulty. Descriptions tend to be more limited than on eBay, so scrutinise photos and strike up a conversation to find out more.
If you find a seller whose wardrobe you love, check out their other items and follow them for alerts when they upload new stuff. Look out for those the same size as you (or your kids) and you'll never be short of options.
12. Vinted 'auto-ticks' pricier postage options
After you hit buy, scroll down to postage. There will often be a pencil by the postage option – click it to select cheaper services. For example, I just quickly tested this on some shoes and it auto-ticked Evri home delivery at £3.15, whereas Yodel home delivery was £2.89.
Sadly, as with similar online marketplaces, there are a few scammers out there. Red flags include zero or bad reviews, only selling a couple of designer items with a high price tag, stock photos for profile pics, and usernames with a random jumble of letters. Also see Vinted's tips on shopping safely.
14. You have few consumer rights, so don't spend more than you're happy to lose
Let's be straight – buying on Vinted is a relatively new concept, so consider limiting this to smaller purchases. When buying from private sellers on Vinted, your rights are nowhere near as strong as when buying from a shop. Buy from a private seller and the only protection is that it's correctly described and the owner has the right to sell it. Here, it really is a case of caveat emptor or "let the buyer beware".

So while we know of many happy customers who buy cheap second-hand clothes, think carefully before buying expensive designer items or electronics.
15. Shop counter-seasonally
Swim against the tide. Secure your Christmas jumpers in February, bikinis when it's snowing outside, Halloween outfits at Easter – it's possible to save a packet.