Bicycle Insurance
Get cheap cover for your bike
Get Our Free Money Tips Email!
For all the latest deals, guides and loopholes - join the 12m who get it. Don't miss out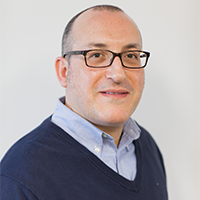 Tony and Maeve | Edited by Sam D
Updated Monthly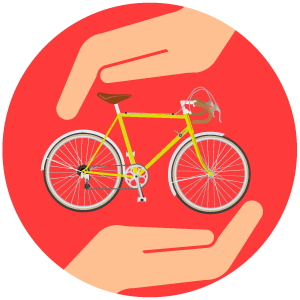 If you cycle, you don't always need bike insurance – but lack of cover could put a nasty spoke in your wheel if the worst happened. With more than 250,000 bicycles stolen every year, we help you decide if you should get insured or ride without a financial helmet.
Whether you're a weekend enthusiast or you pedal to work, ride to keep fit or take part in races, we've the answers, including top pick bicycle insurance policies and how to bolster your home insurance to add a bike to it.
In this guide
Bicycle insurance explained:
The four need-to-knows
You can get bicycle insurance via your home insurance or via specialist cover. These 'need-to-knows' should help you decide which to do.

Your bike may be insured already under a home contents policy
You may be blissfully unaware your bike is covered anyway, as many insurers cover bicycles as standard under a contents policy (see our Home Insurance guide to get cheap cover).
The first thing to do is check whether your home insurance covers your bike already, and exactly how strong that cover is. Even if your bike's eligible to be insured for no extra cost, you may still need to declare it, so it's important to contact your insurer.
There are two key points to know about bike cover under a home contents insurance policy...
Is your bike covered in your home only or anywhere?
Check whether your home insurance already covers you for the following:
Basic home contents insurance ONLY covers possessions (eg, bikes, laptops, jewellery) if stolen or damaged at home. Pricier 'all risks' cover protects possessions away from home.
Here's a table showing what you're covered for under the two types of home contents insurance.
Problem
Home-only cover
Home and away cover
Theft
In home only
Anywhere
Bike damage while stationary, eg, from fire, flood
In home only
Anywhere
Damage to bike while riding, regardless who is at fault (i)
No cover
Anywhere
Injury to yourself while riding, regardless who is at fault (i)
No cover
No cover
Liability if you injure someone/damage property while riding your bike
Anywhere
Anywhere
Accident, damage or theft during a competitive race
No cover
No cover
Theft cover only if you take "reasonable" care of your bike. (i) You won't be covered if you break the law while riding, such as skipping a red light or drunk cycling.
If you want to extend cover to outside your home, some insurers let you buy an add-on just for your bike (at £10-£100 for a £1,000 bike). Others only sell add-ons that cover all valuables up to a limit, though costs vary depending on the value of your contents.
See our Home Insurance guide for much more on what it covers.
Home insurers may not cover expensive bikes
Insurers have limits on the value of an individual item they'll cover regardless of whether the cover is for in your home only or anywhere – and sometimes bike limits are different from other items' limits.
Some bike limits go up to £1,500 (and occasionally beyond) but we've seen one as low as £350. So in the latter case, if you bought a £400 bike you're not covered unless you pay an additional premium.
With roughly two thirds of cyclists prepared to pay up to £500 for a new bicycle, according to market researchers Mintel, do check if you have the correct level of cover. Our Deals team regularly dig out discounts on bicycles; though not always available, it's worth checking to see if any are up for grabs.
Quick questions
Do you always have to tell your insurer you have a bike?
No, but it's worth contacting it to check. If it covers bicycles as standard and your bike's value is below the home policy's single item limit, your bike's covered, though it's still worth checking, to be safe. Plus, unless you're an insurance expert, you may not know your firm's precise policy, so it's useful to confirm it anyway.
How do I work out the value of my bike?
It's always the price to buy a bike of the same specifications new, rather than what you'd get for it if you sold it second-hand.
What's covered on insurance outside your home?
It's for far more than just your bike, though obviously only for things you'd leave your home with, such as jewellery, handbags, laptops, clothes and bikes.
Usually, if your bike (or any other item) is worth more than about £1,500 you need to declare it, but limits vary from insurer to insurer.
If it's less (and your insurer should explain what the cut-off is), you instead must choose the overall value of goods you want to have insured outside the home, often known as 'unspecified items'.
Say you want to cover a £500 bike, £500 camera and £400 iPad, you'd typically choose a round figure of £1,500. Of course, the greater the value of 'personal possessions' you take out of the home and wish to insure, the more you pay.
What counts as in the home or outside it?
In the home is anywhere within the legal boundaries of your property so would include a garage, driveway or garden.
If you live in a communal block, you're insured within the boundaries of the block itself, which should include communal hallways, garages, bike storage areas or gardens. Where the area is shared (ie, hallway, bike shed) theft restrictions usually apply.
Outside is anywhere in the world on many policies, yet to be covered outside the UK, most policies say that the bike can only be abroad for a maximum 60 or 90 days a year.
Are accessories such as lights and helmets covered?
They usually are covered as long as they're attached to the bike. So with a helmet, it's best to lock it to the bike when not in use.
If I make a successful claim, will I get a new bike, a repaired bike or cash?
As a rule, a home contents insurance policy will in the first instance give you back a new bicycle equivalent to the specifications of the one you originally bought, if it's stolen or damaged beyond repair, no matter how old it is – usually via a retailer of the insurer's choice.
You could opt for cash instead but you'd only get back the cost price to the insurer, which is likely to be much less than retail price.
Whatever the outcome you'll have to pay the excess – a sum you give to the insurer before it pays out for a new bike.
If the bike is damaged yet repairable, you'll be told where to take it, but you'll need to pay the excess to the repairer. Here, different insurers' policies can vary. For example, some will pay the shop directly for the work LESS the excess; others might ask you to pay everything and then reimburse you (less the excess).
Is my bike insured if someone else rides it?
As long as the bicycle is used by an immediate family member, you're covered.
Do I need special insurance for an electric bike (or e-bike)?
This will depend on the insurer you have your contents policy with. Insurers such as Direct Line, Sainsburys and Aviva allow contents policies to be extended to cover e-bikes from the likes of Gtech, Raleigh, Gocycle and many others.
However, you may need to specify the cycle depending on its replacement value, so a quick phone call is recommended to check. Depending on the e-bike's value, there may also be an extra premium to pay.
See our top picks or try Velosure, Bikmo+ and Yellow Jersey who can arrange cover.
Home contents insurance has its limits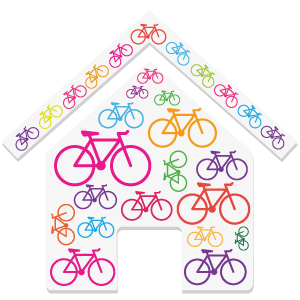 There are two key problems you may face if relying solely on home insurance. It may still be adequate for many but arm yourself with the info below before making a decision.
The excess could mean you get nothing from a claim – a problem with cheap bikes
Where your bike is covered as one of many valuables on a policy, home contents excesses (the amount of any claim you must pay) vary wildly, with £150ish being typical, but sometimes going up to £500. If just your bike's stolen, and it's worth less than the excess, you'll get nothing from a claim.
Remember that as the typical cost of a bike is up to £500, it may not be covered. If damaged or stolen as part of a bigger theft, fire or flood, the excess often won't change so you should get cash back from a disaster such as these.
Claiming could push up your future home contents costs
It could mean higher prices for up to five years following the claim. This is because home insurers will ask you if you've made a claim during the past few years, and if you have they'll consider you a higher risk, which could push up prices. You'd also lose any no claims discount too.
When you get to renewal on your home insurance, use our home insurance cost-cutting system to slash the price you pay whether you've claimed on it or not.
Specialist bicycle cover is best for pricier two-wheelers and for those who race
Specialist policies are largely targeted at serious cycling enthusiasts who race competitively and often spend four-figure sums on their bikes. Costs differ based on your bike's value and the type of cover, but our top picks for a £3,000 two-wheeler are between £200 and £300 a year.
As well as covering expensive two-wheelers, specialist insurance covers lost race fees and cycle clothing, which can be expensive.
Though there's no clear monetary value above which a specialist policy wins – it depends on your attitude to risk.
What specialist bicycle insurance usually covers
You normally get the following as standard on all policies:
Theft or damage while stationary comes as standard. Pretty much all policies cover you anywhere in the UK; some extend to Europe, others worldwide.
Bike damage due to an accident while riding on the road is usually standard.
Accessories that are part of the bike itself (eg, where you don't detach the light).
The following cover tends to come as standard or an additional fee with mid-range/premium policies:
Damage while in an official race.
Lost race fees if you can't compete.
Personal accident if you're seriously injured or killed while riding.
Public liability if you cause an accident or hurt somebody, and face legal action.
Accessories that are not part of the bike (eg, lights that clip on and off).
Bike clothing.
Roadside assistance.
Most policies will only cover the bike if in the possession of the person named on the policy at the point of the incident.
Wear 'n' tear and the excess can limit how much you can claim
If you claim and are given a new bike or repair, you have to pay towards the cost in two ways. Firstly, the insurer will deduct an excess (often £50-£100) and secondly, it will deduct an amount for 'depreciation' that takes into account wear 'n' tear while you've had your bike.
Depreciation takes effect after two or three years, and can deduct as much as 20% for a three- to five-year-old bike, 30% up to seven years old, 40% up to 10 years and 50% above. So you may only get £1,600 back (before deducting the excess) on a five-year-old bike worth £2,000.
Quick Questions
Where do I get a new bike or repair from?
Various insurers treat this differently. Some make you go to one of their approved retailers and pay the cost (minus the two elements above) directly with the repairer or shop. Others do the same, but let you go to any shop you choose, though they first need to approve the cost before the claim is approved. In the latter case you have to pay for it and claim the money back.
My bike's vital for me to get around – can I get a replacement while mine gets repaired?
Some specialist bike policies will cover the costs of hiring another bike while yours is repaired. If your bike's stolen or damaged beyond repair, call your insurer which'll sort out a replacement for as long as you need and you have cover. You'll usually have to agree to a model from its choice of hire firms.
I've a custom-made bike worth thousands (I'm very committed) – can I still get cover?
Yes. Specialist bike insurers will usually have policies for cycling aficionados with custom-made bicycles. Insurers will vary the top value bike they're willing to insure – however, you shouldn't have any problems if it's worth £10,000 or thereabouts. But remember to keep all your receipts for work carried out and parts purchased. The insurers usually want to see these.
Keep your bike safe or you could be refused an insurance payout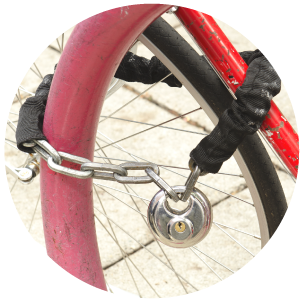 Forget insurance for a minute: you should do all you can to keep your bicycle safe as it is. If you fail to, your policy may not pay out if something happened so that's a double reason to play it safe.
Here are some key tips to keep your bike out of reach of thieves, while also ensuring you don't invalidate any claim if a criminal gets past your defences.
Leave your bike in a communal area? It usually MUST be locked to a secure structure
Your claim could be refused if your bike's not locked to an immovable object such as a specialist bike rack or a radiator or pipe (though be careful not to tie it to anything fragile or dangerous), whether in a communal hallway, garage, bike store, bike shed, garden or courtyard, even if behind a locked door.
Some insurers also insist the bike must not be visible to the outside world through a window etc.
If your building doesn't have a separate, locked building gate or fence between your bike and the outside world, you have a problem if you have a specialist bicycle insurance policy and it's stolen, as these policies may state it can only be left there for a maximum 12 or 24 hours.
You may need to keep it locked up even if it's in your own shed or garage
This varies by insurer, though it's still a safer bet to lock it up. You won't need to lock a bicycle kept inside your locked home, however.
Got specialist bicycle insurance? You probably need an approved lock, and keep its receipt safe
Home insurance policies usually just insist your bike is secure, meaning you can use any working lock.
Specialist policies are more stringent given you're usually insuring expensive bikes. Most will insist you have a particular lock according to your bike's value.
Most use the bike lock 'ratings' system known as Sold Secure that rates the strength of bicycle locks as bronze (for cycles up to £250), silver (£251 to £1,500) or gold approved (more than £1,500).
It's run by the Master Locksmiths Association and displays a list of bike locks recognised by insurers. But be prepared to scroll a long way down; it does also include a lot of giant locks.
Generally, a bronze-approved lock will start from £25, silver from £40 and gold from £50, though competition between retailers means you should be able to compare prices and save. Always hold onto the receipt because many insurers will want to see proof you had a suitable lock, if your bike's stolen.
You're only covered for theft or damage to a bike left in the open or at work for a max 12 or 24 hours
Be careful if you leave your bike at a station, public cycle rail or just chained to a lamppost, as if it's there for too long and stolen, insurers may not pay out. Limits vary by insurer, so check, but are usually a max 12 or 24 hours.
This can also apply to a bike left at work if there wasn't effective security in place. Under home insurance, this time limit usually doesn't apply unless your bike's worth thousands of pounds as a high-value item you've specifically had to list.
Register your bike to help find it if it's stolen
You can register your bike on the National Cycle Database for free. This will essentially give your bike its own unique number to help police recover it if it's stolen. You can also buy security kits to mark your bike with its unique number and get stickers to warn thieves that the bike is registered.
Police stations across the UK offer free marking events so it's worth keeping an eye out for those. Dates differ depending on where you are in the country, but you can check your local police force's website to find out more.
Will incidents on my bike affect my car insurance if it was my fault?
No. A claim on your bicycle insurance won't have any impact on any other insurance. However, it's worth remembering that if an incident involves you breaking the law, while on your bike, your insurer can refuse to pay any claims. So if you skip a red light and get hit, your insurer will probably refuse to fix your damaged bike.
The big question: Should you pay for extra bicycle insurance?

Most people probably have some sort of cover via their home contents insurance policy. So you need to decide whether that's enough or whether to extend that cover (which may be from scratch if you've nothing) by bolstering your home insurance, or whether to buy a specialist bicycle insurance policy.
If you choose to pay extra, we've best buy tips in the section below.
It depends on your attitude to risk. If you rarely lose or damage things, and you'd get little after a claim and paying the excess, you've less need. If you spend £1,000s, consider specialist cover as home insurance probably won't protect it.
Let's give you two scenarios to think about:
Your bike is worth £250 and you pay £40 a year to insure it via a specialist policy. If the excess is £100, you'd only get £150 as a monetary value back in a claim in year one, but as you've spent £40 you're only getting a net £110 back. If you didn't insure it for three years and didn't make a claim, you're better off anyway.

You've a £3,000 bike, and spend £220 a year on insurance. If the excess is £100 you'd get £2,900 as a monetary value back in a claim in year one, but as you've spent £220 you're getting a net £2,680 back.
Yet to buy a bike and don't want extra cover? At least buy it on a credit card with purchase protection
Many credit cards offer a purchase protection system, meaning if you buy goods on the card and they're lost or stolen within a set time – usually about 90 days – you can get the money back from the credit card company.
So use the card in your wallet that gives the best level of protection (or get a new one; see our Top 0% Credit Cards guide), though if you fail to pay the balance off in full at the end of the month you'll pay interest.
Just by paying on credit card you'll get protection under Section 75 of the Consumer Credit Act. This is far from a substitute for insurance but means if the bike's damaged when you get it, or you order and pay for it and it never arrives, and the retailer won't help, the card firm has to give you your money back.
Martin's bike theft purchase protection tale:

A few years ago, I had my month-old bike stolen. So having been to buy a new one to get to work, I cycled to the police station to get a crime number so I could claim on my purchase protection. This second bike, which was chained to the cop shop railings and D-locked round the wheels, was stolen too. So I walked straight back inside, reported that too – and thankfully it paid out twice.
How to bolster your home insurance
Almost all insurance policies cover cheap and mid-range bikes in your home anyway (though check before assuming you're covered), so the question for most is whether to pay extra to cover your bike outside your home.
If that's your choice, here are the two steps to take.
Step 1. Find out how much it costs to cover your bike outside your home on your home contents policy. Depending on your insurer, the add-on can just cover your bike or all valuables outside your home (incl a bike, laptop, jewellery, handbag and more).

The cost of adding cover for all valuables can vary massively depending on what you want to cover, from £10 to £100s. Prices similarly differ if just adding a bike, though it's usually much cheaper, from £10 to £100 for a £1,000 bike.

Step 2. Get a quote for a new insurance policy altogether. You may need to do this if your bike is too expensive for your current insurer, if your insurer may become expensive once you've made an alteration, or if it may have been expensive to start with. See our full home insurance cost-cutting system to find out how to get a better deal.
Once you know the cost of a cheap new policy or extending your current one, choose the best of the two.
Top pick specialist bicycle insurance policies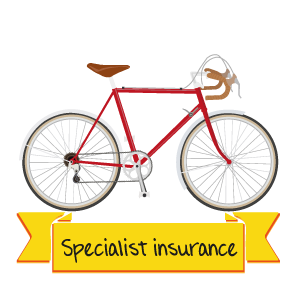 Often at MSE we suggest you use comparison sites to find the best insurance - and when this guide was published in 2016, no such site existed so we did all the work for you shown in the tables below.
But CycleInsurance has since launched a comparison site which zips your details to a number of insurer and broker websites to find the cheapest quotes. It features some insurers that have not made it into our best buys so it's worthwhile to check the policy, conditions and excess meet your needs.
Once you've put in your details to get quotes, it'll then be worth comparing the results to those for our top picks for bikes worth £1,500, £3,000 and £4,000 for owners based in London and Manchester. The prices should apply to much of the UK, though there may be some regional variation so it's worth checking.
We've picked policies with low-ish excesses and we've tried to balance getting the cheapest deal with policies that actually provide decent cover (eg, many below provide cover while racing, which is popular among enthusiasts).
You may be able to get a cheaper deal (see below) but may have to pay a significantly higher excess. As this is a new guide please give us feedback on these providers.
Top picks for bicycles valued at £1,500
Policy
Price/yr
Excess
Lock Required
Personal Accident?
Public Liability
Cover When Racing?
Race Fee Cancellation
Bicy
£99
Up to £150
Silver
Yes
£1m
No
No
Velosure*
£112
Up to £75
Bronze
Yes
£2m
No
No
Bikmo (Plus)*
£121
Up to £150
Silver
Yes
£2m
No
No

Correct as of July 2018.
Top picks for bicycles valued at £3,000
Policy
Price/yr
Excess
Lock Required
Personal Accident?
Public Liability
Cover When Racing?
Race Fee Cancellation
Bikmo (Plus)*
£216
Up to £300
Gold
Yes
£2m
No
No
Velosure*
£237
Up to £150
Gold
Yes
£2m
No
No
Yellow Jersey (Ultimate)*
£250
£100
Gold
Yes
£2m
Yes
Up to £500

Correct as of July 2018.
Top picks for bicycles valued at £4,000
Policy
Price/yr
Excess
Lock Required
Personal Accident?
Public Liability
Cover When Racing?
Race Fee Cancellation
Velosure*
£276
£200
Gold
Yes
£2m
No
No
Bikmo (Plus)*
£296
Up to £400
Gold
Yes
£2m
No
No
Yellow Jersey (Ultimate)*
£317
£100
Gold
Yes
£2m
Yes
Up to £500

Correct as of July 2018.
Can't find a decent policy at a good price? Other options to try
We checked dozens of policies to whittle down the list above and the providers should work for most, but not for everyone.
Where they may not be best is if you don't fit what insurers consider to be 'standard'. This can include:
If you've made a previous bike insurance claim.
If you live in an area where prices are higher than those listed above.
If you want cover for a long trip overseas.
If you have a disability which means you won't get the same level of cover as above.
If you want a cheaper, more basic policy.
Policies that didn't make the cut aren't necessarily bad value but may have had a high excess or don't cover races. They may still be best for some, so we've listed those to try below. But carefully check the terms such as excess, lock requirements, limits if stored in a communal area and anything else important to you before buying.
Cycleguard | Eversure* | Pedalsure* | Wiggle

If that doesn't help, you could try a broker, via the British Insurance Brokers' Association broker search; though be aware not all will be specialists in bicycle insurance.
How to claim on your bike insurance
Claiming on your bike insurance shouldn't be daunting and – if you understand the terms and excesses on your policy – you shouldn't be in for any nasty shocks. Follow these three simple steps in the event you need to claim.
If it's a theft, notify the police quickly

If your bike's stolen, you'll need to get a crime reference number to make a successful claim on a home or specialist policy. Report the incident to the police as soon as you can – you often have to do it within 24 hours – to make sure your claim doesn't hit the skids.

Submit your claim as soon as possible

Contact your insurer as soon as you can to avoid any administrative hold-ups; if it's a complex claim, it may take a while to be processed, so the sooner you start the better.

Keep your receipts

If you're claiming for accessories as well as for a bike, you'll need the receipts as proof of loss. For those who buy all their accessories at the same time they buy the bike, this won't be a problem. But if you buy them over a short period from various retailers, make sure you hold on to the receipts.
How to complain about your insurance provider
The insurance industry doesn't have the best customer-service reputation and while a provider may be good for some, it can be hell for others. Common problems include claims not being paid out on time or at all, unfair charges, or exclusions being hidden in small print. It's always worth trying to call your provider first, but, if not, then…
Free tool if you're having a problem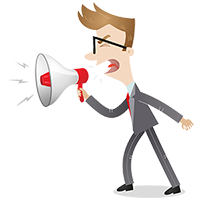 This tool helps you draft your complaint and manage it too. It's totally free, and offered by a firm called Resolver which we like so much we work with to help people get complaints justice.
If the complaint isn't resolved, Resolver will escalate it to the free Financial Ombudsman Service.