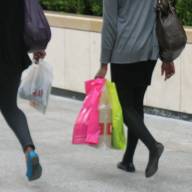 Barclaycard is giving away free £50 high street gift vouchers – valid at shops including M&S, John Lewis, Boots and Debenhams – when you sign up for a credit card before Monday 22 October.
Anybody who takes out a Barclaycard Platinum credit card will bag a voucher worth £50 when they make a purchase. The good news is that a pack of chewing gum counts, as long as you spend on the card before 30 November 2007.
Credit cards often offer free gifts to new cardholders, so sign up for the card, grab the freebie, and forget it. Just don't forget to pay off the balance in full at the end of the month, or they'll wallop you with interest charges.