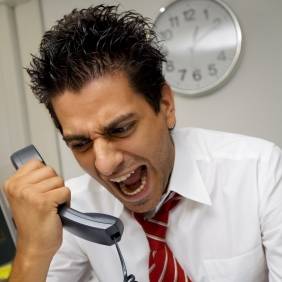 Consumers have been urged to use the free Financial Ombudsman Service if they have been fobbed off when complaining to their bank or other financial institution.
The call comes after the chief Ombudsman Walter Merricks this week said almost half of consumers who had an unresolved complaint were deterred from pursuing it further because the financial firm involved had an unhelpful approach. He also slammed firms for their "dismal" treatment of complainants.
To highlight the problem, figures from City regulator, the Financial Services Authority, show there were 98,000 bank charges claims from those in financial hardship between July 2007 and November 2008.
Banks, on average, are only accepting the complainant is in financial difficulties, and therefore hearing the complaint, in a quarter of cases. They are compelled to consider reclaimers' gripes if they have serious money problems.
Yet the Ombudsman has only dealt with 3,000 claims from those in hardship, despite tens of thousands being turned away by their bank or building society. Of the 3,000 complaints, half are deemed to be in hardship by the Ombudsman, which shows many more should use their legal right to get justice.
This does not just apply to bank charges cases, but any complaint that the Ombudsman can handle, which is most grievances about a firm regulated by the FSA.
However, you normally have to wait until you've got a final response from your financial institution, or at least eight weeks from the date of your first letter before complaining to the Ombudsman.
Wendy Alcock, money analyst at MoneySavingExpert.com, says: "It's time financial organisations stop ignoring their customers' complaints. If you've had bad service from your bank, insurance company or finance provider, tell it if you're not happy, and if you don't like its response, don't forget the Ombudsman may be able to help.
"This is one of few industries where consumers have the legal right for an independent body to look into individual complaints, and it's a shame to leave it underused."
Merricks adds: "Regrettably, we are seeing a growing number of cases where customers who have complained to a financial business appear to have experienced treatment that is nothing short of dismal.
"Inevitably, when some of these consumers then turn to us, they feel angry, ignored and let down by the financial institutions they have dealt with. And we find ourselves having to play the part of emotional shock absorbers.
"The way some businesses are handling these complaints suggests that a weary cynicism is setting in. Some in the financial services industry – currently facing significant business challenges – appear to be taking the jaundiced view that having a large number of complaining customers is just an unfortunate fact of life.
"So they seem to be geared up simply to dispose of complaints at minimum cost – and with minimal attention to the individual facts and circumstances."