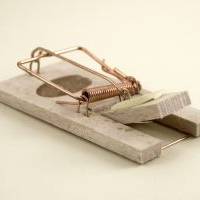 Almost one million homeowners have mortgage debt worth more than the value of their home. If you're affected, you can take steps to limit the damage.
Research from the Council of Mortgage Lenders (CML) indicates about 900,000 homeowners face this affliction, known as negative equity, and caused by tumbling house prices.
The CML stress that around 600,000 face only modest shortfalls and that negative equity is only a problem for those looking to move home or switch mortgage, or for those suffering repayment problems.
If you need a new mortgage either because you are moving or have come to the end of a cheap rate deal, you can normally only get finance if you're borrowing up to 90% of your home's value.
On the bright side, many standard variable rates (SVR), the rate you revert to after an introductory offer, are much lower than prices available to new mortgage customers.
However, mortgage brokers warned last week that those sticking on their lender's SVR for too long may find they own an even smaller portion of their home's value in future if house prices continue to fall.
Wendy Alock, money analyst at MoneySavingExpert.com, says: "If you've no credit card debt or overdraft and some emergency cash saved up, put it towards overpaying. If the lender doesn't allow that, save the extra cash, and at remortgage time repay some debt so you'll need to borrow less."