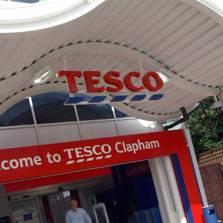 Tesco Clubcard holders can double the value of their vouchers to use on many non-food items from Monday.
This effectively means you'll only need to earn half the usual number of points to buy an applicable product. Importantly, you'll still be able to redeem vouchers for Deals coupons which effectively quadruples their worth, and therefore offers better value.
How do I double my vouchers' value?
Where 500 Clubcard points would normally get you a £5 voucher, you can then convert that coupon into one worth £10 under the double-up scheme, for example. This can be done at customer service desks at Tesco stores (not Tesco Express), on the Tesco website, or by post after printing the online order form. Online and postal requests take five working days.
See the loyalty points checker tool to value your Clubcard points.
What can I use the vouchers on?
On a selected range of items, which are: baby and toddler; clothing; cosmetics, skincare and fragrances; flowers, plants and gardening; Tesco Mobile top ups; Tesco travel and breakdown insurance (in-store only); toys; and wine and champagne. Tesco spokesman Rory Stoves says the double-up vouchers can be used on the majority of items within the specified ranges.
Where there are exclusions, these should be marked on the product. However, you cannot use the new vouchers in Tesco Express outlets.
Is there a deadline?
For the flowers, plants and gardening; and wine and champagne ranges, you must exchange vouchers by 30 September, but you've three months from issue to use them. On all other Tesco items within the promotion, there is no deadline.
Can I get change?
Once you've got the double-up vouchers, you cannot get change from them. However, as they are only available in £5 denominations, any change from the voucher exchange is credited back to your Clubcard account.
For example, if you had £6.50 of original vouchers, you'd only be able to swap them for £10 of double-up vouchers (made up of £5 of your initial coupons). That would leave you with £1.50 (or 150 points) in change.
Does the Clubcard scheme change otherwise?
No. The Clubcard revamp does not affect the way you collect points, where you usually earn 1 point per £1 spent at Tesco. You'll still be able to quadruple the value of points by exchanging for Deals vouchers that can largely be used on days out, eating out, reading material and travel. And you'll still be able to exchange points for Airmiles in the usual way.
Our view
Archna Luthra, shopping analyst at MoneySavingExpert.com, says: "This is an interesting tactic by Tesco to pull in more shoppers. For those that aren't interested in any of the Clubcard Deals, this is a good offer if you'll spend in any of these categories. For the rest, though, Deals still represent better value."
Further reading: Tesco Bonus Clubcard Points Loophole