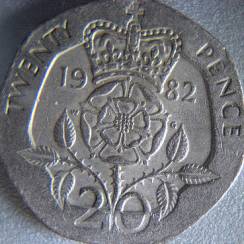 A new 20p coin could be worth at least £50 if there's no year printed on it. Some estimates suggest these coins could be worth £300.
The Royal Mint, which produces sterling coins and notes, mistakenly designed new 20p coins late last year with no indication of the year they were made.
It's estimated there are up to 200,000 such coins in circulation. This is the first time in 300 years coins have been printed without a date.
The London Mint office, a coin collector firm, will pay £50 to the first 10,000 people who register their details and send in their 20p coin.
Yet coin experts think they could be worth at least £300 in future.
The Royal Mint stresses these coins are still usable tender, though you're best off exchanging one for more cash.
How to check your coin
Quite simply, the coins should have the year they were produced on either the heads or tails side, unless you're one of the lucky ones.
How did the mistake happen?
Old 20p coins had the year printed on the tails side (see picture, top right). The Royal Mint decided to move the date to the heads side last year.
Yet on up to 200,000 coins, the old heads side without a date was matched with the new tails side, also without a date.
How to claim
If you want to apply for £50 now, first register your details for free with the London Mint office before sending the coin in. Once registered, you will receive details explaining how to dispatch your coin.
Alternatively, you could gamble and wait, in the hope you'll get even more from a different coin collector.
Further reading/Key links
Register your coin: London Mint Office website.
Make free money: Freebies guide