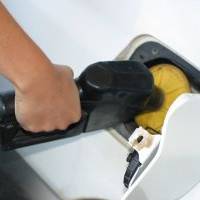 Supermarket giant Asda has today dropped its petrol and diesel prices to 99.9p per litre.
Unleaded is typically down 2p per litre and diesel is down 1p per litre.
The price of oil has fallen by $10 a barrel over the past month, which explains the price drop at the pumps.
Asda's move is expected to spark a price war between the major fuel stations.
Website Petrolprices.com, which finds the cheapest fuel in your area, says the average cost of a litre of unleaded petrol is currently 103.8p. A typical litre of diesel is 105.2p.
Regardless of the prices charged you can further slash costs. The Cheap Petrol & Diesel guide explains the cost-cutting techniques.
Here are some examples of those:
accelerating gently
turning off the air conditioning
keeping you car aerodynamic by ensuring it is clean and free of its roofrack, unless in use
keeping tyres properly inflated
de-cluttering your car to make it lighter
Further reading/Key links
Drive down fuel costs: Cheap Petrol & Diesel
Find cheap filling stations: PetrolPrices.com