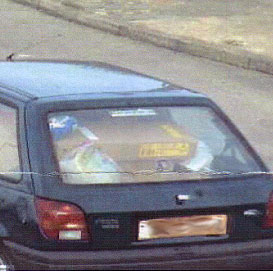 A motorist was smacked with a £95 parking penalty for taking "too long" spending £400 at a Homebase store. When he refused to pay, he was threatened with court action, bailiffs, a botched credit file and wage deductions.
His crime? He'd parked for 52 minutes too long at the store, despite spending that time bolstering the retailer's profits.
Even when he outlined the circumstances, the store refused to cancel the fine.
Neil Alcock, from north London, fell victim to a growing breed of parking enforcement earlier this year, where CCTV footage is used to catch unsuspecting motorists on private land, with tickets then sent by post.
Campaigners say his case illustrates the fallacy of the automated system. It's claimed law-abiding motorists who are using car parks legitimately could be caught out because there is no room for common sense.
Many tickets issued by private firms are unenforceable and in many cases should be ignored, as explained in the Private Parking Ticket guide.
Fined for spending £400
Neil, 34, had parked at the Homebase store in New Southgate, north London, with his wife to buy items for their new home.
He left his car in the store's carpark and spent two hours and twenty two minutes shopping, spending £398.39 on a table, chairs and smaller DIY items.
The carpark stipulated a maximum waiting time of 90 minutes, though he says he didn't see any sign explaining the restriction. Notices have to be clearly visible to even stand a chance of being enforceable.
Ten days after the shopping spree, he received a £95 demand from parking firm G24, which runs the Homebase carpark. Stores typically employ third-party firms to manage their car parks and issue penalties.
The parking ticket even shows a photo of Neil's car exiting the carpark jammed full of goods bought from the store (see pic, top right).
Neil wrote to Homebase on numerous occasions to dispute the penalty but it refused to offer any help, even when he pointed out the amount spent.
One letter from the store stated: "We are not able to intervene. You will need to address your appeal to the company that issued the notice."
Threatened with court and wage deductions
A month after receiving the ticket, Neil got a debt collector's letter demanding payment. The letter also said: "This is a formal notice of intended court action.
"If a court order is obtained, the following may occur: seizure of moveable property; deductions from wages by your employer under a court order; an unpaid order may make credit impossible to obtain."
Homebase eventually agreed to waive the charge after MSE intervened. It says that, in future, anyone who receives a ticket under similar circumstances should contact the store manager.
Yet that doesn't not guarantee the charge will be waived as Homebase states the relevant manager will use their "discretion" in each complaint.
Neil says: "It's disgusting. I'm appalled private companies think they can get away with charging excessive amounts for the sake of a few minutes' parking, especially when you're spending money in their stores.
"Also, the fact they lay out their letters to make them look like official fines in order to dupe susceptible, law-abiding people should be stopped."
Parking ticket campaigner Barrie Segal adds: "This is totally unacceptable, especially as stores are often complicit.
"The advent of motorists getting caught on private land like this is becoming more prevalent. It means honest motorists will get trapped because the system is automated.
"It is a numbers game for the parking firms. They know large numbers won't fight back so it works for them."
Last week, motoring charity, the RAC Foundation, said some private clamping companies are acting illegally by imposing exorbitant charges for releasing vehicles that have been clamped or towed away.
Martin Lewis, MoneySavingExpert.com creator, says: "While private parking tickets are often referred to as fines, actually they're no such thing.
"They're simply a company trying to use contract law to try and impose an additional charge. Often they have no right to do so, and there's no basis in law for it.

"It's time for a clamp-down on these clampers, and the best way is for everyone to know their rights. If you get one of these tickets, don't just pay up. Read through the Private Parking guide and if you think you've been hard done by, fight it."
CCTV-controlled enforcement
Street cameras have been in use by local authorities to catch-out motorists on public roads since April last year.
When caught by a police or local authority-controlled camera, you at least can appeal to an independent adjudicator, unlike when caught by a private firm.
Some 70% of those who appeal to the adjudicator are victorious. Full details in the Parking Appeals (on public land) guide.
In addition, while many parking tickets are wrongly issued by local authorities, it is claimed, you'll never face the ridiculous scenario of being ticketed by a store you're spending money in.
G24 was unavailable for comment but says on its website: "Unauthorised parking is a real problem for businesses, where valuable parking spaces, reserved for genuine customers or staff, are being abused."
Further reading/Key links
Dispute parking tickets: Private Parking, Parking Appeals (public land)
Cut motoring costs: Cheap Petrol & Diesel