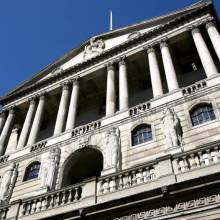 The official interest rate is likely to remain at its historic 0.5% low for many months, economists predicts.
The news comes after the Bank of England today warned of a "slow and protracted" economic recovery in its Quarterly Inflation report.
It admitted the scale of the recession was worse than it had expected just three months ago but the pace of contraction had slowed.
Howard Archer, of economist firm IHS Global Insight, said he believes the Base Rate will be held for "some considerable time to come" as there were signs the Bank "still has major concerns about the strength and sustainability of any recovery".
The Bank said its £175 billion quantitative easing scheme - effectively printing money - would help facilitate a slow upturn but warned "the timing and strength of that recovery remains highly uncertain".
Gloomy outlook
The Bank said it expects the economy to shrink by around 5.5% at the lowest point this year before beginning its recovery.
Bank of England Governor Mervyn King says: "The sustainability and strength of any recovery will be affected by necessary balance sheet adjustments of the banking, household and public sectors.
"Recovery could be slow and protracted."
The Bank also anticipates that unemployment - which figures today showed had soared to a 14-year high of 2.44 million in the three months to June - will continue to rise.
Mortgage/savings impact
Some mortgage customers have benefited from the low interest rates as their payments reduced when they moved on to banks' standard variable rate, but savers have suffered as the returns on their investments thinned.
King's prediction that households could look to save more to give them a buffer against further financial shocks also suggests that many people would be adversely affected by rates remaining low.
Yet the full rate reductions have not been passed onto many new borrowers.
Banks have increased so-called spreads - the difference between the cost of their own borrowing and the amount they charge to the customer - prompting fury from consumers groups and politicians.
Article provided by PA News and edited by MSE.
Further Reading/Key links
Unemployment help: www.moneysavingexpert.com/redundancy
Top savings accounts: www.moneysavingexpert.com/topsavings
Cheap mortgage finding: www.moneysavingexpert.com/mortgagebrokers