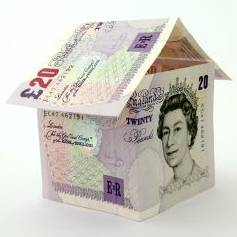 Mortgage lenders have been accused of harming borrowers' chances of getting a homeloan by unnecessarily ruining their credit records.
This is at a time when lenders also stand accused of profiteering from mortgage sales by charging homeowners far more than it costs them to borrow money.
Providers are now said to be breaking the Financial Services Authority's (FSA) regulatory rules by leaving 'footprints' on customers' credit files when borrowers ask for an indication whether their application will be accepted.
This is known as getting a decision in principle (DIP), often required to prove to a seller you have the funds when placing an offer on a property.
Every time your credit file is searched by a lender, as sometimes happens when getting a DIP, it leaves a mark.
The more footprints on your file, the less chance you have of being accepted for credit. So if you later apply in full to another lender your chances of acceptance may have diminished (see the Cheap Mortgage Finding guide).
Brokers are urging lenders not to fully search applicants' credit files when getting a DIP, and instead use what is known as a 'quotation' search.
However, a full search is required for the formal application.
Ray Boulger, from mortgage broker John Charcol, says: "Lenders are required under FSA rules not to do anything to inhibit consumers shopping around, but most are riding roughshod over this requirement.
"Avoiding contravening this rule is very simple – all a lender has to do is refrain from recording a full search, but instead do a quotation search.
"This provides the same information, unless and until they receive a full mortgage application. I wonder if the FSA even knows which lenders use a quotation search and which don't."
Homeowners stuck
Separately, John Charcol estimates that, due to house price falls and the lack of available mortgages, around 3.5 million households are stuck in their homes, unable to move.
It says there are currently around two million households either in negative equity (where your mortgage debt is more than your home's value) or who own less than 10% of their property outright.
Another 500,000, it adds, only hold between 10% and 15% equity, while a further one million either have a sub-prime mortgage (for those with a bad credit history) or cannot prove their income.
Boulger adds: "In current market conditions, all of these groups will find it very difficult or impossible to move. There are very few mortgage deals available for people with less than 15% equity.
"Those which are available have very high interest rates and there is a strong probability of applicants being rejected because lenders insist on a high credit score before accepting such applications."
While house prices are down over the past year, the last three months has seen a steady rise in typical property values. Many experts put this recent trend down to a lack of supply, partly caused by homeowners being unable to move.
Bernard Clarke, from the Council of Mortgage Lenders, says: "The issue of credit searches is an ongoing area of discussion between lenders and the credit reference agencies."
Further reading/Key links
Mortgage arrears help: www.moneysavingexpert.com/mortgagearrears
Cheap mortgage finding: www.moneysavingexpert.com/mortgageadvice