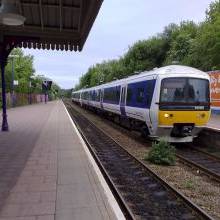 Train fares are set to fall for many for the first time "in a generation" next year, the Department for Transport has confirmed.
However, it's estimated only 40% of passengers will experience the modest drop, mainly season ticket holders. There are fears other ticket prices could be raised.
The news follows the publication of July's Retail Prices Index inflation figure today, which stands at minus 1.4%.
Rail firms use a formula of RPI plus 1% from the previous July to determine how much to increase 'regulated' prices by every January.
Regulated fares include season tickets and some long distance tickets. They should therefore fall by 0.4% on average (see the Cheap Train Tickets guide).
Transport Secretary Andrew Adonis says: "The majority of regulated rail fares, including most commuter fares, will fall in January.
"For the first time in a generation passengers across the country will see their fares fall."
However, there are concerns rail firms will raise other off-peak fares to compensate for the loss.
Gerry Doherty, a rail union leader, says: "We expect a wave of companies now to try and make passengers pay for January's fares cut by jacking up the unregulated off-peak fares in September."
Slash train costs
There's a host of ways to cut the price you pay for train travel.
Archna Luthra, MoneysavingExpert.com consumer products analyst, says: "Buying early can get you cheaper fares as can buy two singles instead of a return, in some cases.
"For longer journeys, try the sneaky trick of split ticketing. Here, buy your single journey in two parts; for example, London to Penzance is often cheaper if you buy London to Plymouth, and another to ticket from Plymouth to Penzance."
Further reading/Key links
Cheap rail fares: www.moneysavingexpert.com/trains
Cheap train & coach travel: www.moneysavingexpert.com/traincoach