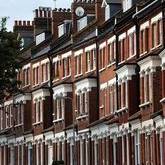 MoneySavers think the house price crash is over, according to a poll of this site's users.
Of the 9000+ readers surveyed, 71% reckon prices will either rise or hold still over the next year. On average, a 0.36% annual rise is expected.
It is the first time since property values started to fall in autumn 2007 that this site's regular house price poll has seen predicted growth (see the Free House Price Valuation guide).
September 2009 poll results
24% expect little change in typical values
30% are predicting a 2%-5% increase
13% think prices could jump by between 5% and 10%.
9% expect a drop in prices of between 2% and 5%
3% think there could be a 20% crash (see the full House Price Poll results)
The predicted increases echo some sentiment around the housing market that falling prices are a thing of the past, in the short term at least (see the 'House price crash is over' MSE News story).
Over recent months, the three major house price indices have reported steadily rising prices.
Last week, mortgage lender Nationwide reported a 1.6% rise in typical values during August and the Land Registry indicated prices were up 1.7% in July (see the Nationwide house price rise and Land Registry hike MSE News stories).
Lender Halifax is expected to publish its index for August next week. It reported a 1.1% July rise (see the MSE News Halifax July price spike story).
How times change
In April, a similar poll revealed MoneySavers expected a drop of 3.68%, while in October last year, readers predicted a 10.7% fall.
The table below shows how attitudes have evolved.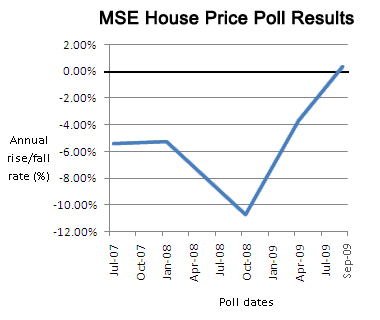 National Association of Estate Agents president Gary Smith says: "The housing market has finally bottomed out and indications are that we are hopefully moving to a point where the gradual recovery in prices witnessed this year will be sustained."
While estate agents and many property owners will celebrate price rises, it is not good news for first-time buyers or those looking to move to a larger home.
Nationwide says the price increases could end when interest rates finally rise. Currently, most commentators attribute the price hikes to a lack of housing supply.
The lender says many homeowners are better able to manage debts in the current low interest rate environment.
But when borrowing rates rocket from their 0.5% low, some may be forced to sell their homes and therefore increase housing supply which could force prices back down.
Martin Lewis, MoneySavingExpert.com creator, says: "The public's sentiment has an impact. If people believe prices will drop, this may be self-fulfilling.
"Those who believe in price plummets are far less likely to enter the market – this will cause a decrease in demand and push down prices.
"If they think they'll rise, they engage in the market and that, in turn, can push demand up. It'll be interesting to see how accurate these predictions are."
Further reading/Key links
Valuation loophole: Free house price valuation
Cut homeloan debt: Cheap Mortgage Finding
Latest house prices: Nationwide, Land Registry, Halifax
MSE News (28.08.08) Land Registry hike
MSE News (27.08.09) Nationwide house price rise
MSE News (30.07.09) 'House price crash is over'
MSE News (05.08.09) Halifax house prices up