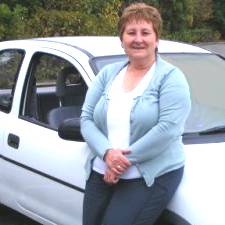 A grandmother has broken the MoneySavingExpert.com record for the cheapest-ever annual car insurance policy.
Barbara Wakerell (pictured, right) paid just 96p this summer for fully comprehensive cover for her 12-year-old Vauxhall Corsa.
Had she renewed her previous policy she would have paid £145.
This smashes the previous £14 record, and shows that by playing the system you can make huge savings (see the Car Insurance guide).
How's this possible? The MoneySavingExpert.com cost-cutting system
Step 1: Combine the power of comparison sites. These zip your details to a host of insurers' and brokers' websites in seconds, scraping their data to report back the cheapest. No site lists every provider so the key is combining searches to give yourself the widest range in the least time to find the cheapest policy of those that contain your required cover.

By using just the top comparison site you'll search 97 providers, but add three more and, in minutes, you search another 51 (full analysis in the Cheap Car Insurance guide). Also note Aviva and Direct Line do not appear on comparison sites.


Step 2: Grab cashback. Once you know the cheapest provider, check whether you can grab any money back via a cashback website. These pay a cut of their commission if you click through to insurers' or brokers' sites via them (see the Top Cashback Sites guide).


Step 3: Remember next year. Just because you got a super-cheap quote this year, doesn't mean you will next year. So diarise a note six weeks before renewal so you don't pay your insurer's expensive renewal price.
How Barbara did it
Barbara, a civil servant from Kent, found the cheapest policy at £120.96 from broker Swinton, which came with its own £70 cashback, making the true cost £50.96.
One reason she got a decent-priced policy to start with is she is considered a relatively low risk, which is crucial in cutting costs.
Barbara then bought the policy via cashback site Quidco.com, which gave her a further £50 discount, meaning the net cost was just 96p.
She says: "I'm always looking for a bargain so when I found my car insurance for £120.96 I thought I was doing well.
"But when I also got £120 cashback I realised I had done really, really well. Can anyone beat that?"
What's more, her cover is good. It is a comprehensive deal that includes a courtesy car if her motor is out of action and a protected no claims bonus.
Additionally, there will be no voluntary excess to pay if she makes a claim (the amount deducted from any payout).
Barbara also paid a voluntary £2.42 credit card charge, but that fee would have been waived had she paid by debit card.
Martin Lewis, creator of MoneySavingExpert.com, says: "While many report getting insurance for under £100 following the system, we thought the previous £14 record was near invincible, so it's wobbly legs time to see Barbara's 96p price.

"The real hope is to find someone who gets PAID to get motor insurance. This has happened many times with home insurance (see the Cheap Home Insurance guide).
"The current record is a £67 profit as the cashback was higher than the policy cost."
Further reading/Key links