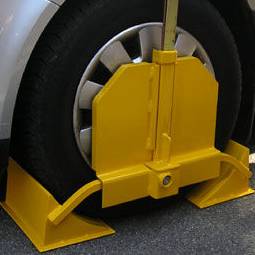 Cowboy clampers will be driven out of business by a future Conservative government, shadow transport secretary Theresa Villiers pledged today.
At the Tory conference in Manchester, Villiers said under Labour, wheelclamping firms had been allowed to "act with impunity" when penalising those parked on private land (see the Don't Pay Private Parking Tickets guide).
She says: "I have a simple message for the rogue operators who use intimidation to extort huge fines from hapless drivers: a Conservative government would put the cowboy clampers out of business."
Motoring giant, the AA, says wheel clamping on private land should be banned and parking ticket issuers need to be properly regulated (see the 'Ban the clampers' MSE News story).
Earlier this year, MoneySavingExpert.com highlighted the shocking case of a man who was slapped with a £95 ticket for taking too long to spend in a Homebase store (see the Parking madness MSE News story).
The British Parking Association, which represents firms that run private car parks, has agreed to face MoneySavers' parking gripes in the MSE forum.
Further reading/Key links