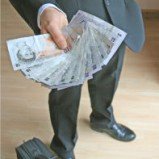 Britons who sold a property in Spain between 1997 and 2006 could be elgible for thousands of pounds of compensation, it is claimed.
The European Court of Justice (ECJ) has ruled the Spanish Government illegaly overcharged non-Spanish residents capital gains tax (CGT) during that period.
Currency specialist HiFX esimtates UK citizens could be due a combined £283 million refund at an average £13,370 per person.
The Spanish courts originally ruled in February that any non-Spanish resident who had purchased a property between 2004 and 2006 could apply for a rebate but this has been extended even further back to 1997.
The website, www.spanishtaxreclaim.co.uk, was launched in March 2008 to help reunite Brits with their cash.
Mark Bodega, from HiFX, says: "We now urge anyone who thinks they may have been affected by this to come forward."
Spanish lawyer Emilio Alvarez adds: "The consequences of the ECJ ruling are far reaching."
Further reading Key Links
Overseas spending: Foregin currency