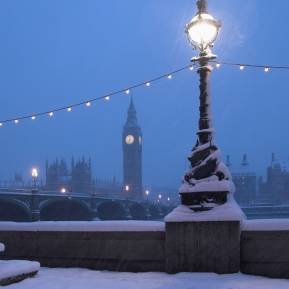 Households could see winter fuel bills rocket by £60 if the cold snap continues into February, it is claimed.
It costs £3 a day on average to heat a home, but this could rise by £1 a day during the big freeze, says price comparison site uSwitch.com.
If the cold snap, which began in mid-December for many, lasts a fortnight it will add £14 on to household winter fuel bills. But if it lasts two months, it could cost households an extra £60.
Reports the price of energy could rise due to increased demand are misleading, says uSwitch, because much of suppliers' energy is bought in advance.
The Met Office expects heavy snowfall across the South West on Tuesday as milder conditions from the Atlantic battle against the cold air currently over the UK.
Capped warning
Meanwhile, consumers who capped or fixed their energy tariffs in 2008 are being warned many deals expired on 31 December or 1 January, potentially meaning higher costs now.
Comparison site Energyhelpline.com states deals from British Gas, EDF, Npower, Scottish and Southern, and Scottish Power have all recently ended, with many lumped onto expensive standard tariffs.
If your deal has expired or is ending shortly, ensure you compare the price of your NEW deal with the best alternative and switch, if necessary (see the Is Your Capped Tariff Ending? guide).
Anyone else who has not recently switched should also do a comparison and move, if necessary, to cut costs at a time when they are using more energy (see the Cheap Gas & Electricity guide).
Further reading/Key links
Help for those who've capped: Is Your Capped Deal Ending?
Slash energy costs: Cheap Gas & Electricity