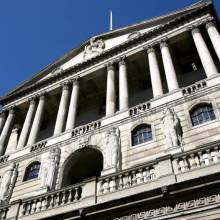 Interest rates could stay on hold at their 0.5% record low throughout this year and well into 2011, it is claimed.
Economists made the prediction after today's Bank of England inflation report, but it means savers may have to put up with low returns for longer (see the Top Savings guide).
Based on forecasts of interest rates rising to 1% by the end of the year, the Bank of England thinks Consumer Prices Index (CPI) inflation will be well below its 2% target in two years, at around 1.2%.
This would reduce the need to hike the Base Rate, which has remained on hold for almost a year.
Even with rates held at 0.5% and no unwinding of its £200 billion quantitative easing programme, Bank forecasts still predict CPI will be below target – at around 1.8% – due to the huge amount of economic slack created by the recession.
Howard Archer of IHS Global Insight says: "Any interest rate hikes are clearly off the agenda in at least the near term, and could very well be delayed until 2011."
ING Bank economist Rob Carnell adds: "Market expectations of slowly rising rates through the back end of this year and into 2011 may currently be too aggressive."
Savings/Mortgage impact
The average per-tax interest rate paid on an instant access account is currently just 0.17%, while tax-free Isas offer returns of only 0.41% on average.
There is little hope the situation will improve soon, though the best buys offer far superior returns (see the Top Savings and Cash Isa guides).
But the prospect of record low rates for longer is good news for mortgage customers on tracker deals, which move up and down in line with the base rate (see the Cheap Mortgage Finding guide).
Commentators have warned, however, that they expect increasing numbers of lenders to hike their standard variable rates (SVR), despite the base rate being kept on hold.
Rising numbers of borrowers are now on their lenders' SVR, which with rates of as low as 2.5% is often cheaper than moving to a new deal.
But numerous building societies have increased their SVR since the last Base Rate drop for at least some customers, with Skipton recently announcing a hike of 1.45 percentage points.
Further reading/Key links
Boost your rate : Top Savings, Cash Isa
Cut-price homeloans: Cheap Mortgage Finding