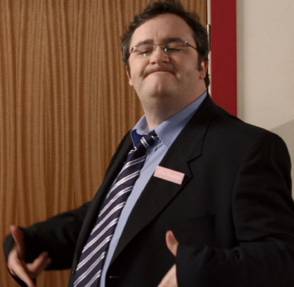 "Brand new customers only" was once the comical slogan used to mock banks and building societies that hiked existing customer charges while lowering those for newbies.
But that catchphrase, as yelled by comic Mark Benton (right) as an incompetent bank manager in the old Nationwide TV ads, has been brought into sharp focus in the mortgage market this week.
Rates for new customers are falling, while many lenders are hiking their standard variable rates (SVR) that many deals revert to on expiry (see the Cheap Mortgages guide).
In the worst cases, borrowers on a £100,000 mortgage could see almost a £1,000 hike in annual costs due to the SVR jumps.
Existing customer rate rises have mostly been forced upon lenders this time, but that will be of little comfort to borrowers hit with higher charges.
Brokers suggest now is the time to review your mortgage given the crossroads in the market (see the What next for borrowers? MSE editorial comment).
Standard rates up
Nationwide is one lender to have announced SVR rises over recent days despite no movement in Bank of England Base Rate for almost a year. Others include Norwich & Peterborough Building Society (N&P) and Skipton BS.
Nationwide-owned The Mortgage Works hiked its residential SVR from 4.69% to 5.19% this week, while UCB Home Loans, also owned by the society, upped its standard rate from 4.99% to 5.49%.
N&P's SVR rose from 4.85% to 5.35% on Monday, while Skipton's rate is jumping from 3.5% to 4.95% in March, a whopping 1.45 percentage point rise, adding £972 to annual costs on a £100,000 repayment mortgage (see the Skipton hike MSE News story).
In a further twist, N&P mortgage holders whose interest payments are calculated once a year will only see the rate rise reflected in payment demands in March 2011.
However, the increased costs will be added to their balance in the meantime. By their next mortgage statement in January 2011, someone with a £100,000 loan will have £330 added to their debt, though N&P will write to these customers allowing them to overpay for now.
Ecology BS and Holmesdale BS have also raised SVRs this year, following hikes by other societies such as Accord (part of Yorkshire BS) and Kent Reliance since the last Base Rate rise in March 2009.
Nationwide customers who took out a mortgage with its mainstream arm, branded Nationwide, before April 2009 will pay the joint-lowest current SVR available, of 2.5%. It is guaranteed to remain static until Base Rate rises.
Lloyds TSB-owned Cheltenham & Gloucester (C&G) also offers the same rate and guarantee.
Lenders that have hiked their SVR say they have to balance the needs of borrowers and savers.
N&P, for example, says it has over seven times as many savers as borrowers and is struggling to maintain competitive savings rates in the face of "unfair" competition from state-backed banks.
The Building Societies' Association also warned late last year that its members are struggling to compete with the Government-owned banks due to the advantage the likes of Lloyds Banking Group, National Savings & Investments, Northern Rock and Royal Bank of Scotland have.
New mortgages down
Meanwhile, research shows mortgage rates for new customers are falling.
The average cost of fixed rate and tracker deals has fallen steadily since the beginning of the year, with a flurry of lenders launching best buys this week, according to the website Moneyfacts.co.uk. The number of available deals has also risen by 300 in 2010.
The group says the average cost of a two-year fix has dropped from 4.88% in early January to 4.81%, while rates charged on five-year deals have fallen by 0.09 of a percentage point to 6%.
Average tracker rates fell by 0.1 of a percentage point to 3.67%.
Among the big names to have launched new deals this week are Santander, C&G and First Direct.
What should borrowers do?
Richard Morea, from broker London & Country, says: "Whatever deal you are on, you should always make sure it is the most appropriate for you.
"It may seem a given if you are on the SVR that you are doing well because rates are relatively low, but the range of SVRs between different lenders is vast so some will be high."
However, even those on a high SVR who want to switch may not be able to, due to the tough restrictions on lending imposed since the credit crunch began in 2007.
They have eased a touch over recent weeks, says Morea, though he adds in most cases you still need at least a 25% deposit to get the top rates, and a good credit score.
Additional reporting by the Press Association.
Further reading/Key Links
Mortgage cost-cutting guides: The Remortgage guide, Mortgage haggling, Cheap mortgage finding, Ditch my fix?