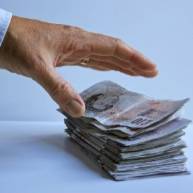 Fears are growing that consumers who paid the now-suspended Cartel Client Review a fee to 'write-off' their debt won't get their money back. Yet there may be hope for those who paid on plastic.
The future of the claims firm is unclear as it is still an active company even though it has been suspended by the Ministry of Justice (MoJ), meaning it cannot investigate cases for now (see the Cartel suspended MSE News story).
Therefore, MoJ guidance states you are entitled to a refund but it is unclear if Cartel will provide that. Some customers paid it up to £2,000 in fees.
Here's what you can do:
Step 1: Did you pay by credit card?
You may be able to claim a refund from your card company under Section 75 of the Consumer Credit Act (full info in the Section 75 guide).
This regulation makes card firms jointly liable with a retailer if a service has not been provided as agreed. The transaction has to be over £100 but most Cartel fees will have exceeded that.
If you're in this boat, this could be your best hope so contact your card company.
If not, move on to Step 2
Step 2: Did you pay by Visa debit card?
If so, it runs a chargeback scheme if you notify your bank within 120 days of realising there is a problem, though it is unclear when the period could be classed as having begun (full info in the Visa Chargeback guide).
If successful, your bank will reclaim the cash from the bank used by the company you paid.
If you didn't pay on credit card or Visa debit, move to Step 3
Step 3: Ask Cartel for the money back
The MoJ is trying to determine whether Cartel will be able to offer refunds. We will keep you updated once we get a response.
If Cartel ceases trading, which has not happened, you will have to apply to be a creditor.
You can contact the MoJ for advice on info@claimsregulation.gov.uk or 01283 233309.
The MoJ stresses it cannot intervene in helping you get a refund but it can offer advice.
Step 4: Can you take legal action?
The MoJ says you might have a right to go to court for breach of contract if all else fails. However, it recommends you seek independent legal advice before taking any court action.
Cartel has not answered any calls or emails regarding the reimbursement of fees.
It has issued a separate statement from its chief executive Carl Wright stating: "Cartel notified the MoJ that it had voluntary ceased taking new business on 10 March. As a result, and following further discussions, it was entirely appropriate for the MoJ to suspend Cartel's authorisation."
Further reading/Key links
Debt help: Debt problems
Reclaim help: PPI reclaiming, Bank Charges
Official webiste: MoJ guidance