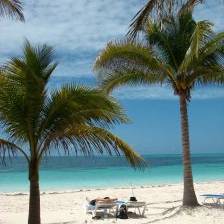 Nationwide cash card customers will no longer be able to use their plastic to withdraw cash overseas from this June.
The building society is axing the benefit in a move which could hamper summer holiday spending plans.
On the flip side, users will soon be able to make purchases with the card, something not currently possible (see the Best Bank Accounts guide).
The move does not affect those with the society's more common FlexAccount, which comes with a Visa debit card, who can continue to use their card anywhere in the world to withdraw cash or make purchases.
UK-only withdrawals
Customers with a cash card account will be moved to a cash card plus account and will receive the new plastic in a roll-out that begins in June.
Cash card customers can currently only use the card to withdraw money at an ATM. Once they receive their new plastic, it can only be used to withdraw cash in the UK. However, customers will then be able to make purchases in person, over the phone and by internet anywhere in the world.
A cash card is the society's basic current account for those who do not qualify for a fully-fledged debit card. Nationwide says only a minority of its members have a cash card account and that 10% of those use it overseas.
Last year, Nationwide ended its worldwide fees-free policy on overseas transactions, adding a 1% charge to virtually all non-European transactions. The charging scheme applies to all Nationwide overseas transactions now and in future, regardless of the plastic type (see the Cheap Travel Money guide).
What can cash card customers do?
If you don't use the card overseas then you'll benefit from the change.
Nationwide says those who want to use it overseas can apply for a FlexAccount, though you'll need a decent credit score.
If you have a good credit history, the Santander Zero credit card offers commission-free purchases worldwide (see the Cheap Travel Money guide).
Also see the the Travel Money guide for tips on how to buy foreign currency on the cheap.
Further reading/Key links
Get cheap currency: TravelMoneyMax.com, Cheap Travel Money