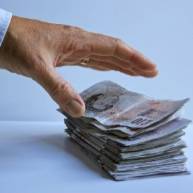 The Office of Fair Trading (OFT) has delivered its long-awaited report into the future of bank charges but it's seen as a "flaccid" attempt to help consumers avoid huge fees.
It says it expects a number of "significant developments" from current account providers on charges for exceeding your overdraft limit over the next two years.
These include giving consumers greater ability to opt out of an account that allows you to go over your agreed overdraft limit and then incur charges.
However, the OFT is not forcing banks and building societies to implement these changes, adding it will consider further legislation in future if its plans are not implemented. It will report back in 2012.
It won't, for example, implement a cap on charges, as had been mooted in newspaper speculation.
The report is about charges that will be levied in future and does not address reclaiming charges you have already received (see the Bank Charges Reclaiming guide).
The OFT's expectations of current account providers include:
Greater ability to opt out of being granted an 'unarranged overdraft'.


More tools for customers to control their balances and avoid going overdrawn.


Better treatment of customers who get into financial difficulty.
An industry group will also be established to help give consumers more control of their accounts.
'Flaccid and pointless'
Martin Lewis, MoneySavingExpert.com creator, says: "This is a flaccid document and a complete waste of a chance to improve things for consumers. After three years all it's managed to do is set up yet another enquiry into best practice and told us it will monitor the banks for another two years and then maybe take action.
"When the OFT decided not to go on with the bank charges test case, even though there were still legal routes to follow, we held off being too critical as it was still due to report on market conditions and we had high hopes that this would have an impact.
"Like many other consumer groups we fed into this process, diligently going through the benefits of a mooted £10 cap on bank charges, talking about a right to opt out of charges so that if the money's not there the transaction is just unpaid, and suggesting best practice options for customers in hardship.
"The reception to that was warm then, so seeing the report this morning was a shock. When speaking to them and asking why there's nothing concrete in this the OFT told us 'the ball's in their court – we're watching' – yet what's needed is for it to snatch the ball from their hands and take control.
"The OFT reports as a triumph that average bank charges have dropped from £34 to £17, yet that's mostly the result of consumer pressure from bank charges reclaiming and it still leaves many paying £35 each for every transaction that's puts you beyond the limit. Those charges can snowball into thousands.
"This really is beyond the pale, even with a near nationalised banking sector, no one will take them on – why?"
Eric Leenders, from the British Bankers' Association, says: "Banks are committed to ensuring customers understand how banking services work and that when the customer is charged a fee for a service, the charging structure is fully understood. We look forward to working with our members and the OFT to further enhance the services that banks offer."
Further reading/Key Links
Reclaim: Bank Charges Reclaiming, Bank Charges Court guide
Official report: OFT website