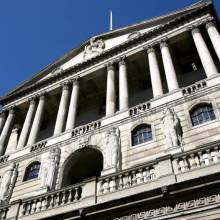 IMPORTANT NOTE: This article was published on the morning of 1 April 2010.
A new batch of 50p coins has been printed with a slight error that could make them worth up to £1,000, according to experts.
It seems a small problem in the manufacturing process means the coins have been produced showing the Queen's lips at a slight downturn.
While there hasn't been any official comment on it yet, one historic coin expert suggests there are internal worries this will be damaging for national morale as we near general election time, with the 'downturn 50p' reminding people of the recent financial turmoil.
It's thought a quiet process to recall them has started. Some bank cashiers have emailed MSE to say they've been asked to keep an eye out for the coins so they can be withdrawn from circulation.
How to check if you have a 'downturn 50p'
According to Finlay Olbertson, Head of Mint Analysis at numismatists (historic coin experts) Olbertson Lane: "Unlike the Queen, the Royal Mint has been tight lipped on this, but we have managed to obtain one of these 50p coins.

"As more are withdrawn from circulation the value is expected to increase over time and they could one day be worth £1,000 each.

"So if you get one, my best advice is to put it away somewhere safe for now then take it to a dealer in a few years time. In fact while they call it a downturn 50p, for most who find one it's an upturn.
"The key is to inspect the area around the mouth closely. If the back of Her Majesty's mouth is pointing sharply towards the bottom edge of the coin, you may well have one of these."

Image courtesy of Finlay Olbertson, Olbertson Lane.
Please let us know if you've found one of the coins via the forum discussion below.
Further reading/Key links
Get free stuff: Freebies, Freebies, Freebies