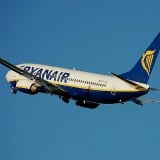 Budget airline Ryanair is temporarily hiking checked baggage charges for summer and has confirmed plans to start charging to use the toilet on shorter flights.
These latest hikes for passengers come on top of the array of charges levied in addition to the advertised fare on many flights, including costs to check-in, pay by credit or debit card and in-flight snacks.
From tomorrow, anyone who books a Ryanair trip for travel in July and August ONLY will pay £20 per bag, per flight instead of the usual £15, which will be charged for flights in other months. The airline says it wants to "incentivise passengers to travel light". You can take up to 10kg of hand luggage for free.
Spend a pound to spend a penny
The airline is also going ahead with controversial plans to charge for using the toilet, though any move is still a year to 18 months away.
It will charge £1 to use the loo on its shorter "commuter routes", such as London to Dublin.
This can only happen if aircraft manufacturer Boeing agrees to reduce the number of toilets on aircraft serving such routes from three to one, making way for six additional seats.
Ryanair says the change will affect less than half of its 232-strong fleet. It will still be free to use the toilet on longer flights.
Daniel Lawrence, MoneySavingExpert consumer products analyst, says: "The extra baggage charge and possible toilet fees are the latest in a long line of Ryanair costs which are not immediately obvious at the booking stage.
"That's why it is vital you consider all costs before booking a flight."