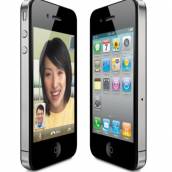 Apple's new iPhone 4 will be sold by Three when it launches on 24 June, meaning it will be available from five UK networks.
In contrast, the existing iPhones are only available in the UK via three of the major operators: O2, Orange and Vodafone. They are also currently available on Tesco Mobile (see the Cheapest iPhone guide).
O2, Orange, Vodafone, T-Mobile and Three have all announced they will stock the iPhone 4 but Tesco Mobile has yet to confirm it will sell the handset, adding "we're working hard to ensure it is available for customers".
Tesco, in particular, offers some of the cheapest existing deals and is the only provider to offer a 12-month contract, rather than the usual 18 or 24-month lock-in.
No tariff news
The major networks have yet to reveal their iPhone 4 tariffs, saying they will be announced over the next few days.
O2 says it will offer existing iPhone customers the chance to upgrade to the new version.
Apple suggests retailers sell the 16GB iPhone 4 model for $199 (£138) for the 32GB model for $299 (£207). At present, you can get around 600 minutes, unlimited texts and mobile internet for £35-£40 a month on the 3GS.
Daniel Lawrence, MoneySavingExpert.com consumer products analyst, says: "Let's hope as many networks as possible sell the iPhone 4 to ensure prices stay as low as possible.
"We saw prices drop slightly when the O2 monopoly on the existing 3GS handset was broken, showing how competition can help consumers."
iPhone 4 specs
The iPhone 4, like the 3GS, comes in black or white, though it has a more angular look.
Its front and back are covered with glass and it is rimmed with stainless steel that acts as part of the phone's antenna.
It is about three-eighths of an inch thick; the iPhone 3GS is nearly half an inch.
It can shoot high-definition video and has a gyroscope in addition to other sensors, to enable more advanced motion-sensing applications, such as games and mapping services.
The display on the iPhone remains 3.5in diagonally, and it can show four times as many pixels - the individual coloured dots that make up an image - as the previous screen, allowing a sharper appearance.
One of the most noticeable changes is the iPhone's new camera on the front that can be used for video conferencing, in addition to a five-megapixel camera and a flash on the back.
For now, the video conferencing function, FaceTime, works only if both parties have an iPhone 4 and are connected over Wi-fi rather than a mobile phone network.
The battery on the new iPhone will allow up to seven hours of talk time - an improvement over five hours on the current model. It can handle up to six hours of web browsing over mobile networks or 10 hours over Wi-fi.
The new phone will run the latest version of Apple's mobile software, called iOS4, which was unveiled in April to offer such features as the ability to operate more than one program at a time.
Older iPhones and iPod Touch devices will be able to get iOS4 as a free download from June 21, though not all features will work on them.
Additional reporting by the Press Association.
This story was updated at 4pm after Three announced it would stock the iPhone 4.
Further reading/Key links
Slash mobile costs: Cheap Mobiles
Sell old mobiles: Sell Old Mobiles
iPhone guide: Cheap iPhones
Apple website: iPhone 4