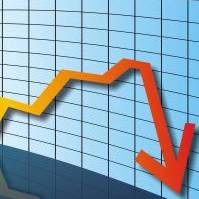 Stock markets suffered further turmoil today after Asian equities tumbled overnight amid renewed concerns over Europe and fears for global economic recovery.
The FTSE 100 Index was down more than 1.6% in early trading following falls of nearly 4% in Asia (see the Recession-proof your finances guide).
Markets continued to come under pressure after Friday's disappointing US job figures, which sent the Dow Jones Industrial Average on Wall Street down by 3%.
Sentiment was hit further by mounting worries that Europe's debt problems could spread after Hungarian officials signalled last Friday that the nation was at risk of a Greek-style fiscal crisis.
Pound up vs euro
The euro hit fresh four-year lows against the dollar over the weekend - at 1.188 dollars - before recovering slightly.
It also lost further ground against the pound, which is now trading at nearly 1.21 - its highest level since November 2008.
Oil prices have slumped to near 70 dollars a barrel after last week's poor jobs data cast recovery doubts over the world's biggest economy.
News that US employers added a worse than expected 431,000 jobs in May knocked already fragile confidence and Hungary's woes added to concerns of a double-dip recession.
The response on Asian markets saw Japan's Nikkei 225 closed down 3.8%, having been down 4% at one point, while Hang Seng fell 2.2%.
Hungary is part of the European Union, but keeps its national currency, the forint, which dropped around 5% last week.
The country's state secretary sought over the weekend to play down comments likening Hungary to Greece, saying Hungary was aiming to meet the 3.8% of gross domestic product budget deficit target previously agreed with the International Monetary Fund and the European Union.
Stocks down
He added that emergency cabinet meetings were taking place over the weekend and into today.
But economists at Barclays Capital say: "It is far too early to say that the worst is over for Hungarian markets.
"Moreover, investors will demand more risk premia from Hungarian assets for the policy uncertainty and the very poor track record on communication by the new government."
Banking and commodity stocks were among those worst-off in trading on the Footsie today.
Part-nationalised Lloyds Banking Group was down 4%, while Royal Bank of Scotland fell 3%.
BP was one of only a handful of stocks on the rise - up 1% - as the under-pressure oil group benefited from signs of success from latest efforts to contain the devastating Gulf of Mexico oil spill.
Further reading/Key links
Protect yourself: Recession-proof your finances