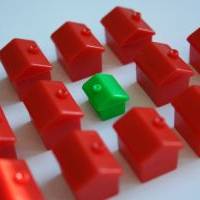 Homeowners can fix their mortgage payments for seven years rather than the standard two, five or ten years.
The Co-operative Bank this week launched a seven-year fix via its subsidiary Platform, which is the third deal of its type, according to broker London & Country (see the Cheap Mortgage Finding guide).
The vast majority of mortgages are sold on a two, three, five or ten-year basis. However, the seven-year option gives borrowers the chance to fix for the medium-to-long term.
Rates on the Co-op deal, which is only available via brokers, vary depending on the percentage of the property value you borrow, called the loan-to-value (LTV).
If borrowing 65% LTV, you'll pay 4.69%; at 70% LTV it's 4.79%; at 75% LTV it's 4.99% and at 80% LTV it's 5.29%.
Regardless of rate, the fee is a steep £1,635, though brokers point out over a long term, the effect of a large fee is less than, say, a two-year deal.
On a £150,000 repayment mortgage at 70% LTV, you'll pay roughly £73,790 over the term with the fee paid upfront.
Other seven-year fixes
The Co-op launch adds to seven-year fixes from HSBC and The Mortgage Works (TMW, part of Nationwide).
HSBC charges 4.99% with a £499 fee up to 70% LTV. On the same mortgage as above, you'll pay around £74,080 over the term.
TMW charges 5.99% up to 75% LTV with a £299 fee. This costs approximately £81,440 using the same example.
Should you fix for seven years?
David Hollingworth, from broker London & Country, says: "A seven-year fix bridges the gap between five and ten-year products.
"But some borrowers will wonder if seven years is too long. Although deals are portable (meaning you can keep it if moving home) it could limit the flexibility if further borrowing is required.
"I think it will suit a borrower who wants longer term stability and is comfortable they will have no major changes to make to their mortgage over the term.
"Perhaps someone reaching the last seven years of their mortgage would like the idea of knowing exactly where they stand for the remainder."
Of course, you don't just need to consider the length of the deal but whether to opt for a fix or a variable rate.
With a fix you're opting for surety. With a variable rate, you're taking a gamble in the hope rates will drop, but with the risk they will rise, meaning higher payments (see the Should I fix? MSE News story).
How to get a mortgage
You often need at least a 20% or 25% deposit to get a good deal, though mortgages are available for those with smaller down payments, but at a premium.
Some lenders even restrict their top deals to those with a 40% deposit.
You'll also need a virtually spotless credit history to get the best mortgages.
Unless you're financially savvy, it's usually best to seek advice from a whole of market mortgage broker before buying, given the complexities of home loan products.
Further reading/Key Links
Mortgage cost-cutting guides: The Remortgage Guide, Mortgage Haggling, Cheap Mortgage Finding, Ditch My Fix?