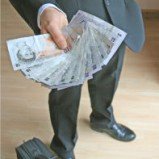 A sub-prime mortgage company has been hit with a whopping £630,000 fine by the City watchdog for treating customers in arrears unfairly.
Redstone Mortgages Limited overcharged customers a combined £500,000 in arrears fees between January 2007 and August 2009 and must pay that sum in addition to the fine (see the Mortgage Arrears guide).
The Financial Services Authority (FSA), which issued the punishment, says borrowers hit with excessive arrears charges will be contacted by the firm to offer compensation.
Redstone also demanded cash to cut customers' arrears without considering their financial state and wrote "repetitive, excessive and confusing" letters.
Redstone, which is not a lender, bought large swathes of mortgages from specialist lenders that mainly sold loans to those with poor credit histories or homeowners who could not prove their income.
Those whose loans were bought, now owe Redstone the money, not their original lender.
Redstone compensation
The regulator has identified four types of excessive charges. Redstone is currently sifting through customer records to determine who has been overcharged. When that process is complete, it will write to customers offering redress, though the FSA warns that could take months.
The unfair fees were:
Charging for failed direct debits each time it attempted to take payment, even when this happened multiple times within a short time.


Including arrears charges in the balance on which an early repayment charge (ERC, which is a percentage of the outstanding balance) was calculated.


Charging for debt counsellor visits when the customer was not given an appointment time or was not told of their right to cancel.


A solicitor's fee, applied when Redstone unnecessarily instructed lawyers.
The FSA, which does not have a breakdown of the average amount charged to individual borrowers, says homeowners will know if they're a Redstone customer if the name appears on their mortgage statement.
Arrears crackdown
The FSA last month banned mortgage lenders from hitting borrowers behind on payments with punitive charges if they have already set up a payment plan to clear any arrears.
Lenders GMAC-RFC and Kensington have also been slapped with fines for unfair or exorbitant fees (see the Arrears crackdown MSE News story).
General mortgage arrears fee reclaiming
The FSA launched a crackdown on high mortgage arrears fees in January and is encouraging anyone who feels badly treated to complain. It says poor lender practices centre on the size of fees and how they're charged:
Excessive fees. One of the clearest examples, the FSA says, is where the charge is higher than the administrative cost to the lender. If it costs £10 to send a letter but the charge is £35, that's £25 too much.

Lenders often charge around £35 per missed payment, £100 for a debt collector visit and thousands in legal and estate agent fees if your property is repossessed (see the Huge mortgage fees MSE News story).


Unfair charging. The FSA has found numerous examples of firms sneakily finding ways to incorporate charges when they shouldn't. For example, when struggling borrowers are already on a repayment plan, though this is now banned.

Also, lenders charging non-direct debit payment fees (to pay for payment processing) when no payment was made, or including arrears charges in the total mortgage balance when calculating an ERC.
How far back can you reclaim?
The Financial Ombudsman Service, the independent arbitrator between firms and their customers, says you can reclaim fees from as far back as you like, as long as you make the complaint within three years of realising you could.
As the FSA has only got tough over the past year, most people will still be within that three-year time-frame.
If unsure of past charges, make a request to get a list of fees charged from your lender over the past six years under the Data Protection Act. This will cost up to £10.
How do you reclaim?
First complain to your lender setting out why the charges are unfair and ask for your money back.
If you are turned away or do not get a satisfactory response within eight weeks, complain to the free Ombudsman service (see the Ombudsman guide).
Where a lender or mortgage firm has been fined by the FSA (such as GMAC, Kensington and Redstone), the process should be smoother as it is under orders to give consumers their money back.
In some cases, you may be contacted by a lender offering a refund where the FSA has got tough.
Further reading/Key links
Get help: Mortgage Arrears, Redundancy help
Mortgage cost-cutting guides: The Remortgage Guide, First-time Mortgage Guide, Cheap Mortgage Finding, Ditch My Fix?