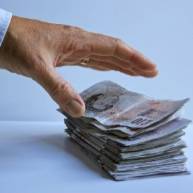 Payment of tax credits may not automatically stop if people missed Saturday's renewal deadline, HM Revenue and Customs (HMRC) has confirmed.
Jammed phonelines meant some who left it until the last minute were unable to get through to confirm their details or ask crucial questions, even though HMRC brought extra advisers in.
Tax credits are payouts, sometimes of thousands of pounds a year, from the state to support those with children or in work, but with a low income (see the Tax Credits guide).
It says you can still call now as it will only start cancelling payments for those who failed to renew by the 31 July deadline later this week.
Even if your payment is cancelled, you have 30 days from termination to re-instate payments without any financial loss. You'll receive a letter with that termination date.
If you miss that deadline, you can re-apply but you may lose some cash owed between now and the date payments re-start.
HMRC has not applied an extension as this buffer is standard, though it is rarely publicised.
An HMRC spokeswoman says: "People should keep trying. We are not going to say no automatically if someone can genuinely say they did try and couldn't get through."
'No answer'
Filmmaker Tricia Emery, 39, from London, tried the HMRC phoneline around 30 times over the weekend but was unable to get through.
She posted her declaration form on Saturday and said she was relieved to hear HMRC's new position.
"You shouldn't get penalised for following the rules they have given you," Tricia insists.
"If they can't cope with the calls, they have to make concessions."
Renewal packs aren't just designed to estimate your credits for the next year, they're also to check whether you were correctly paid for the last year. If you were overpaid, you'll need to pay that cash back. If you were underpaid, you'll be due more.
Anyone whose renewal pack - sent out in April - contained just an annual renewal notice only needed to check the information was correct and alert HMRC if there were any errors or changes in circumstances.
Those who were asked to complete an annual declaration form were able to return it by post.
The tax credits helpline number is 0845 300 3900, and is open daily until 8pm.
Additional reporting by the Press Association.
Further reading/Key links
Tax credit guide: Tax Credits
Check benefits: Benefits Check-up